The 2016 season started off with the indoor Winter League, contested by eight teams, and won by PSA. The Avengers won the Summer outdoor league, and PSA the Fall indoor tournament. The provincial team placed 3rd in the Eastern Canadian Championships.
Winter League
Game 1: Stallions Green v/s PSA
Summary: What a start to the Winter League 2016. A day completely taken over by exceptional bowling performances. Batters had a hard time defending the stumps and merely managing runs.
PSA won the toss and chose to bat first. The decision seemed not so good when Greens started picking the stumps one after the other. At the end of the first innings PSA managed to get 29 all out. Abrar picked three important wickets and Ali was the highest scorer with 7 runs.
In the second innings PSA bowlers showed their class by giving a hard time to Greens' batters. Some very well directed bouncers, yorkers and good length deliveries. However, Saad demonstrated his sense of the game and stayed cool as a cucumber while playing his knock of substantial 16 taking Greens to win the game.
Man of the Match: Abrar for his exceptional bowling, 3 wickets and important time on the crease to support Saad!
Conclusion: Greens at the Top of the League table in Group A
Game 2: Stallions Blue v/s Avengers
Summary: The power packed game started with Stallions losing the toss and put to ball first. Avengers started the innings with Rahul and Gurman, who kept their nerves and played defensive cricket in the first 4 overs. In the fifth over with the first bowling change, Avengers thought of shifting the gears and Rahul smashed a six on Amit. However it turned around in the next ball, when a perfect delivery and misjudged shot took the stumps off Rahul's wicket. Avengers managed to score 63 in 8 overs, thanks to Fahad's 19 runs of 8 balls.
In response Stallions Blue remained solid with Saqeeb and Negi taking the bowlers on the go and won the match in 7 overs. They scored 32 and 22 runs respectively.
Man of the Match: Saqeeb Jalees, With the Straight bat hitting and making 32 of 21 balls. (Calm n Brutal)
Scorecards:-
Avengers 62/3 lost to Stallions (Blue) 63/1, 21 Feb
Avengers 119/1 beat Gladiators 79/3, 21 Feb
Rising Stars 43 all out lost to Superstars 44/3
Lions 20 all out lost to Stallions (Blue) 134/3
Rising Stars 82/1 beat Stallions (Green) 77/2 by 5 runs
Lions 48/3 lost to Gladiators 50 all out by 2 runs
Superstars 4 all out lost to PSA 126/3 by 122 runs
Rising Stars 29 all out lost to PSA 108/2 by 79 runs
Superstars 44/1 beat Stallions (Green) 41/4 by 4 wickets
Gladiators 61 all out lost to Stallions (Blue) 116/4 by 55 runs
Congratulations to PSA who ran out Winter League Champions after wins over the Avengers in the semi-final, and the Superstars in the final.
The first semi final saw the Pakistan Students Association record an easy win over the Avengers. An under-strength Avengers were bowled out for just 28 runs, and PSA overtook their total for the loss of a single wicket.
In the second semi final Stallions (Blue) batted first and were all out for 40, thanks mainly to 21 from Saqib Jalees. The Superstars, led by an unbeaten 22 from Purvi Kalyan, had little trouble recording a 3 wicket win.
Scorecard
The final saw PSA put up a good total of 88/3 with Ali Malik leading the way with 27, supported by Mohammed Asim with 17 and Raza Kazmi with 16. An exceptional performance in the field saw PSA stifle the Superstars who managed only 25/3 from their 8 overs. Raza Kazmi took 2 for 8 from three overs, and Ali Malik bowled 2 overs for three runs and a wicket.
Scorecard
Summer League
Four teams contested the Summer League, The Avengers, Eagles, Rising Stars and Stallions.
Week 1:
The Cricket Newfoundland and Labrador outdoor season got underway on Saturday with two matches. Four teams will contest the league this year, two returning from last season including the defending champion Avengers. The matches saw the first use of a brand new artificial pitch, purchased from the UK with the assistance of a grant from the provincial government. This high tech portable pitch system will allow the organization to host interprovincial tournaments.
First use of the new pitch fell to the Avengers, batting first against the Rising Stars, a brand new squad with many players taking part in the league for the first time. The Avengers struggled against good bowling, and only 56 runs from last year's leading run scorer Rahul Vashishta saw them to a respectable total of 115 all out. Waqas Ahmed and Taqrim Ghous each took three wickets.
The Rising Stars could not cope with the opening bowling of Sentil Selvamani ( 3 wickets for three runs) and Deep Patel (3/13) making a welcome return from injury and they collapsed to 46 all out. Rahul Vashishta took two wickets, and combined with his innings of 56 earned the man of the match award.
The second match was between the NL Eagles, returning from last year, and the Stallions, and this was a close match leading to an exciting finish. The Stallions batted first, losing early wickets, but a captain's innings from Rakesh Negi (27 runs), and some good lower order batting from Amit Sundly (16 runs) and Abrar Khan (13 runs) allowed them to post a total of 105.Ali Mailik took 3/30, Osama Anwat 3/15 and there was some outstanding fielding including a spectacular one handed catch in the outfield by Asim Razman.
The Eagles started poorly, but some big hitting from Asim Malik (23) and Usmair Khan (35) took them to the brink of victory. Two critical wickets from Amit Sundly reduced the Eagles to their last pair, then Amit ran out their final batsman to give the Stallions a narrow 5 run win. Rakesh Negi was named man of the match, taking 3 wickets to go and contributing a direct hit run out with his 27 runs.
Scorecards:
https://www.crichq.com/#matches/394687/2nd_innings
https://www.crichq.com/#matches/394939/2nd_innings
Week 2:
June 18 saw just one match, the Avengers beating the MHWirth Stallions by 59 runs in classic Newfoundland cricket conditions- 7 degrees, wind and occasional drizzle and an un-mown outfield made conditions tough for everyone (our cricketing friends across the country had quite different weather- 23 degrees in Halifax, 30 in Montreal and Toronto, and only a modest 18 degrees in Calgary).
The Stallions won the toss and chose to bowl, a decision that seemed to be vindicated when Talha Riaz bowled Senthill with the second ball of the match. Rahul Vashishtha hit the third ball of the match for 6 over mid-off, setting the scene for an outstanding innings. When he was out in the 13th over, he had made 89 out of 114, from 44 balls with three fours and eleven sixes, most of them in the arc between mid on and mid off. He was well caught by Kranthi Kumar at deep mid wicket, one of three catches from Kranthi on a day when numerous catches went down- quite understandable given the temperature and cold hands. Barath Shetty batted well for 22, and the final total of 155/ 9 looked a good one. Talha Riaz was the outstanding bowler with 5/19 from four overs, well supported by Rakesh Negi (4-1-14-1), and Neelav Diwan (4-0-16-1).
In reply the Stallions made a steady start, but tight bowling, backed by excellent ground fielding saw them fall behind the run rate. Three run outs resulted from direct hits, two from Gurman Khurana, and one from Saravana Kumar. Saad Jahangir top scored with 26, and Kranthi Kumar made 16. The Avengers used 8 bowlers, with Saravana leading the way with 3/11, Dhrumitt Bhatt taking 1/11 from 3, and Samaa Madhawa 1/12 from 3.
Rahul Vashishtha was an obvious choice for man of the match.
Scorecard (note that Sadman Amin made 5 and Purvi Kalyan 1 not out- they were inadvertently switched in the card).
Week 3:
June 25 saw perfect cricket weather, and two thrilling matches.
The opening match featured the powerful Avengers squad against the Eagles. The Avengers had lost only one match in the summer league since their formation last year, but the Eagles upset the form book with a 2 wicket win off the penultimate ball of the match.
The Avengers batted first, and struggled with the bat. Spinner Osama Saeed was outstanding, taking four top order wickets for only 12 runs. He was well supported by Ali Malik (1/7 from 3 overs), Asim Ramzan (2/16) and Zohair Syed. The Avengers were bowled out for just 65, Rahul Vashishtha top scoring with 20.
The Avengers fought hard to defend their total with Rahul Vashishta and Sentill Selvamani reducing them to 4 for 3 wickets. A patient innings by Saeed Khan (23 from 58 balls) took them to within 3 runs in the last over, and the Eagles scrambled home with a very close run from the 5th ball of the last over. Drumhitt Bhatt took 3 wickets, Deep Patel 2, and Rahul and Sentill's 8 overs cost just 13 runs. Osama was named man of the match.
The second match was between two teams new to the league this year. The MHWirth Stallions batted first, and Hummam and Saad got them off to a good start putting on 30 for the first wicket. Rakesh Negi contributed an unbeaten forty two, putting on 46 with Abrar Khan (21*) after Mohammed Irfan (4/9 from 4 overs) had run through the middle order. The Stallions finished on 116/7. Ibrahim Ali gave the Rising Stars a good start with a patient 15, putting on 42 with Harish Kana (21). The Stallions fought back with wickets from Abrar in the middle overs, and the Rising Stars seemed to be out of the match. Captain Adeel Ilyas had other ideas and a quite brilliant innings combining sound defence with big hitting took them to the brink of victory. He hit the fourth ball of the final over over wide long on for his sixth six to seal what was at one point an unlikely win. Abrar Khan took five wickets for 28 runs, and Kazi Ashraful Hoque also took two early wickets. Man of the match was clearly Adeel Ilyas.
Avengers-Eagles scorecard
Stallions-Rising Stars scorecard
After three weeks, the Avengers have two wins, and the other three teams have a win apiece.
Week 4:
July 2 brought another great day for cricket, and with a shorter outfield and a harder pitch, conditions ideal for run-scoring.
The opening match was yet another thriller between the Eagles and the MHWirth Stallions. The Eagles won the toss and opted to bowl. The Stallions innings was dominated by a 55 ball 73 from Rakesh Negi, with four sixes and four fours. He got good support from Hummam Bin Saif (17), and Tamkin Khan (15) as the Stallions made 141/6. Waqas Ali and Osama Saeed took two wickets each for the Eagles.
The Eagles made a steady start to their reply, Khurram Shezad and Saeed Khan (19) putting on 59 for the first wicket. The Stallions had restricted the scoring speed, however, and by the time the partnership was broken the run rate had climbed to nearly 10/ over. Umair Khan (13) struck a couple of big sixes, and Khurram Shezad accelerated, also striking three sixes, taking the Eagles close. Khurram was stumped for an excellent 70 leaving just 12 to win from 9 balls. The Eagles needed two to win off the last ball, but a no-ball and run out gave them at least a tie, and a scrambled bye off the last ball gave them the narrowest of wins. Kazi Ashraful Hoque and Rakesh Negi had two wickets each for the Stallions. Khurram Shezad was named man of the match.
Scorecard
The second match saw more runs, as the Avengers posted 169 all out batting first. Rahul Vashisht led the way with a hard hitting 57 from 33 balls, 46 in boundaries (5 sixes, 4 fours). He got good support from Bharat Shetty (25) and Sachin Vashisht (23), but the Rising Stars did well to restrict them to 62 off the last 10 overs. Taqrim Ghous and Raza Riaz each took three wickets, Mohammed Irfan two, and Adeel Illyas one, plus three catches.
In reply the Rising Stars lost early wickets and were 11/3 before Harish Kana (10) and Adeel Ilyas (42) put on 51 together. Tapan Trivedi broke the partnership and took another wicket; the Rising Stars were 75/5 but then lost their last 5 wickets for just 5 runs, as Rahul Vashisht ran through the lower order, taking 5 wickets in the course of 9 balls – an obvious choice for man of the match.
Scorecard
Week 5:
Rain, drizzle fog and cricket- July 10th in the Cricket Newfoundland and Labrador summer league. It says a great deal about the passion for cricket in the organization that the teams even contemplated play this Sunday. The wind was from the east, bringing single digit temperatures, fog and drizzle, but the Avengers had done a good job on field preparation and both teams were there ready to play.
The match was reduced to 18 overs due to a delayed start, and the Stallions batted first after the Avengers won the toss. Saad Jahangir and Humman Bin Saad put together an excellent opening partnership of 40 against some very accurate bowling, rotating the strike well. Saad was bowled trying to accelerate, then some excellent fielding turned the match in favour of the Avengers. Firstly an accurate throw from Sachin Vashishtha ran out Rakesh Negi, then Kangai threw himself in front of a hard hit cover drive from Hummam stopping the ball with his chest, and catching the rebound.
That was the first of three wickets for Saravana Kumar, well supported by three wickets from Rahul Vashisht, as 40 for no wicket became 77 all out.
Fahad Ijaz took advantage of some loose bowling to get the Avengers off to a quick start, hitting two sixes over deep square. After Fahad was out leg before, Gurman Khurana hit his first ball for four, and the Avengers had hit as many boundaries in three overs as the Stallions had managed in 18. Gurman and Rahul continued to punish the loose ball, and with an unbroken partnership of 63 took the Avengers to a 9 wicket win inside 10 overs
Saravana Kumar was named man of the match.
Scorecard.
However the weather became too much for the second match, and play was abandoned due to a wet pitch.
Week 6:
Good weather normally brings high scoring but that wasn't the case in Saturday's matches, with bowlers on top. In the opening match the Rising Stars batted first, and tight bowling restricted them to 88/7 from their 20 overs. Raza Riaz top scored with 22, supported by Taqrim Ghous' 17. Neelav Dhawan took 2 wickets for just 12 in four overs, with two maidens, and Rakesh Negi took 2/17 in his four overs. In reply the Rising Stars had the Stallions struggling at 33/4, thanks to Mohammed Irfan's 3/15 from 4 overs, but then Kazi Ashraful (23*) and Kranthi Kumar (23*) guided the Stallions to a 5 wicket victory with 3 overs to spare. Kranthi was named man of the match.
Scorecard
In the second match, the Eagles had no answer to the bowling of Dhrumitt Bhatt (man of the match). He came on with the score 30/1 and his 4 quick wickets reduced the Eagles to 38/6. Saeed Khan top scored with 14, and Drumhitt ended with 4 for 10. He was well supported by Rahul Vashisht and Sentil Selvamani with two wickets each. The Avengers made short work of a target of just 68, and a 28 ball fifty from Rahul Vashisht, well supported by Fahad Ijaz gave them a 10 wicket victory.
Scorecard
Week 7:
Play continued in the Cricket Newfoundland and Labrador Summer League on Saturday with a double header between the Rising Stars and the Eagles.
The Rising Stars batted first in the opening match and put up a good total of 122/9 from their 20 overs. Harish Kanna top-scored with 33, and Zohair Syed and Osama Saeed each took two wickets.
The Eagles reply was dominated by Taha Sheik's unbeaten 82, with 9 fours and four sixes from just 55 balls. He led the Eagles to a 6 wicket victory with 4 overs to spare. Khalid Islam was the Rsing Stars best bowler with 2 wickets.
The Eagles batted first in the second match and put up one of the best totals of the summer, making 179/5. Umair Khan (48) and Ali Malik (43) had a partnership of 80 after two early wickets had fallen, followed by some excellent hitting from Saeed Khan (31*) and Asim Ramzan (21).
Taqrim Ghous (15) and Adeel Illyas (24) got the Rising Stars off to a good start with an opening partnership of 45, but then Asim Razman put in a dazzling spell of bowling, taking 5 wickets for just 17 runs, and the Rising Stars were dismissed for 85. The Eagles won by 94 runs.
Taha Sheik was man of the match for the opener, and Asim Razman for the second.
Week 8:
Wins for Avengers and Eagles
Game 1: Avengers won by 1 wicket; Rising Stars just failed in a valiant attempt to defend a total of just 79. Avengers needed a last wicket stand of 11 after Taqrim Ghous (Man of the Match) had taken four wickets
Scorecard
Game 2: Eagles won by 47 runs. The Eagles looked in trouble after losing 5 wickets for just 38 runs, but then Umair Khan (22) and a stunning 30 from 11 balls from man of the match Najaf took them to 132, which proved too much for the Stallions
Week 9:
The Avengers and Eagles continued their winning ways as the Summer League moved towards its conclusion. In the first match the Eagles were bowled out for 95, with Saeed Khan making 29, and Zohair Saeed 20. Harish Kanna and Sajawal Usto each took 3 wickets. In reply the Rising Stars made 44, thanks largely to 27 from Man of the Match Harish Kanna.
Scorecard
In the second match Stallions won the toss and elected to bat first. They were bowled out for 63 in 14 overs. Saravana and Rahul took 4 wickets each. In reply, Avengers made 64/7 in 14 overs. Rakesh took 3, Talha 2 and Abrar 2 wickets. Kankayalian made 20+ runs and he was MoM.
Week 10:
The Eagles beat the Avengers in the final round of matches to tie them on points but the Avengers took the league title by virtue of a better net run rate. The Stallions confirmed 3rd place with a win over the Rising Stars.
The matches was played on a day that featured weather that perhaps could only be found in Newfoundland. The first match started in warm light rain, transitioned into blue skies and sunshine, and finished with the temperature dropping ten degrees into the low teens, and drizzle. Game 2 was played in cold conditions, with rain and drizzle, strong winds, but finally clearing into sunshine.
Confusion over the start time meant the Avengers turned up late for their match, and were penalised by being docked 7 overs. The Eagles used just 17.5 of their 20 overs, bowled out for 95. Asim Ramzan led the way with 42 runs, including three big sixes. Saravana Kumar took three wickets, with support from Rahul Vashishta, Sentil Selvamani and Drumhitt Bhatt who each took two. The Avengers thus had to chase 95 in only 13 overs. After an opening partnership of 24 between Rahul Roy (19) and Gurman Khurana (15), Asim Razman got the Eagles back in the game, with two brilliant run outs, both direct hits, the first from the boundary. He followed up with two wickets, and the Avengers were 48/5. An excellent partnership between Sahin Vashishta (35*) and Kangai Thillaiyampalam (10*) took the game to a thrilling finish. The Avengers needed 20 from the last over, and finally 6 off the last ball- it was edged for 4 leaving the Eagles the winners by a single run.
Scorecard
Both the Stallions and Rising Stars fielded under-strength teams, and given the miserable weather it was decided to reduce the match to 15 overs. The Stallions made 113/2 thanks mainly to 56 not out from Rakesh Negi, supported by 26 from Saad Jahangir and 14* from Talha Riaz. The Rising Stars made a spirited reply, with Sajawal Usto (39) and Khalid Islam (33*) putting on 50 for the 2nd wicket. They fell behind the run rate, however, and 18 off the last over proved too much, finishing on 102/2.
Scorecard

Finals:
Herringshaw Cup
The Rising Stars beat the MHWirth Stallions by 45 runs in the Herringshaw Cup match played between the third and fourth placed teams in the league. The Rising Stars, after winning just once in the league hit form at the perfect time, thanks to a good all round performance, led by Harish Kanna, with 41 runs and three wickets.
The Rising Stars batted first and made 113/5 from their twenty overs. Harish's 41 was well supported by Adeel Illyas (13) and Taqrim Ghous (14*). Talha Riaz had two wickets for the Stallions and Amit Sundly conceded just 7 runs in 4 overs.
The Stallions lost wickets early, and apart from a stand of 30 between Ayaz Ghani (15) and Rakesh Negi (14) never looked like reaching their target. They were bowled out for 68 in 13.3 overs, with Sajawal Usto taking 3/13, Adeel Illyas 3/19 and Harish Kanna 3/14.
Scorecard
Atul Ahuja Cup

The Avengers won the Atul Ahuja Cup by beating the Eagles 2-0 in the best of three series. Fahad Ijaz was named Cup MVP, making 97 runs in the two games.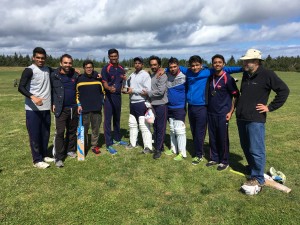 The Avengers won the opening match by 41 runs. The Avengers batted first and made 135/3 from 20 overs, led by opener Fahad Ijaz who batted through the 20 overs making 62. Rahul Roy (21) helped him put on 58 for the first wicket, and another 40 run partnership with Rahul Vashisht took them to a good total. Taha Sheikh took 2 of the three wickets to fall.
Deep Patel bowled a strong opening spell, and the Eagles were in trouble early at 17/3 – Deep took 3/11 from 4 overs. Khurram Shazaad (14), Saeed Khan (12) and Najaf Raza Kazmi (26) made useful contributions, but the Eagles were unable to keep up with the run rate, ending up on 94/9.
Scorecard
The second match was played the following day, in autumnal conditions- temperatures in single digits at the start. The Eagles won the toss and batted first. The Avengers bowling attack exploited the conditions well, and danger man Taha Sheik fell to a good catch at slip with the score on 7. Zohair Syed and Nadeem Saqlain (16) played patiently, putting on 27. Najaf Raza Kazmi made an excellent 47 from 30 bals with three sixes. Unfortunately Asim Razman had to retire hurt after being struck in the face and was unable to bowl later. The Eagles made 102/4 from their 20 overs. The comparatively low total is to the credit of excellent bowling from all the Avengers bowlers, who gave very little away.
Gurman Khurana (35) and Fahad Ijaz (27) put together an opening partnership of 77 and by the time they were out the game was as good as won. The Avengers eventually won by 6 wickets, with 4 overs to spare.
Scorecard
Summer League awards
Mr Brendan Power, VP Provincial Aerospace was on hand to present the Herringshaw Cup, and the Summer League awards before the first Atul Ajuha cup match.
The awards winners were:-
Most Valuable Player – Rahul Vashishta
Best batsmen- Umair Khan
Best bowler- Sarvanna Kumar
Best fielder- Adeel Illyas
Most passionate – Chithran Vasudev
Most spirited player – Harish Kanna
Emerging player- Asim Razman
40 over match
September 11 proved to be a glorious day for cricket, with blue skies and warm temperatures. The twenty players looking to extend the cricket season were divided into two teams, the Terra Novas, captained by Gurman Khurana, and the Shamrocks, captained by Deep Patel (the Shamrocks and Terra Novas were the premier teams in Newfoundland at the end of the 19th century).
The Shamrocks won the toss and batted first; Taha Sheikh made an early breakthrough for the Terra Novas, bowling Maulik Rahwal, and then having Rahul Roy stumped. Edison had Deep Patel leg before, and then Taha took the critical wicket of Rahul Vashisht, caught in the deep by Ali Malik for 32. Waqas Ali (31) staged a recovery, but then Talha Riaz polished off the innings, taking 3/5. The Shamrocks batted 24.2 overs for their 97.
The Terra Novas lost Taha Sheik early, playing on to a good yorker from Rahul Vashisht, then Zohair Syed was well caught at slip by Ujjaval off Waqas Ali – 8/2. Gurman Khurana (52) and Talha Riaz won the match with a well paced 85 run partnership, only broken by a good catch from Deep Patel. The Terra Novas passed their target with 30 overs to spare.
With the match won, but the weather still perfect for cricket it was decided to change the match to a 2 innings game, with overs limited to a total of 40 for two innings. The Terra Novas carried on batting for another 10 overs, reaching 195/5, led by Talha Riaz's unbeaten 51, supported by 17 from Sachin Vashist, 13 from Dave Liverman and 22* from Taqrim Ghous.
The Shamrocks went in again with a deficit of 98. Rahul Vashisht smashed 43 from 18 balls, putting on 61 for the first wicket with Waqas Ali (33). Rahul was caught in the deep by Ali Malik for the second time, and then wickets fell quickly. Rahul Roy made 16, but the Shamrocks were bowled out for 117, Taqrim Ghous taking three wickets.
The Terra Novas needed just 21 to win, which they accomplished for the loss of one wicket, Ali Malik finishing the match with a 6. Talha Riaz was named man of the match.
Scorecard
Eastern T20 in Halifax
Squad:
Rahul Vashisht (captain)
Adeel Illyas
Ali Malik
Asim Ramzan
Bharat Shetty
Deep Patel
Dhrummit Bhatt
Gurman Khurana
Hummam Bin Saif
Khurram Shahzad
Rakesh Negi
Osama Saeed
Umair Khan
Coach: Sentill Selvamani
Day 1: PEI beaten by 86 runs, but a loss to NB
Newfoundland Labrador made their debut in this year's tournament playing PEI. PEI won the toss and put NL in to bat. PEI had early success with the ball dismissing both NL openers (Hummam and Rakesh Negi) with 13 on the board. Captain Rahul Vashisht is in great form in the local leagues, and immediately showed he could reproduce it at provincial level. He and Gurman Khurana took 25 off the fourth over, and he hit 22 off his own bat in the 6th, reaching his fifty in only 20 balls. The partnership reached 85 before Gurman was caught, but the hundred came up in the 11th over. Vashisht was bowled for a brilliant 93, made out of 119 while he was at the wicket from 47 balls, 12 fours and four sixes. Asim Ramzan contributed a quick 10, Adeel 14; and Umair Khan (31) and Bharat Shetty (19*) batted well in the closing overs to take NL to 207/6 from their twenty overs.
Asim Ramzan took the wicket of Sandhu, who earlier in the day had made 54 against Nova Scotia, with his 3rd ball, and then Rahul after conceding a boundary off his first ball bowled Shergill with his second. Asim had Chandi leg before, and then bowled Khalid Shahjad for his third wicket. Three wickets fell in four balls as Rahul took two more wickets to reduce PEI to 29/6. After PEI staged a recovery, Osama Saeed, like Asim, took a wicket in his first over of interprovincial play, a catch by Bharath in the deep – 45/7. PEI finally were bowled out for 122, Rahul Vashisht finishing with 4/26, Asim 3/12.
Because of rain forecast for late Saturday, Cricket NL had to play again right after the PEI match. They lost to New Brunswick by 65 runs. New Brunswick batted first, making 165, thanks to a big mid-innings partnership. Ali Malik led the bowlers with 3/26, with wickets for Asim, Dhrumitt Bhatt and Adeel Ilyas. NL got off to a good start chasing, at 46/1 after 3.4 overs but after Rakesh (21) and Rahul (32 from 15 balls) were both caught, the batsmen struggled. Adeel made 13 and Dhrumitt 10, but NL were bowled out for 100 in 15 overs.
Day 2: Narrow loss to Nova Scotia
After a disappointing loss to New Brunswick, the provincial team looked to rebound against a strong Nova Scotia team who had won their first two matches. NL batted first, and apart from Rakesh Negi (47) struggled against the NS bowling, led by Daksh Talwar with 3/6. Newfoundland and Labrador made 111/9 from their 20 overs, Bharath Shetty (16)and Umair Khan (15) making useful contributions.
Rakesh Negi, opening the bowling, had danger man Amit Joshi caught by Rahul Vashist, and then Rahul had Gupta caught by Ali Malik for a duck- 25/2. In his next over Rahul had Arslan Khan caught behind by Gurman, and Newfoundland and Labrador were in with a chance. Rakesh finished with 3/15 from his four overs. Ali Malik made the crucial breakthrough, having opener Santosh Verma caught by Umair for 35, and followed it up with a double-wicket maiden (3/17 from his four overs). Nova Scotia needed 34 runs and Newfoundland and Labrador two wickets. However, Daksh Talwar played an invaluable innings of 34, hitting five boundaries, and taking Nova Scotia to a two wicket win.
Day 3: Victory over Quebec, third place
It is rare for a team from Newfoundland and Labrador to beat Quebec at provincial level in any sport, so today's victory by the provincial team is one to be celebrated. It is hard to get hard statistics of the number of cricketers in Quebec, but the Montreal leagues feature over 30 teams in two divisions- it is likely that Quebec cricketers number in the thousands, while Newfoundland's team was picked from 60 players active in the Summer League.
Quebec won the toss and chose to bat in a game reduced to 18 overs. Rahul broke a promising opening partnership, then Rakesh took two wickets, bowled and stumped. Rahul dismissed the dangerous Umar Muhammad, but not before he had made 55. A run out and a catch by Asim from Rahul's last over had Quebec at 125/6 with 3 overs to go. Rahul finished with 3/30 as Quebec totalled 137/7.
Hummam Bin Saif and Rakesh Negi were both dismissed in the second over, but Rahul Vashisht and Umair Khan (27) put together a good partnership of 62, with some big hitting mixed with defence. After Umair was caught Gurman Khurana joined Rahul, and took the score to 104 before Rahul was caught- he had made exactly 50 from 43 balls with 5 sixes. This left 34 to win from 22 balls but Gurman (37*) and Barath Shetty fought off nerves to register a 6 wicket win- Gurman sealing victory with a six in the 17th over. Gurman's innings under intense pressure was outstanding. After Quebec went on to beat Nova Scotia, and New Brunswick failed to match Newfoundland's net run rate, the team placed third.
Fall league
The fall league got underway on Saturday October 15 and Sunday October 16.There was some close matches and some fine individual performances, topped by Uzair Khokar's 87 not out from 34 balls with 13 sixes, leading the MUNRiders to victory over Avalon. Rahul Roy's unbeaten 34 led the Black Cats to a win over the BD Tigers without losing a wicket. Taqrim Ghous hit four sixes to lead PSA over the Superkings, with Najaf leading the bowling with 2/22 from 3 overs. Outstanding fielding by the Superkings, with three direct hit run outs, two by Rakesh Negi who also top-scored for their batting led to a come back win over the Royal Challengers, for who Manvir Mann hit 19* as well as bowling 2 overs for just 9 runs. Rahul Vashisht took 3 wickets, and hit 23 in the Avengers narrow win over MunRiders, but shared the man of the match award with Ibrahim Ali who returned outstanding bowling figures of 3-0-10-2, as well as scoring 19*.
Group A:
Superstars 55/2 beat Cornered Tigers 51 all out by 3 wickets, Vegnesharawan MoM. Scorecard – note due to some technical errors meant the Superstars innings may not be totally accurate. Srinivas scored 5, P Kumar 16, A Butt conceded 27 runs.
Superstars top group.
Group B
Black Cats 50/0 beat BD Tigers 45 all out by 5 wickets, MoM Rahul Roy – Scorecard
BD Tigers 29/1 in 3 overs beat Royal Smashers 26 by 4 wickets MOM Abrar Khan – Scorecard
Black Cats play Royal Smashers 9 am Sunday October 23.
Group C:
PSA 55/1 beat Superkings 54 by 9 wickets, MOM Taqrim Ghous – Scorecard
SuperKings 87/2 beat Royal Challengers by 32 runs 55/5, MOM Rakesh Negi – Scorecard
Group D
MUNRiders 105/2 beat Avalon CC 75/3 by 30 runs, MoM Uzair – Scorecard; note that correct bowling figures for MUNRiders are
Ibrahim Ali 2-0-17-0 (3w)
Uzair Khokar 2-0-33-2
Avengers 54/4 beat MUNRiders 48/5 by 6 runs MoM – joint award, Rahul Vashisht, Ibrahim Ali – Scorecard
October 23 matches
After today's matches, PSA have claimed a place in the final, and will face the winner of the Avengers v Royal Smashers semi final.
There were some excellent performances on display as well as some exciting finishes.
In the final matches of group play, Hunain led the Royal Smashers to a conclusive victory over the Black Cats, run out off the last ball of the innings for 71, then taking 4 wickets for just 7 runs, ensuring the Smashers advanced on run rate. The Royal Challengers beat PSA off the very last ball of the match in a real thriller, thanks to 24* from Ali Raza following his 2 wickets with the ball. The Challengers however lost out on a quarter final place on run rate. The Avengers – Avalon CC match was a one man show, as the Avengers Rahul Vashisht smashed an unbeaten 118 out of 130 (118 out of 121 runs off the bat) with  15 sixes. He followed this up with a wicket, a catch and two run outs for a man of the match performance.
This set up the quarter finals; unfortunately a mix up over times meant the Superstars defaulted their match, allowing the BD Tigers to advance to the semi finals. The Cornered Tigers struggled against tight bowling from Asim and Hunain (between them 5 overs for 14 runs), and Hunain made an unbeaten 42 as they raced to victory. PSA dismissed MUNRiders for 39 in the third quarter final, and lost only 2 wickets in knocking off the runs. In the final quarter final, Nick Baxter bowled his 3 overs for 8 runs as NSK were restricted to 66. Rahul Vashishta's 57 from 26 balls led the Avengers to an easy win.
The PSA-BD Tigers semi was a thriller, with PSA successfully defending a modest total of 54. Needing 15 off the last over and 3 off the last ball, the Tigers fell 2 runs short.
Match 1: Royal Smashers 107/1 in 8 overs beat Black Cats 11 all out on 5 overs. Man of the Match – Hunain (71, and 4/7)- Scorecard
Match 2: PSA 57/2 in 6 overs lost to Royal Challengers 58/4 in 8 overs by 1 wicket. MoM – Ali Raza – Scorecard
Match 3: Avengers 130/0 in 8 overs beat Avalon CC, 60/4 in 8 overs by 70 runs, MoM Rahul Vashisht – Scorecard
Final round Robin standings:
| | | | | | | | | | |
| --- | --- | --- | --- | --- | --- | --- | --- | --- | --- |
| Group B | | | | | | | | | |
| | Played | Won | Lost | Runs for | Overs | Runs against | Overs | Net Run Rate | Points |
| Royal Smashers | 2 | 1 | 1 | 26 | 8 | 29 | 3 | 4.68 | 2 |
| BD Tigers | 2 | 1 | 1 | 74 | 11 | 76 | 13.33 | 1.03 | 2 |
| Black Cats | 2 | 1 | 1 | 61 | 13.33 | 152 | 16 | -4.92 | 2 |
| | | | | | | | | | |
| Group C | | | | | | | | | |
| PSA | 2 | 1 | 1 | 112 | 12.83 | 112 | 16 | 1.73 | 2 |
| NSK | 2 | 1 | 1 | 141 | 16 | 110 | 12.83 | 0.24 | 2 |
| Royal Challengers | 2 | 1 | 1 | 113 | 16 | 144 | 16 | -1.94 | 2 |
| | | | | | | | | | |
| Group D | | | | | | | | | |
| Avengers | 2 | 2 | 0 | 184 | 16 | 108 | 16 | 4.75 | 4 |
| MunRiders | 2 | 1 | 1 | 153 | 16 | 129 | 16 | 1.50 | 2 |
| Avalon CC | 2 | 0 | 2 | 135 | 16 | 235 | 16 | -6.25 | 0 |
Quarter final 1: BD Tigers beat Superstars by default
Quarter final 2: Cornered Tigers 43/4 from 8 overs lost to Royal Smashers 47/0 in 3.1 overs – Scorecard
Quarter Final 3: MunRiders 39 all out lost to PSA 43/2 in 5.3 overs – Scorecard
Quarter Final 4: NSK 66/1 lost to Avengers 67/1 – Scorecard
Semi Final 1: PSA 54 all out beatBD Tigers 52/2 by 2 runs – Scorecard
Semi Final 2: Royal Smashers  v Avengers
Final: PSA v winner of SF 2
The Pakistani Students Association won the Fall League, defeating the Avengers by 1 run in a thrilling final. The Avengers had earlier defeated the Royal Smashers in the second semi-final.
All players enjoyed playing in the larger Powerplex gym – the additional space meant batsmen had to place their shots, made boundaries more challenging, and rewarded accurate bowling and good fielding.
In the semi-final, the Avengers batted first, and accurate bowling restricted them to 66/2 from their eight overs. Rahul Vashisht top-scored with 25 but a fine throw and direct hit from Hassan Ghafoor ran him out. Gurman Khurana contributed 19 from 11 balls.
Nick Baxter made the early breakthrough in the Smashers reply, bowling Nouman Rashid in the first over, and then Rahul Vashisht had Asim caught behind to reduce the Smashers to 5/2. Hunain (15) was batting well but then was adjudged to have obstructed the field attempting a run. That proved the turning point as the Smashers were bowled out for 37, with the Avengers victors by 29 runs. Rahul Vashishta and Nick Baxter shared man of the match honours.
Avengers – Royal Smashers card
PSA batted first in the final, and Taqrim Ghous (37) and Saeed Khan (11) got them off to a good start. Waqas Ali (15*) hit well in the final overs to take them to 77/4 from their eight overs. Nick Baxter led the bowlers with 2/12 from 3 overs.
Syed Ali Sattam took the crucial wicket of Rahul Vashista with a well disguised slower ball, but Gurman Khurana (17) and Nick Baxter (15) made good progress. At 67/2 in the 6th over the Avengers seemed to be heading for victory, but then Najaf bowled Nick Baxter, and Bharath was run out, leaving the Avengers needing 10 off the final over bowled by Syed Ali Sattam. It came down to the last ball, with the Avengers needing 3 to win- they managed only one, leaving PSA champions by one run. Taqrim Ghous was named man of the match for an excellent all-round performance.
Avengers – PSA card
After the match, the league awards were presented, with Najaf Raza Kazmi named top bowler, Hunain top bat, and Rahul Vashishta most valuable player.