2018 saw healthy numbers for indoor leagues, the outdoor league expanding to 5 teams, and a good performance in the Eastern T20.
2018 Winter League
Round 1:
Group A
Avengers 63/0 in 4.2 overs (Rahul Vashishta 50*) beat BD Tigers 61/3 (Nazrul Shikon 40) by 6 wickets
Scorecard. Note Nazrul Shikon's score was 40 off 30 balls. He hit two sixes credited to Aqib and Fahad.
PSA defaulted their match with MUN Riders
Group B
Sharks 23/0 (5 overs) beat St. John's VII 22 all out by 6 wickets
Scorecard
Allstars 90/4 (Raheel 37, Ali 29) beat ACC 81/2 (Shahinur 32) by 9 runs
Scorecard
Group C
NSK 116/2 (Sajawal Osto 41* from 14 balls, Talha Riaz 31, Rakesh Negi 32) beat Lions 33 all out (Neelav Diwan 2/9. Amit Sundly 2/8) by 83 runs.
Scorecard
MUN Vikings 35 all out (Manvir 2 wickets, Mukul 2 wickets) lost to Royal Challengers 39/1 in 2.4 overs (Amrish 32*, 11 balls) by 5 wickets.
Scorecard – note Amrish and Bupesh's scores are switched in the scorecard and that one of Manvir's wickets should be credited to Mukul
Round 2:
Group A
Avengers 20/0 beat PSA 19 all out by 5 wickets. Man of the Match Deep Patel, 3 wickets for 13 runs.
Scorecard
Mun Riders 110/2 (M Khokar 68) beat BD Tigers 62/5 (Ibrahim Ali 3/24) by 48 runs.
Scorecard
Group B
ACC 73/4 (Nouman Rashid 21) beat Sharks 69/3 by 4 runs
Scorecard
Allstars 108/3 (Nadeem Saqlain 31, Rafesh 27) beat St. John's VII 51 all out by 57 runs
Scorecard
Group C
NSK 135/2 (Sajawal Osto 72 from 24 balls, Amit Sundly 37) beat Vikings 69/5 (P Deb 27, Sajawal Osto 2 wickets). Man of the match Sajawal Osto.
Scorecard
Lions 83/5 (Nayanajith Udara 36) beat Royal Challengers 73/4 (Amrish 23, Kamal 27) by 10 runs.
Scorecard
Round 3
After the final round of round-robin matches the groups are set for the Championship round.
The A Championship will be played between the Avengers, NSK, All Stars and Mun Riders.
The Sharks, Avalon CC, Royal Challengers and Lions will play for the B Championship.
The C championship will be contended by PSA, BD Tigers, Vikings and St. John's VII.
Group A
Mun Riders 64/2 in 8 overs (M Khokar 33*) lost to Avengers 65/0 in 5 overs (Bharath Shetty 30) by 6 wickets. Scorecard
PSA 79/1 in 8 overs (Waqas Ali 28*) lost to BD Tigers 80/5 in 7.4 overs (Fahad 25) by 1 wicket. Scorecard
Group B
Avalon CC 84/2 in 4.5 overs, Nouman Rashid (man of the match) 32* (12), Arif 30* (9) beat St. John's VII 78/1 (Messam Timur 31, Irtiza Dar 19*). – Scorecard
Allstars 91/2 (Raheel 45) beat Sharks 83/2 (R Ganesan 42) by 8 runs. Scorecard
Group C
NSK 46 all out (Manvir Mann 3/5) beat Royal Challengers 35 all out by 11 runs. Scorecard (note: Neelav Diwan played in the match not Rakesh Negi and bowled the 2 overs assigned to him).
Vikings 45/4 lost to Lions 46/0 in 5.3 overs (M Bandira 21*, Thumira 17*) by 6 wickets. Scorecard
Final standings
Played
Won
Lost
Tied
Net RR
Points
Group A
Avengers
3
3
0
0
7.26
6
MUN Riders
3
2
1
0
9.87
4
BD Tigers
3
1
2
0
-3.88
2
PSA
3
0
3
0
-9.72
0
Group B
Allstars
3
3
0
0
3.08
6
ACC
3
2
1
0
1.55
4
Sharks
3
1
2
0
0.58
2
St. John's VII
3
0
3
0
-5.77
0
Group C
NSK
3
3
0
0
6.67
6
Lions
3
2
1
0
-2.22
4
Royal Challengers
3
1
2
0
1.04
2
Vikings
3
0
3
0
-7.41
0
The semi-final round of the Winter League took place on Saturday, March 31st.
In the A championship, the Avengers beat the MUN Riders by 5 wickets. Sachin Vashistha and Saeed Khan got the Riders off to a good start but then some good bowling by Rahul Vashishtha (3/7) and Praveen Manhas (2/5) helped by two good catches from Bharath Shetty saw them all out for 47. Rahul Vashishtha hit an unbeaten 31 to take the Avengers to the final with 5.3 overs to spare, and he was named man of the match.
Scorecard
The other semi-final was the match of the weekend as NSK beat the AllStars by just 3 runs. The AllStars bowled well to restrict NSK to 56/5, with Talha Riaz top-scoring with 32. Rafeh's 25 seemed to put the All Stars on track for victory, at one point needing just 6 from 16 balls with 3 wickets in hand. However wickets, fell and the match came down to the last over, when a catch on the boundary by Neelav Diwan gave NSK the win. Talha was named man of the match.
Scorecard
NSK and Avengers will meet in the A final at 3 pm next Saturday, with the All Stars and MUN Riders playing for bronze at 12 pm.
In the B championship, an excellent bowling performance from the Royal Challengers had the Lions all out for 30. Amrish (man of the match) hit a well judged 20* to give the Challengers a win by 3 wickets.
Scorecard
In the other match, the best batting performance of the day, 62* from Poorna Kumar (man of the match) took the Sharks to 92/2. ACC struggled to hit boundaries against some accurate bowling, amaking 52/2, giving the Sharks a 36 run win.
Scorecard
The Sharks meet the Royal Challengers at 2 pm next Saturday in the Championship match, with ACC playing the Lions for bronze at 11 am.
In the C championship the BD Tigers beat PSA by 3 wickets. PSA made 79/1 thanks to 44 from Najaf, but the Tigers won in the last over, thanks to 22 from Sadman Amin, well supported by 16 from Mahin.
The St. John's VII advance to the C final as the Vikings defaulted their match.
Scorecard
The C final will be between the BD Tigers and St. John's VII at 1 pm, with the bronze medal match at 10 am.
The Cricket Newfoundland and Labrador Winter League concluded today (Saturday) with the Championship finals.
The A championship was won by the Newfoundland Super Kings, with a comfortable win over the Avengers. The Avengers batted first, and were restricted to 74 for 1 wicket thanks to an excellent bowling performance from NSK. Sajawal Osto bowled two overs for just 8 runs (a man of the match performance), and Neelav Diwan took the critical wicket of Rahul Vashishta to a juggling catch behind the wicket by Abishek Doshi. Rahul top scored with 28, and Shami Khan contributed 24.
NSK passed the Avengers total without losing a wicket with 2.5 overs in hand, as Rakesh Negi (37) and Talha Riaz (25*) took them to victory.
Scorecard
The All Stars placed third with a big score – 146/2 led by 72 from Rafeh, and three wickets from the tournament's top bowler Ali Raza helped restrict the MUN Riders to 69/4.
Scorecard
The B championship was won by the Sharks who beat the Royal Challengers by 20 runs. The Sharks batted first, making 88/1, led by Poorna Kumar (31) and R Gamnesan (27). The Challengers struggled against some good bowling, led by man of the match Bala who took 1/9 in three overs. Amrish made 29 in a losing cause.
Scorecard
Avalon CC placed third, with a last over win over the Lions.
Scorecard
The St. John's VII won the C championship with a 17 run win over the BD Tigers. Mustazhir made 54 of the St. John's 100/2 and Messam Timur took 2 wickets as the BD Tigers only managed 83
Scorecard
Sajawal Osto was named tournament MVP, with Raheel Zaman best batsman and Ali Raza best bowler
2018 Summer League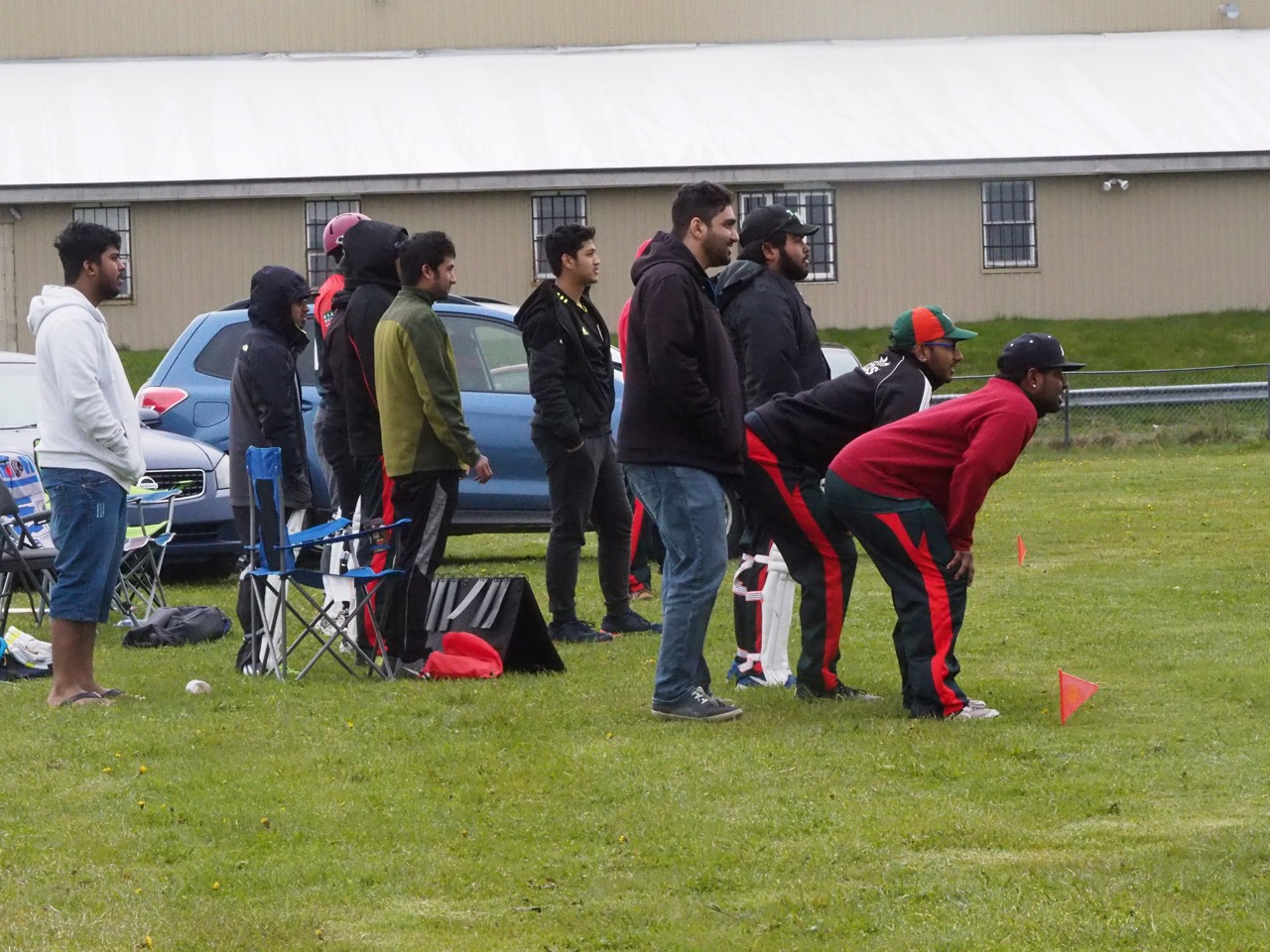 A day when the temperature never reached double digits, and drizzle drifted in and out throughout was by no means ideal for cricket but the Summer League got off to a good start anyway. It takes more than a bit of rain, drizzle and fog to deter Cricket NL players. Conditions were challenging for batsman, bowlers and fielders alike with the damp outfield resulting in a sodden heavy ball but that did not get in the way of some excellent cricket.
The opening match saw last year's champions, the Avengers taking on the NL Eagles. The Avengers chose to bowl first after winning the toss. The Eagles made a steady start but lost Saeed Khan, smartly stumped when wandering out out of his crease, and Nadeem Saqlain, surprised by some extra bounce from Rahul Vashisht and caught behind. Madushanka was well caught by Saravana Kumar, and the Eagles were 20-3. Raheel Zaman and Messam Timar put on 26, batting well but struggling to get the ball to the boundary, as good strokes along the ground died in the longer grass of the outfield. Messam was bowled by Saravana, and then Madhu Bandara bowled his off-spin exceptionally well to take four wickets for 23. Raza Riaz hit well, scoring the first boundary of the innings with a drive over long on, and was unbeaten on 20 at the end. Ali Raza finished the innings with a six- very nearly a fifth wicket for Madhu, as the hit was caught fractionally over the boundary. Shami Khan took two wickets (as well as an excellent catch in the deep; he slipped and fell but still managed to get his hands under the ball), and Praveen Manhas bowled four overs for just 11 runs.
The final total of 97/8 looked as though it might be defendable in tough conditions for batsman, and an early wicket for the Eagles- a fine catch by Ali Raza from a well hit drive by Praveen Manhas, gave them hope. That, however brought in Rahul Vashishta, who played a splendid innings hitting well all round the ground. His 75 not out was made from 32 balls, with five fours and six sixes and was out of only 83 runs made from the bat. The Avengers won by 9 wickets in 8 overs. Madhu was named man of the match.
Scorecard
The second match featured the Newfoundland Super Kings and the Bangladesh Tigers, and again NSK winning the toss chose to field. Captain Hummam-bin Saif fell early but M Zilani and Anol Azad put together an excellent partnership of 52. Runs were hard to find, with again some good shots normally worth four only realizing singles or twos, but they ran well between the wickets. Zilani was caught for 25, bringing in Nazrul Shikon who hit two big sixes in his 22. Anol finished 49 not out, a classy innings, and in the conditions worth more than many half centuries. Abishek Doshi bowled 2 overs for just 5 runs and Rakesh Negi 4 overs for fifteen runs and one wicket. The final total of 119/3 looked to be a challenging target, and when NSK were two down with only 22 on the board, the Tigers seemed to have the upper hand. The game was turned by a fine partnership between Rakesh Negi (51*) and Adeel Ilyas (42). They were certainly helped by a number of catches that went to ground, but both played some fine strokes. When Adeel fell only 15 were needed; NSK lost 2 more wickets getting those runs but came out the winners by 5 wickets with 4.1 overs in hand. Indraneel Malik led the bowlers with 3/18.
Rakesh Negi was named man of the match.
Scorecard
It was even colder on Sunday, when the Royal Challengers made their outdoor league debut against the Eagles. The Eagles won the toss and put them into bat, and they had a tough start, losing two wickets in the second over. Bhupesh Sharma (18) and Amit Neghandi (42) put on 59 for the second wicket, and Shubbam Sharma (17*) and Guru Gopinath (13) helped the Royal Challengers reach a very respectable 121/5 in their twenty overs. Messam Timmar led the Eagles bowlers with 2/19. The Eagles however, with 43 not out from captain Raheel Zaman with support from Abdul Rafeh (24) and Messam Timar (18*) knocked off the runs in 11.4 overs. Raheel Zaman was named man of the match.
Scorecard
June 9/10
Saturday was another bitterly cold day on the cricket field but due to an early start, the Royal Challengers- Avengers match was completed before rain prevented any further play on the day.
The Avengers put up a big total of 214, thanks in large part to 80 from man of the match Gurman Khurana. His runs were made from 50 balls with eight fours and two sixes and he was caught from the last ball of the innings. He came into bat after Rahul Vashisht had to retire hurt with an injured knee after smashing 31 from just 12 balls. Daxj Mehta made a useful 24 opening the batting, and Praveen Manhas (15) and Deep Patel (12) were useful partners for Gurman as the overs ran down. Manvir Mann took 2 wickets, and Tarun, Waqas Ahmed and Gurpreet Monde each took one for the Royal Challengers.
Strong opening bowling from Shami Khan, Deep Patel, Praveen Manhas and Saravana Kumar had the Royal Challengers in serious trouble – 22 for 6 after 7.4 overs. Waqas Ahmed (36) and Manvir Mann (20) put on 67 for the 8th wicket and extended the match into the final overs. Praveen Manhas took 3 more wickets in his second spell to end the match with 5/22.The Royal Challengers were bowled out for 122 in the 20th over.
Scorecard
Sunday saw much better weather and both matches were played in sunshine.
NSK won the opener by 100 runs after posting a big total of 210. They were led by a splendid innings of 122 not out from Adeel Ilyas, carrying his bat after opening the innings. He hit 9 sixes and 7 fours, and his runs were made from just 64 balls. He received good support from Amit Sundly (25) and Arif (30). The Royal Challengers again passed 100 in their reply, thanks to 19 from Rubin Deol, 18 from Irtiza Dar, and 18 from Manvir Mann but could not keep up the scoring rate. They finished on 110 for 7 in their 20 overs.
Scorecard (note, correct scores should be Adeel Ilyas 122*, Mukul Diwan 3; in addition the run out in the Royal Challengers innings should be attributed to Rakesh Negi).
The Eagles took on the Tigers in the second match. The Eagles lost a wicket from the first ball of their innings but then sensible batting from captain Raheel Zaman (38) well supported by Madushanka (20) took them to 58 before the next wicket fell. Messam Timur (37*) and Najaf Raza Kami (15*) shared an unbeaten 47 run partnership to help the Eagles to 146/4 in 20 overs.
The Tigers also lost a wicket from the first ball of their innings, but Mohammed Zilani (20) led them to 41/2. Zilani fell leg before, and this initiated a collapse as 41/2 became 46/8. Movee and Shaifan put on 22 for the last wicket but the Tigers were 78/9 when the match ended, giving the Eagles a 68 run win. Messam Timur took 3 wickets for 4 runs in 3 overs as well as taking a good catch, and was clearly man of the match.
Scorecard (note: BD tigers score should be for 9 wickets in 19 overs, and Movee was not out, Waqas Ali with one less wicket).
June 17:

Another cold day saw two matches on Sunday. The opening game was a top of the table clash between the two unbeaten teams, the Avengers and Newfoundland Super Kings.
NSK won the toss and chose to bowl first. Rahul Vashisht, hampered by an injured knee, made a brave 56 from 25 balls. Barely able to put weight on his right leg, he was forced to score in boundaries, hitting six fours and five sixes. When he was caught, Shami Khan (30) and Gurman Khurana built on this rapid start with a 64 run partnership. Gurman made 72 from 49 balls and for the second time this year fell on the last ball of the innings. The Avengers scored 187/5 from their 20 overs.
The Avengers bowled very well, running through a strong NSK batting line up, and bowling them out for 99. Arif top-scored with 19, and Adeel Ilyas made 18. Six Avengers bowlers shared the wickets, and keeper Daxj Mehta had four victims- three catches and a stumping. Gurman was named man of the match for his excellent innings.
Scorecard
The second match had the Royal Challengers taking on the BD Tigers and recording their first win in the Summer League. The BD Tigers batted first, making 115 all out in their twenty overs. The innings was finished by a hat-trick for Challengers captain Manvir Mann, who finished with 5/14. Abu Syed top-scored for the Tigers with 25, with Mohammed Zilani contributing 24. The Challengers reached their target in the 19th over, thanks to a man of the match performance by Kamal Gosal, 55 not out from 35 balls, featuring 7 fours and a six.
Scorecard
Pictures from Avengers-NSK
June 23
It has been a long wait for good cricket weather but the sun finally shone on RCAF field on Saturday, where the closest match of the Summer League to date saw the Eagles defeat the Super Kings in the final over. The Super Kings won the toss and batted first, and Adeel Ilyas continued his good form with a score of 30, opening the innings. Wickets fell at the other end, however, but Shaikh Arifusalam (38) helped NSK bat through the innings for a decent total of 143. Asim took 3/13, Ali Raza 3/25 and Waqas Ali 2/10.
Saeed Khan batted through the Eagles innings making 47 not out and leading his team to victory. He had good support from Mesam Timmar (14), Raheel Zaman (23) and Ali Raza (20). Eight runs were needed from the final over, but despite a run out from the first ball, four wides saw the Eagles home. Ali Raza was named man of the match.
Scorecard
July 2
Only one league match was played this weekend, and this was postponed to the holiday Monday after a rainy Saturday. NSK beat the Royal Chaqllengers by 13 runs in a well-contested match. Royal Challengers put NSK into bat, and were rewarded with early wickets, Tendai Mudunge bowling with some hostility to dismiss both the openers, with only 8 on the board. Abishek Doshi in a patient innings of 45 from 43 balls supported by Rakesh Negi (16, falling to an excellent catch from Amit Neghandi) and Amit Sundly (14) took the score to 133. A late flurry of hitting from Raga Ganesan (25 from just 11 balls) took NSK to a total of 147/9 from their 20 overs.
The Royal Challengers made a good start in their reply, Waqas Ahmed making 14, Amit Neghandi 10 and Ranvir Rana 18, but fell behind the required run rate. Amrish made a useful 2, but the batting honours went to Kamal Gosal with a spectacular half-century, 56 from just 27 balls with six sixes. The run rate was just too high at that point and the Challengers finished 13 runs short. NSK bowled well, led by Mukul Diwan's 1/15 in 4 overs, two wickets for Amit Sundly and Adeel Ilyas, and only 4 wides bowled in the innings- possibly a Summer League record.
Abishek and Kamal were jointly awarded man of the match honours.
Scorecard
July 7-8
The weekend's matches opened with a match between the teams that contested last year's Saini Cup, the Avengers and Newfoundland Super Kings. This turned out to be a one-sided encounter, with the Avengers winning by 8 wickets, overtaking NSK's 74 all out in just 6.4 overs. NSK won the toss and batted first, and despite the loss of Abishek Doshi in the second over, got off to a good start, reaching 33/1 after 4 overs. The Avengers tactics of using their spinners in the early overs paid off, however, as both Talha Riaz (13) and Amit Sundly hit high catches into the sure hands of Barath Shetty at long on from the bowling of Madhu Bandara. Praveen Manhas took his second wicket when he bowled NSK captain Rakesh Negi, and then debutant Mirihan ran through the middle order with his leg spin. He ended up with 2/5, Praveen 2/9, Deep 2/2 and Madhu 2/23 as NSK were dismissed in the 19th over. NSK tried the same tactics of spin early in the innings but were less successful as Rahul Vashishtha smashed 54 from 19 balls with four fours and five sixes. The umpires had a tough choice with man of the match but awarded it to Mirihan
Scorecard – note the 15th over – a wicket maiden was bowled by Deep Patel, not Mihiran, so Deep's figures should be 2-1-2-2, Mihiran 2-0-5-2, with Deep taking Adeel's wicket.
A record-breaking effort by the Eagles gave them a big victory over the Royal Challengers. Their total of 272/3 is the highest recorded since the outdoor Summer 20-over league started 7 years ago. Mesam Timmar led the way with a fine century- an unbeaten 109 from 50 balls, with five fours and eight sixes. Raheel Zaman made a rapid 61 not out (28 balls, 5×4, 3×6), putting on 123 with Mesam in 7.9 overs.
The Royal Challengers battled hard, making 101 with Kamal Gosal top-scoring with 36, and Manvir Mann 32. Zohair Syed led the bowlers with 3 wickets. Mesam was named man-of-the-match.
Scorecard
On Sunday the Avengers took on the Bangladesh Tigers. A good bowling effort by the Tigers restricted the Avengers to 144/9 from their 20 overs. Gurman Khurana (26) and Madhu Bandara (23) were the leading scorers but mention should be made of the 36 run 10th wicket partnership between Hassan Gafoor (8) and Saravana Kumar (15). Shaifan Ahmed took an impressive 4/16, with good support from Indraneel Malik (2/16) and Abu Syed (2/36).
The Tigers struggled in their reply against some tight bowling. Madhu Bandra took two wickets in his first over to make the early breakthrough, and Deep Patel took 3 wickets as the Tigers were bowled out for 86. Madhu was named man of the match.
Scorecard (partial)
Note: The Tigers innings was reconstructed from partial paper scoring. From 33/7 they lost Sadman Amin, caught by Rahul Roy off the bowling of Saravana Kumar, but Shaifan Ahmed and Ayaz batted out the overs, Ayaz making about 30.
July 21

July 21 was probably the best day of the summer to date for cricket- temperatures in the mid-20s, only a light breeze, and a field in perfect condition thanks to the hours put in by our volunteers on the lawn tractor. Royal Challengers won the toss, and asked the BD Tigers to bat. Zilani and Abu Syed put on 34 for the first wicket but then three quick wickets had the Tigers in trouble at 57/3 at the half-way point. An excellent 75 run partnership between Hummam bin Saif (48 from 27 balls) and Ayaz Ghani (27) allows the BD Tigers to set a target of 145- more than the Royal Challengers had managed to date in the league. With both openers gone with just 21 runs on the board, it looked as though the Challengers would be challenged, but another excellent innings by Kamal Gosal turned the match on its head. He was dropped early on in his innings but then powered his way to 90* from 43 balls, hitting seven big sixes mostly with drives over long-on. Ranvir Rana and Amrish provided good support as the Royal Challengers won by 7 wickets with 4 overs to spare
Scorecard
July 28-29

The Newfoundland Super Kings took on the Bangladesh Tigers in Saturday's match. The NSK team was notable in that it featured the debut of the first "graduate" from our Junior programme to the Summer League, Moiz Khan. The team also had an age difference of 48 years between youngest and oldest member, as Dave Liverman also took part!
The Tigers won the toss and chose to bat in damp conditions. Openers Mohammed Zilani (29) and Indraneel Malick (9) put on 45 for the opening wicket, as the pace bowlers struggled with the damp ball. The introduction of spin was immediately effective with Rakesh Negi dismissing the openers, and Raga Ganesan tearing through the middle order. Talha Riaz took three wickets for 27, Rakesh 2/20 and Raga was the pick of the bowlers with his leg-spin earning 4/18.
Adeel Ilyas was in fine form when NSK replied, smashing 70 from 45 balls, with six fours and two sixes. He made his runs out of 101, and looked set for more until an excellent yorker from Indraneel Malick bowled him. Rakesh Negi kept up the momentum with and unbeaten 39, and in partnership with Abhishek Doshi (16*) took NSK to a 7 wicket win with 6.2 overs to spare. Raga and Adeel shared man of the match honours.
Scorecard
On Sunday, Royal Challengers won the toss and put NSK in to bat. Manvir Mann dismissed the openers but Amit Sundly (18) and Rakesh Negi (26) kept the scoreboard moving. Amrish Desai's three wickets provoked a mid-order collapse, leaving NSK at 89/7. Amjad Siddiqui (24) and Dave Liverman put on 37, and NSK closed on 130.
The Royal Challengers lost early wickets but a useful contribution by Ranvir Rana, and a good partnership between Manvir Mann and Kamal Gosal (26) had them on track at the half way mark. Four wickets from Amit Sundly changed the game and NSK ran out the winners by 47 runs.
Amit and Amjad shared man of the match honours.
Scorecard (note there are some errors in the RC innings- Kamal was bowled by Amit, not not out).
Aug 4
The highlights of Saturday's matches were two fine innings – 71 from Ranvir Rana and a century from Rahul Vashishtha, and a 5 wicket haul for Saravana Kumar, as Royal Challengers beat BD Tigers, and Avengers beat NSK.
In the opening match Royal Challengers batted first, and after losing two early wickets an excellent 122 run partnership between Amit Neghandi (42) and Ranvir Rana (71) supplemented by 30 from Kamal Gosal took them to a season's best 192/7 from 20 overs. Ranvir hit seven fours and three sixes in an innings taking only 41 balls. A 54 run opening stand between Indraneel Malick (18) and Mohammed Zilani (20) got the Tigers off to a good start in reply and Nouman Rashid contributed 23, but a good bowling performance, led by Gurpreet Monde's 3/25 saw them all out for 127.
The second match saw Rahul Vashishtha score 108 of the Avenger's 178 runs (108 out of 158 while he was at the wicket), after they batted first. Mukul Dhawan took two early wickets, and Rahul gave an early chance which was not accepted. He made the most of this let-off scoring his runs from 55 balls with seven fours and five sixes. Rahul Roy (32*) helped him put on 108 for the fourth wicket. Praveen Manhas (2/12) took two upper order wickets, but Saravana Kumar proved deadly when brought on, taking 5/15 in 3 overs. NSK had useful innings from Amit Sundly (28), Abhishek Doshi (24) and Arif (22) but fell well short of the target, all out for 104.
Aug 11-12

Saturday saw a top of the table clash between the Avengers and Eagles. This turned out to be an excellent match, with the Avengers coming out on top with a hard -earned 14 run win.
The Eagles won the toss and put the Avengers in. Rahul Vashishtha got off to his usual fast start, making 31 from 10 balls before he was yorked by Messam Timmar. Messam dismissed Rahul Roy next ball and when he took his third wicket, Avengers were 55/3. Gurman Khurana (33) and Madhu Bandara (15) put on 52. Gurman was caught by Asim and next ball Saravana was run out by a stunning direct hit by Waqas Ali (who also took two catches), with only one stump to aim at. Zohair Syed mopped up the tail, taking 4/13 with some well controlled flighted leg spin, and Avengers were all out for 146.
The Avengers opening bowlers, Shami Khan and Madhu Bandara gave nothing away, and the Eagles scoring rate was restricted to under 4/ over. With half their overs gone, the Eagles had 44 on the board and were facing more accurate bowling from Praveen Manhas and Rahul Vashishtha. Messam Timmar made 35, and then Raheel Zaman hit well for 37. The Eagles managed to stay in the game, although the required run rate was always high, and needed 22 from the final over. When Raheel was caught on the boundary, they fell 14 runs short. Saravana took 3/27, and Madhu bowled his 4 overs for 14 runs- and was named man of the match.
Scorecard
The Eagles bounced back with a win over Royal Challengers on Sunday. They batted first and made 170; Rafeh (28) and Raza Riaz (26) got them off to a strong start, and another good innings from Raheel (42) helped them to a good total. For Royal Challengers, Tendai (4 overs for 25 runs)and Amrish (4 overs, 1/19) bowled well, and Bhupesh took two wickets. The Royal Challengers made 159 in reply. Messam bowled well early on (4 overs, 1/17), and Osama (2/12) kept things tight towards the end. Tendai (40) and Ranvir Rana (37) batted well for the Royal Challengers. 13-year old Maaz Khalid debuted for the Eagles and took a catch. Messam Timmar and Raheel Zaman were named joint men of the match.
Scorecard
Aug 18:
The Eagles defeated NSK in an exciting match that eventually came down to the last ball- with 6 required to tie, NSK's final bat was caught to give the Eagles a narrow win. NSK got off to a great start, dismissing both the Eagles openers with only 3 on the board but then Ali Raza (56) and Najaf Raza Kami put on 47 for the third wicket, and another partnership of 67 between Ali Raza and Madushanka (38) took them to 155. Abhishek Doshi took 3/23, and Neelav Deewan 2/19. After losing a wicket in the first over, Talha Riaz (14) and Taqrim Ghous (26) put on 57, but both fell on the same score. Three more wickets saw NSK in trouble at 75/6 before a good partnership between Arif (18) and Raga (41) put them back in the hunt. 21 were needed from the last two overs, and this proved just too much. Ali Raza took 5/ 27 and was clearly man of the match.
Scorecard
The other match was dominated by a big innings from Rahul Vashishtha, despite being hampered by the knee injury that kept him off the field for the National T20. He made 141 from 52 balls, with eleven fours and thirteen sixes – 141 out of 175 while he was at the crease. He put on 117 with his brother Sachin (18). Madshu Bandara contributed 22 as the Avengers totalled 221. This proved far too much for the Bangladesh Tigers, who made 113 in reply, thanks to 26 from Anol Azad and 37 from Sadman Amin. Shami Khan bowled well conceding just 11 runs from 4 overs.
Scorecard
The Avengers clinched the league title with two matches still to play with a 23 run over the Eagles in a high scoring match. The Avengers made 209/2, thanks to a third century of the season from Rahul Vashishtha – an unbeaten 122 from 69 balls with 5 fours and eleven sixes. He received good support from Gurman Khurana with 53 not out from 33 balls.
The Eagles' chase started well with Mohammed Asim (43) and Raza Riaz (36) putting together an opening partnership of 85. Raheel Zaman (53 from 27 balls) kept the Eagles in contention. Good mid-overs spells from Saravana Kumar and Praveen Manhas and strong fielding resulting in four run outs saw the Eagles fall short. The Avengers have now won every match of the season, and have a 4 point lead over the Eagles, who only have one match to play.
Scorecard
The final weekend of matches was highlighted by the third century in a row from Rahul Vashishtha, and a record total as the Avengers beat the Royal Challengers. Rahul made an unbeaten 139 from 65 balls with 11 sixes. In his last three innings he has made 141, 122 and 139 (twice not out) – 402 runs from 186 balls, with 23 fours and 36 sixes. His century was part of a massive total of 275/1, and Rahul Roy was unlucky not to make a century himself, run out for 97 in the last over. He and Rahul put on 270 for the first wicket, by far the highest partnership in league history, with the final total of 276 beating the record set by the Eagles earlier this season. The Royal Challengers were bowled out for 31, giving the Avengers a 245 run win- again a record. Bharath Shetty led the bowlers with 3 wickets.
Scorecard
The second game in contrast was relatively low scoring. NSK made 96 with Abhishek Doshi top-scoring with 39. Mohammed Asim led the bowlers, taking 3/13. The Eagles lost early wickets at one point being 9/3, but Raheel Zaman (26) took them to a 4 wicket victory. Rakesh Negi took 3 wickets for NSK.
Scorecard (Note there are are scoring errors in the card; Rakesh Negi made 10 and Adeel Illyas 3, and Ali Raza's figures were 3-0-30-1 with R Dey not bowling).
On Sunday, the Avengers completed their unbeaten season with an 89 win over the Royal Challengers. Gurman Khurana led the batting with 75 (40), well supported by Rahul Vashishtha (44) and Bharath Shetty (30) as the Avengers made 216 all out batting first. Ranvir Rana made 40 and Amit Neghandi 36 for the Royal Challengers, but they fell short of the target, making 129/8 in their 20 overs.
Liverman Herringshaw Cup

The Royal Challengers and NSK played for the Herringshaw-Liverman Cup on Saturday. NSK batted first and Royal Challengers got off to a great start, taking three key wickets in the first two overs to reduce NSK to 9/3. Arif and Abhishek combined for a match winning 4th wicket partnership of 142. Abhishek made 67, and Arif an unbeaten 73. Neelav Diwan hit well for a quick 16 at the end, and NSK totalled 182. Royal Challengers fought hard but were always just behind the required run rate. Bhupesh Sharma top-scored with 40, and Tendai Mudunge made 33, but they end up 25 runs short with 9 wickets down. Arif was named Cup MVP.
Scorecard
(note: there are minor errors in the card with bowling and Raga Ganesan had a run out in the Challengers innings, not Dave Liverman).
Saini Cup

The Avengers took the first game of the Saini Cup series by 41 runs in a well-contested match. The Avengers made 177/6 batting first, led by 70 from Gurman Khurana with good support from Rajith Kaushalya (38) and Rahul Vashishtha (29).
Saeed Khan (24), Ali Raza (34) and Raheel Zaman (26) led a fighting reply but some good catches from the Avengers left the Eagles on 136/7. Game 2 goes at 11 am on Sunday.
Scorecard (note: there is a slight error on the last over in the 2nd innings; it was bowled by Hassan and there were two wickets of Asim and Waqas , 2 wides and 1 run from the bat).

The Avengers won the Saini Cup 2-0 with a 9 wicket victory on Sunday. Overnight rain meant wet conditions, which represented a challenge for bowlers and batsmen, but the teams overcame them in an engrossing match.
The Eagles batted first, and lost both openers to run outs after a good start, due in part to difficult conditions underfoot resulting in slips. Raheel Zaman again played very well making 57 in 41 balls taking the Eagles to a competitive total of 155. The Avengers fielding was top-notch, highlighted by a fine direct hit run-out from Daxraj Mehta and an excellent catch at deep-square from Praveen Manhas.
Another direct hit from Hamza Rehan ran out Rahul Roy as the Avengers reply got under way, and tight, hostile bowling from Mohammed Asim and Najaf Raza Kami put the Avengers under pressure. The turning point of the match was perhaps the 12th over, when Mohammed Asim beat Rahul Vashishta with a beauty that just missed leg stump, and then an easy chance went down, with the Avengers needing 70 from 8 overs. Rahul Vashishtha paced his innings very well and accelerated, finishing the match with a 6, and making an unbeaten 90. He had excellent support from Maanik Arora, who made 52*, as well as bowling four overs for 17 runs (the scorecard attributes his bowling to M Arora), and he was named man of the match.
This concluded an excellent Summer League, and we extend our thanks to all captains, managers, umpires and the league committee chair Waqas Ali for their efforts.
Scorecard
We were honoured to have his worship Danny Breen, the Mayor of St. John's, and Councillor Debbie Hanlon join us for the Summer League awards, held between the first Saini Cup match and the Herringshaw Cup match. The following awards were presented.
Most valuable player and best batsman: Rahul Vashishtha
Best bowler: Praveen Manhas
Best fielder: Ali Raza
Dave Liverman award (best newcomer): Kamal Gosal
Most spirited players:
Bangladesh Tigers: Indraneel Malik
Royal Challengers: Manvir Mann
NSK: Moiz Khan
Eagles: Raheel Zaman
Avengers: Daxraj Mehta
The League Trophy was presented to the Avengers.
Eastern T20

The provincial team faced two strong Quebec teams on the opening day ot the Eastern T20 and came up short in both matches. The first game against Quebec White was low scoring, with both teams battling an unpredictable pitch, and an outfield with thick grass and long boundaries. Sajawal Osto (19) and Rakesh Negi (12) got the innings off to a good start, with a 30 run partnership but then the batsman struggled against good bowling. Rahul Vashishtha made 13, but the team totalled just 67/8 from their 20 overs. Mesam Timmar, Praveen Manhas and Rakesh Negi all took wickets but Quebec White won by 7 wickets with 6 overs to spare
Scorecard
Video

Quebec Red batted first but struggled against Messam and Deep initially, and lost two quick wickets. A big 3rd wicket partnership of 91 between Pooran Ramkisson and Ifteker Ahmed took them to a good total. Rahul Vashishtha took 2 wickets, but they set a target of 160 to win. Rahul fell in the first over but a good partnership of 51 between Anol Azad (22) and Sajawal Osto (27) kept Newfoundland in the game. Gurman Khurana contributed a useful 22 but tight bowling meant runs were hard to score, and eventually Quebec won by 51 runs.
Scorecard
Video from Cricclubs

The tournament continues with matches against PEI and Nova Scotia tomorrow. Both will be live streamed by CricClubs on their Youtube channel.
The PEI game proved to be the closest match of the tournament, as we scraped a one wicket win. PEI put on 34 for the first wicket but took 8 overs, thanks to tight bowling from Mesam Timmar and Praveen Manhas. The stand was broken by Rakesh Negi, and then wickets fell regularly. Rakesh took 2/20, Praveen 2/16 and Madhu Bandara 2/11 as PEI were restricted to 99. Given the unpredictable pitch, thick grass and long boundaries, this represented a challenging target, and when three wickets went down for just 18, NL were in trouble. Anol Azad (14) helped Gurman Khurana steady the ship, but then further wickets fell – 52/6 in the 13th over. Mesam Timmar (11) provided valuable support for Gurman who played a match winning innings. He hit a six to reduce the target to 15, but then two more wickets fell. 7 runs were needed with two overs to go, when Gurman was caught for 34, leaving our final pair of Saravana Kumar and Madhu Bandara to score the 2 runs needed to win. A quick single to point from Saravana, and a lofted drive from Madhu gave us a 1 wicket win.
Scorecard
Video
The team was back on the field immediately to face Nova Scotia, who needed a big win to help their chances of making the finals. Nova Scotia batted first and batted aggressively. Praveen Manhas bowled very well conceding just 11 runs from his three overs and was well supported by Rakesh Negi (2/18) and Rahul Vashishtha (1/21) but Nova Scotia totalled 112 from their 15 overs.
The team needed a good start but lost three wickets from the first 8 balls, and never really recovered. Gurman (13), Anol (17) and Abhishek fought hard but NL were bowled out for 65.
Scorecard
CricClubs video

The final day of the Eastern T20 started with a good win for the provincial team over New Brunswick. After losing an early wicket a 2nd wicket partnership of 46 between Rahul Vashistha (18) and Mesam Timmar (32) set the foundations for a good total. The pitch was not easy, the grass long and the boundaries longer, so they played a controlled game, with excellent placement of shots and running between the wickets. Abhishek Doshi (22) played well in the middle order and the bats worked hard for every run of the 114 final score.
Praveen Manhas and Mesam bowled excellent opening spells, Mesam taking 1/5 and Praveen 2/7 both bowling three overs. Madhu, Rakesh and Rahul kept the pressure on, and when the game was halted for torrential rain, NB were 59/7 from 14.1 overs. NL were declared winners by 32 runs on Duckworth-Lewis, and Masam was named man of the match.
Scorecard
The win qualified NL for the bronze medal game against Quebec Red, but the heavy rain meant that the final matches were cancelled, leaving Quebec Blue as champions, and NL 4th.
Video

2018 Fall League
Statistics, standings and more
Week 1:
Five of the six first round fall league matches went to the last over before being decided, in an exciting day of cricket.
Group 1:
Royal Challengers 79/5 in 7.3 overs beat NSK 77/5 in 8 overs
BD Tigers Green beat Lions by 2 wickets: Scorecard
Group 2:
Avengers beat Rising Stars by 3 runs: Scorecard
Avalon CC beat St. John's United by 2 wickets: Scorecard
Group 3:
BD Tigers Red beat Sharks by 4 wickets: Scorecard
PSA beat Eagles by 4 wickets: Scorecard
Week 2:
Group 1;
NSK 55/4 beat Lions 44/3 by 11 runs: Scorecard
Royal Challengers 93/4 beat BD Tigers Green 65/4 by 28 runs: Scorecard
Group 2:
Avengers 94/6 beat Avalon CC 63/4 by 31 runs: Scorecard
Rising Stars 82/4 beat St. John's United 44/4 by 38 runs: Scorecard
Group 3:
Sharks 54/2 lost to Eagles 60/3 by 3 wickets: Scorecard
PSA 96/1 beat BDT Red 78/4 by 18 runs: Scorecard
Week 3:
There was just one match this weekend, and with a 32 run win, the Royal Challengers booked a place in the A Championship, going through the round robin undefeated. The Lions will play in the C championship. The Royal Challengers batted first and made 83/3 from their 8 overs, with Bhupesh Sharma top-scoring with 22. Nayanajith Udara made 28 for the Lions but they were bowled out for 51 in the last over, with Manvir Mann taking 4/18.
Scorecard
Week 4:
Saturday saw 5 matches, and placings settled in all groups.
Short scores:-
Avengers 50/1 (4.5 overs) beat St John's United 49/3 (8 overs)
Scorecard
PSA 89/2 (8 overs) beat Sharks 83/3 (8 overs)
Scorecard
NSK 44/1 (4.4 overs) beat BD Tigers- Green 41/3 (8 overs)
Scorecard
Avalon CC 66/4 (7.1 overs) beat Rising Stars 65/4 (8 overs)
Scorecard-RS
BD Tigers- Red 51/3 (5.3 overs) beat Eagles 50/3 (8 overs)
Scorecard
Semi finals
A Championship
PSA 134/1 beat Royal Challengers 105 all out Scorecard

Avengers 92/3 beat NSK 78/4 Scorecard
B championship
Rising Stars beat ACC by 60 runs:- Scorecard
BD Red 31/4 beat Eagles 30 all out Scorecard
C Championship
BD Green 75/4 beat St. John's United 70/5 Scorecard
Lions beat Sharks by 4 wickets Scorecard
Finals
The indoor league concluded with final matches on December 1st. The A championship was won by PSA, who beat the Avengers in an exciting match that went right down to the wire. PSA batted first, and after losing an early wicket, a good partnership between Saeed Khan (26) and Waqas Ali (22) took them past 50 in the 5th over. Saeed was run out as Gurman Khurana made a great pick up and throw, and he caught Waqas Ali in the next over. Bharath Shetty took three wickets and helped restrict PSA to 77/5 from their 8 overs.
Rahul Vashishtha (24) and Maanik Arora (25) put on 51 in the first four overs, and the Avengers seemed to be cruising to victory. Two pieces of fielding from Waqas Ali changed the course of the match. He first took an outstanding catch off his own bowling, getting both hands to a powerful drive to Rahul, then ran out Maanik with a direct hit. At that point the Avengers still needed just 17 from 2.2 overs. Ahmad had Gurman Khurana caught from the last ball of the 6th over. Five runs came from the first two balls of the 6th over, but then Saeed Khan ran out Bharath, and Najaf bowled Harman Khurana – 8 to win from the final over with only one wicket left. Khurram Sheezad has given the responsibility of bowling the last over, and delivered, having Sachin Vashishtha caught behind for a seven run win.
The Royal Challengers took on NSK in the bronze medal match. Royal Challengers batted first, and made 75/5, led by 22* from Manvir Mann. Rakesh Negi took 2 wickets for NSK. In reply, NSK lost an early wicket when Rakesh Negi was run out, but Abhishek Doshi (45*) and Talha riaz (22*) took them to a 5 wicket victory with 5 balls to spare.
The B championship final was played between the Rising Stars and BD Tigers Red. Unfortunately the match had to be suspended with BD Tigers on 40/2 in 3.4 overs, chasing the Rising Stars total of 110/2, as the match could not be completed in the allotted time. The league committee will determine the outcome of the match. Shahinur Islam led the way for the Rising Stars with 51*
The Eagles won the B bronze, beating Avalon CC by 14 runs. Messam Timar led the way for the EWagles, scoring 28, and taking 2 wickets.
Scorecard
The Lions took the C championship, restricting BD Tigers- Green to just 37/4 from 8 overs. Rajiths took 2/8 from 2 overs, and Madhu Bandara bowled his 3 overs for 8 runs. Sazzad Hossain Rifat made 20 for BD Tigers. Madhu made 16 as the Lions reached their target with 8 balls in hand.
Scorecard
The Sharks took the C bronze limiting St. John's United to 45/3 in 8 overs, and racing to victory without losing a wicket in 3.4 overs
Scorecard
Saeed Khan was named best bat, Manvir Mann best bowler, and Maanik Arora MVP.