The 2019 season featured indoor leagues in Winter and Fall, and a full summer League schedule with for the first time a 40-over competition. A highlight was the establishment of a women's programme; the women's team played recreational matches in the summer, and took part in Fall League. The Provincial team travelled to PEI, placing third.
CricHQ summaries
Winter League

Summer League

Fall League

Winter League
Semi finals
March 23 was semi-final day, after a hard fought round robin competition concluded.
A championships:
In the first semi final Avengers put up a good total of 83 runs for 4 wickets, led by 31 from Rahul Vashishtha. The Lions got off to a great start, but tight bowling from the Avengers saw them run out of overs, losing by 30 runs.
Scorecard
In the second semi final the Newfoundland Super Kings beat the Royal Challengers. Tight bowling from Neelav Diwan (3 overs, 2 wickets for 14 runs) restricted the Royal Challengers to 68 runs for 4 wickets, and a hard hitting unbeaten 35 runs from Rakesh Negi led NSK to a 2 wicket win.
Scorecard
B Championships
The B championship semi finals saw the NL Tigers Greens dominate their club-mates Tigers Yellow as Indraneel Malik bowled 3 overs for 2 wickets and 8 runs, as Yellow were bowled out for just 28. Greens knocked off the runs with 3.8 overs to spare.
Scorecard
The Eagles won the other semi-final in the last over. The Pakistani Students Association were bowled out for 58, with Mesam Timar and Raza Riaz each taking 2 wickets. Raza Riaz made 22 as the Eagles eked out a 2 wicket win.
Scorecard
In the first match of the C Championships an excellent all round bowling performance from Tigers Red saw Avalon CC all out for 47 runs, and the Tigers had little trouble overtaking their total with overs to spare.
Scorecard
Avengers win Winter League

The Cricket NL Winter League came to an exciting conclusion on Saturday as the Avengers defended a total of 59 to defeat NSK by just three runs. NSK won the toss and chose to bowl. The Avengers got off to a solid start taking 28 runs from the first two overs, but then Rakesh Negi has Maanik Arora bowled, then the dangerous Rahul Vashishtha (26) stumped in his first over. The Avengers struggled against excellent bowling from Negi, Nick Baxter and Neelav Dewan, and their final total of 59 looked below par. The Avengers fought back thanks to a top spell of bowling from Shami Khan well assisted by Maanik Arora and Rahul Vashishtha. League top run scorer Rakesh Negi was well caught, but solid innings from Abhishek Doshi and Raga Ganesan kept NSK in the chase. The game came down to the final over – with 11 needed from two balls Raga Ganesan hit a six, leaving four to tie off the last ball. NSK managed just one, leaving the Avengers champions.
Scorecard
The Royal Challengers finished third with a comfortable win over the Lions.
Scorecard
The Eagles took the B championship with a win over Tigers Green, with PSA winning a high scoring match over Tigers Yellow by 7 runs.
Eagles-Tigers card
PSA-Tigers card
Tigers Red took the C championship, beating the Sharks in their final match, and Avalon CC placed second, with their first win.
Sharks Tigers scorecard
Avalon CC – Sharks card
Akashdeep Singh was named best bowler, Rahul Vashishtha best bat, and Rakesh Negi tournament MVP.

Video with A bronze, B championship, and some of A championship, plus awards
Summer Season
Summer League- week 1
The Summer League got under way with two matches in excellent weather on Saturday – the field was in great shape thanks to the new mower. In some ways the league started the way it ended last year- with Rahul Vashishtha smashing boundaries and the Avengers winning. Rahul took only 14 balls to reach fifty – the batting highlight of the day, as the Avengers needed just 8 overs to register a 7 wicket win after the NL Tigers had made 97/7 in their innings. There were some new faces in evidence, as Sadman Muhtasim made a quick 14 for the Tigers, as well as bowling well to take two wickets- including the prized scalp of Rahul, well caught from a skier at square leg. Jammu Mehtab and Jaspreet Bajwa made good outdoor debuts for the Avengers, Jaspreet bowling four steady overs and Mehtab taking two wickets. Madhu Bandara had the best figures, taking 2/4 from 2 overs. For the Tigers, M Zilani battled hard for his 20, and Adeel Ilyas made 22.
Scorecard
Video is available on the Avengers youtube channel
The second match featured a rematch between the teams who contested last year's Herringshaw – Liverman Cup, NSK and Royal Challengers. Royal Challengers batted first, but struggled against some good NSK bowling. Amit Neghandi made a patient 22, and Manvir Mann hit well at the death for 24 as the Challengers made 101/9. Nick Baxter bowled 4 overs for 8 runs in his return to the League; and Deep Patel, Amit Sundly and Rakesh Negi each took two wickets. Talha Riaz took three catches in the outfield, none of them easy.
In reply, Abhishek Doshi (20), and Rakesh Negi (15) put on 36 for the first wicket but then good bowling, notably from Amrish Desai (3/19) meant that NSK had to fight hard for a 4 wicket win in 15 overs.
Scorecard
Due to poor weather, Sunday's Eagles-Avengers match has been postponed
Summer League- week 2
The Eagles beat the Tigers in a high-scoring, close match. The Eagles made 183/8, lead by 52 from Saeed Khan, and 66 (in 31 balls) from Raheel Zaman. Indranil Malik took four wickets. In reply, the Tigers put up a strong fight, Adeel Ilyas making 51, Mubasshir Khan 37 not out, M Zilani 30* and Fahad 29. Needing 23 from the last over, they hit 16 to fall just 7 short.
Scorecard
The Avengers hit a big total against the Royal Challengers. After losing two early wickets, Rahul Vashishtha (94) and Gurman Khurana (71) put on 168 in just 12 overs. Maanik Arora hit a quick 50, taking the Avengers to 258/7. This proved too much for the Royal Challengers, who made 132/9, with Aakash Singh making 41 and Mukul Dhawan 33.
Scorecard
On Sunday a devastating bowling performance from NSK dismissed the Tigers for just 42. Nick Baxter (2/10), Deep Patel (2/14), Neelav Diwan (2/6) and Rakesh Negi (2/8) led the attack, and extras (19) were the top scorer. NSK took just 4 overs to record a ten wicket win, with Rakesh Negi making 23.
Scorecard
Summer League- week 3
Saturday's matches saw wins for Eagles and Avengers, with the highlights a hat=trick for Nick Baxter, and a big century from Ali Raza.
In the first match, Royal Challengers were bowled out for 78, thanks to 3/17 from Abrar Khan, and 2/21 from Arif Rehman. Akash Singh top scored with 20. Exceptional bowling from Mukul Dhawan (4 overs, 3 wickets, 6 runs) had the Eagles in trouble at 13/3 but helped by a generous serving of 42 wides and 20* from Raheel Zaman, the Eagles recorded a 6 wicket win.
Scorecard
The Avengers are on a long unbeaten run, and this seemed to be in jeopardy as Nick Baxter ripped through their top order, taking 4 wickets down in the 1st over – including a hat-trick from the first three balls of the match. Avengers were 11/5 when a good partnership between Maanik Arora (25) and Muhammad Ali Raza led a strong comeback. Muhammad Ali Raza pushed on to score 133* with 15 sixes, earning both him and Nick spots on the Cricket NL Honours board. The Avengers totalled 206, with a last wicket partnership of 67 of which Saravana Kumar contributed 1 run, and Ai Raza the rest! NSK lost early wickets and ended up on 94/8 with the wickets shared among five bowlers.
Scorecard
In Sunday's match the Royal Challengers make 165/6 with Akashdeep Singh making an unbeaten 57. M Zilani's 64* brought the Tigers to within 14 runs of the win, but he Royal Challengers held on.
Scorecard
Thanks to the Avengers for some video of Saturday's match
Summer League- week 4
The first match of the weekend turned out to be a last over thriller, with the Royal Challengers coming out on top. The Tigers recovered from losing their first two wickets for 2 runs to make 117, thanks to 49 from Abu Syed. Mukul Dhawan was the best of the bowlers, taking 2/10 from 4 overs. The Royal Challengers were 15/4 before the middle order pulled them back into the game. However they lost their 8th wicket with 25 still needed and only 3 overs left. Samanka Gunasekera's unbeaten 25 got them home with 3 balls to spare.
Scorecard
In Saturday's second match NSK beat the Eagles by 45 runs, led by a fine all-round performance from Nick Baxter. He followed his well paced unbeaten 84 in NSK's innings of 161/6 with two wickets in the opening over. The Eagles were 1/3 after Amit Sundly took a wicket in the second over, and never recovered. Najaf Kami hit well for 27, Raheel Zaman made 22, and Abrar Khan a quick 18 before Rakesh Negi (3/10) polished off the innings.
Scorecard
Sunday saw Rahul Vashishtha hit his 11th century in Newfoundland, 140 in just 59 balls with 15 fours and nine sixes, made out of 196 while he was at the crease. This led the Avengers to 229 for 6 in their twenty overs, Maanik Arora making 38*. In reply the Royal Challengers made 100/9, league debutant Dario taking 2/10, and Ranvir Rana making 33.
Scorecard
Video can be watched on the Avengers Youtube channel
NSK-Eagles
Avengers-RC
Summer League- week 5
Royal Challengers batted first against NSK in Saturday's opener, and thanks to an unbeaten 63 from Mukul Dhawan (27 balls, 6 sixes) made 146/7 from their 20 overs. He was well supported by Akash Singh (38). Rakesh Negi took 3/35, and Nick Baxter 2/10 for NSK. Talha Riaz and Amit Sundly put on 78 for the first wicket, Amit batting through the innings for 57. Nick Baxter finished off the game with a quick 18* as NSK won by 8 wickets with 1.4 overs to spare.
Scorecard
In the second game of the day an excellent 70 from 43 balls from Maanik Arora, supplemented by an unbeaten 32 from Dario Cox took Avengers to 186/6 from their 20 overs. The NL Eagles got off to a good start, with Raheel Zaman (45) and Hummam Bin Saif (29) putting on 85 for the first wicket. However the run rate had risen to over 10/ over, and the Eagles lost wickets as they tried to match it against some tight bowling. Saravana Kumar, Madhu Bandara and Rahul Vashishtha each took two wickets, and Eagles ended up 65 runs short.
Scorecard
Sunday's match saw NSK earn a narrow victory over the Tigers. NSK lost two early wickets, but Rakesh Negi (28) and Nick Baxter (58) set them on course for a good total. Raga Ganesan hit well in the final overs, run out from the last ball of the innings for 41.
Adeel Ilyas (37) and Indranil Malik put on 66 for the first wicket as the Tigers fought hard for their first win. A good combined bowling effort from NSK led to wickets in the middle order, and an unbeaten 35 from M Zilani was to no avail as the Tigers fell 10 runs short.
Scorecard
Summer League Week 6- record breaking performances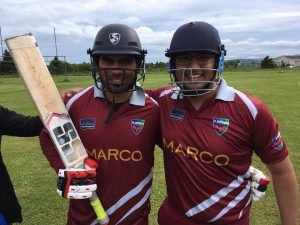 Saturday saw Rahul Vashistha hit the highest innings in Newfoundland cricket history, 162* in just 61 balls, with 10 fours and 14 sixes. He put on 91 with Rahul Roy (27), and then 190 with Maanik Arora, as the Avengers totalled 283/ 1 from their 20 overs- also a record. Rahul's innings ball by ball was:-
6 1 . 6 . 1 1 2 4 1 2 1 4 6 6 1 1 1 2 . 1 1 1 6 6 1 2 4 6 2 4 1 . 2 . 1 1 1 . 2 6 4 4 2 2 1 1 6 4 6 4 4 . 1 6 1 6 6 6
The NL Tigers lost 2 wickets in Jass Bajwa's first over, and were never close, despite a battling 79* from M Zilani, Bajwa took 3/16 as the Tigers finished on 128/8.
Scorecard
The other game saw the Eagles beat the Royal Challengers by 26 runs. The Eagles made 123/8, with Raheel Zaman top-scoring with 34. Osama Saeed ran through the Royal Challengers middle order, taking 5/18.
Scorecard
Both Rahul and Osama's performances earned them places on our honours board.
Summer League- week 7
Saturday saw perfect cricket weather, a field in superb condition, and comfortable wins for league leading Avengers and NSK.
NSK batted first against the Eagles, and after losing two early wickets, half centuries from Rakesh Negi and Nick Baxter took them to 172/5 in their 20 overs. Abrar Khan made 40 for the Eagles but they were never up with the run rate after a tight opening six overs from Deep Patel (2/5) and Nick Baxter. Rakesh Negi took 3/24 as NSK won by 51 runs.
Scorecard
In the second match, the powerful Avengers batting looked to be in trouble at 39/4, but Dario Cox made a hard hitting 88 to carry them past 200. Mukul Dhawan took 3/33. In reply Amit Neghandi made 50, but the Royal Challengers could not keep up with the 10/over asking rate, making 140/5 in their 20 overs.
Scorecard
On Sunday the Eagles bounced back with a 36 run win over the Tigers. They were led by 95 from their captain Raheel Zaman supported by 31 from Hamza Rehan as the Eagles totalled 169/6. The Tigers got off to a poor start, losing five wickets for 36 runs. The lower order gave the total some respectability but they finished well short on 133/7.
Scorecard
NSK beat Royal Challengers in 40 overs match
The first 40 overs match for two years was won by NSK by 5 wickets. Royal Challengers batted first, and Arif celebrated his return to the province by taking a wicket with his very first ball. Royal Challengers fell to 39/5 before Mukul Diwan led a recovery. Mukul made 52, supported by 20 from Anmer Shahid, but the Challengers were bowled out in the 34th over. Abrar Khan, playing as a guest, took 3/24.
NSK lost 5 wickets but took less than 23 overs to reach the target, Abhishek Doshi top scoring with 39, and Deep Patel making 36.
A great day out in Harbour Grace

Twenty four Cricket NL members made the trip to Harbour Grace on Sunday to play a demonstration match. We split into two teams, named for the original clubs of Harbour Grace, the Alexandra and Union clubs. Saravana captaining the Union team, won the toss and bowled first. Playing on our old roll out pitch was a challenge for players used to our current excellent playing surface but the Alexandras scored 93 from their 10 overs. Rahul Vashishtha impressed the sizeable crowd with some typical big hitting, Jazz Tucker took two wickets, and Dhurvika Solanki took a a stunning catch at short cover.
The Unions started slow and lost early wickets. Irtiza Dar batted well in the middle order, as did Nethmini who played some fine shots. Mukul Diwan's lower order hitting brought the Unions to the brink of winning, but some good fielding brought the match to an exciting conclusion – with three needed off the last ball, the Alexandras executed a run out as the batsman tried a short single, but their victory celebrations were premature – it was a no ball and left two to win. The last ball was re-bowled, a run completed and another run out tied the match. Despite calls for a super over, the result stood.
Following the match, a number of spectators took the opportunity to try their hand at the game, and showed some real aptitude. Thanks to Mayor Don Coombs (who definitely has potential as a batsman) and Matt McCarthy for their help in organizing the event – we hope to return in the future.
NSK end Avengers unbeaten streak

The Avengers have put together a remarkable winning streak over the last three seasons, with their last outdoor defeat being in August 2017. This finally came to an end after 26 games, when NSK beat them by 7 wickets on Saturday. The win was founded on an excellent bowling and fielding performance by NSK, dismissing the Avengers for 124. Tight opening spells from Nick Baxter (2/10) and Deep Patel (2/22) put pressure on the Avengers from the start. Gagandeep Mankoo top-scored for the Avengers with 39, Maanik Arora (18), Gurman Khurana (25) and Ali Raza (20) made runs in the middle order, but at a modest run rate. Wickets tumbled as the Avengers tried to accelerate, with four run outs as they fell from 106/3 to 124 all out.
Talha Riaz (24) and Abhishek Doshi (25) put on 42 for the first wicket, and NSK progressed to a comfortable win with man of the match Rakesh Negi (32*) and Nick Baxter (24*) finishing off the match with 3.4 overs to spare.
Avengers remain on top of the league table on net run rate, with the two teams tied on 14 points.
Scorecard
Heavy rain started just after the match finished, preventing any play between Royal Challengers and Eagles.
Maanik's century highlights 40 overs win for Avengers
Avengers beat the Royal Challengers in the second match of the 40 over series. After losing an early wicket, Avengers consolidated through a 66 run partnership between Maanik Arora and Ali Raza (19); Gurman Khurana made 53 in 40 balls as he helped Maanik take the total past 200. Maanik opened the innings and batted through to the 35th over, making 106 from 98 balls. Daxraj Mehta (31) hit hard in the final overs, and the Avengers were dismissed from the last ball of the 40th over for 289. Aryan Falke took four wickets with his spin bowling
Saravana Kumar had the Royal Challengers on the back foot right away, taking three wickets in his first spell, and they were 28/4 in the 7th over. Akash Singh, captaining the team, led a recovery, and batted well for his 70 from 58 balls. As the Royal Challengers fell well behind the run rate, they concentrated on trying to bat out the overs, with Shubbam Sharma making a stubborn 14 from 59 balls. The Avengers tried seven bowlers until Gurman Khurana (2/5) took his first wickets in competitive cricket in the province, and Camaeron King took a wicket on his debut. The Royal Challengers were all out for 180 in the 36th over.
The match also featured a massive 100 runs in extras, meaning that the equivalent of an extra 15 overs were bowled on a long day.
Scorecard
August 17-18 matches
On paper, Saturday's opening match was a mis-match with top of the table Avengers taking on the NL Tigers, still looking for their first win. It turned out to be an exciting, close match, with the Avengers winning, but only just. Mubasshir Khan made exactly 50, well supported by Adeel Ilyas with 36, as the Tigers made 146/6 from their twenty overs. Maanik Arora got his name on the honours board again with a hat-trick to go with last week's century. Arise Mahmoud had Rahul Vashishtha caught first ball, and added a second wicket in his first over; the Avengers were in trouble at 30/4 before Maanik Arora (58) and Daxraj Mehta put on 70 for the 5th wicket. After Maanik was dismissed, wickets continued to fall with three run outs, but thanks to Daxraj Mehta's unbeaten 36, the Avengers won with two wickets and 9 balls to spare.
Scorecard
The second match saw the Royal Challengers beat the Eagles by 5 wickets. Mukul Dhawan had the Eagles in trouble from the start with an opening spell in wihch he took four wickets conceding just 7 runs. The Eagles were 25/5 but Waqas Ali (28), Arif Rehman (22) and Safwan (22) took them to 125 all out. Bhupesh Sharma top-scored with 39, and Manvir Mann made 22 not out, as the Royal Challengers passed the target in the 19th over with 5 wickets in hand. Waqas Ali took 3/15 in the losing cause.
Scorecard
After the Avengers winning streak came to an end last week, this week the Tigers losing streak also ended- after a long succession of defeats, they finally recorded a 59 run victory over the Eagles. This was founded on an excellent 70 run opening stand between Arafat Al Nabi (46) and Sadman Amin (22). Adeel Ilyas made 38*, and they totalled 159/5.
The Eagles struggled against some good bowling, led by Baizur Rahman who took 4/18. They were bowled out for exactly 100.
Scorecard
August 18 recreational match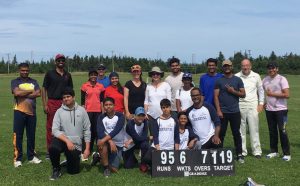 We had a good turn out for our first recreational match, with five from each of the junior and women's programme getting an introduction to hard ball cricket. The players were divided into two teams- the Shamrocks and Terra Novas, named after two of the historic clubs that played in the St. John's League in the 19th century. The game was played as 15 overs/ side with the Shamrocks coming out on top. The main objective was gaining experience of the full form of the game, and having fun, and both were achieved!
August 24-25 matches; a win for Tigers and two for NSK
As the league nears its conclusion the results of weekend matches kept the final positions in doubt.
In the opening match, the Newfoundland Super Kings beat the Avengers by 4 wickets, to tie them on points at the top of the table, only to move past them with another win on Sunday.
NSK won the toss and asked the Avengers to bat. Nick Baxter and Arif Sheikh dismissed the openers early, and Maanik Arora and Gurman Khurana had to rebuild the innings with a partnership of 72. They faced tight bowling (only 3 wides in the innings, and the first boundary did not come until the 9th over), but were helped by NSK failing to take their catches. Maanik made 37 before Nick Baxter caught him on the boundary. Gurman went on to make 59, batting into the final over, and with assistance from Daxraj Mehta (19) helped set NSK a target of 145 to win.
Rahul Vashishtha got the Avengers off to a great start with two quick wickets, and the game was in the balance after Rakesh Negi (25) was caught on the boundary. Abhishek Doshi (27) helped take the score to 84, but then two more wickets had NSK at 104/6. Nick Baxter, however hit well – 5 sixes in his 56*, and with help from Raga Ganesan (18*), NSK won with 9 balls to spare.
Scorecard
In the second match, the NL Tigers beat Royal Challengers by 30 runs, to keep hopes of a 4th place finish alive. The Tigers made 138/8 from 20 overs, with Adeel Ilyas top-scoring with 26, and Abu Syed making 21. Aryan Falke took 4/20 and Mukul Dhawan 2/12 for the Royal Challengers. In reply the Royal Challengers could not get going against tight bowling and fielding, making 108/6, Amit Neghandi top-scoring with 32. The Tigers are now just two points behind the Royal Challengers who are in 4th place.
Scorecard
On Sunday, NSK played the Eagles. Eagles batted first and Nick Baxter had them in deep trouble right away with a hat-trick spanning his 2nd and 3rd over (his second this summer). He finished with the impressive figures of 3/6 from his 4 overs. Khurram Shazaad (45) batted patiently to help the Eagles recover and set NSK 115 to win. Abhishek Doshi (37) top-scored for NSK with 34, and Nick Baxter hit a quick 27* as NSK won by 6 wickets with 3 overs to spare. NSK now lead the Avengers in standings with 9 wins and one loss to Avengers 8 and 2.
NSK have games against Tigers (next week) and Royal Challengers (7 September) left, whereas Avengers play Eagles twice over the Labour Day weekend.
Labour Day weekend games
Saturday saw two games in the T20 Summer League. In the opener, Avengers beat the Eagles by 36 runs. The Avengers made 137/9 thanks to 45 from Gurman Khurana and a useful last wicket partnership of 28 between Jaspreet Bajwa (28*) and Saravana Kumar (10*). Osama Saeed took 3/14. The Eagles were bowled out for 101, with Maanik Arora taking 4/15, and Saravana Kumar 3/21.
Scorecard
In the second match NSK kept their spot on top of the table with a 5 wicket win over the Tigers. The Tigers made 133/5, thanks to 52 from Abu Syed. Nick Baxter's unbeaten 50 took NSK to the win in 15.1 overs.
Scorecard
Sunday saw a 40 over game between Avengers and NSK. Avengers made a massive 351/4, likely the highest total on Newfoundland cricket history, thanks largely to 156 in 109 balls from Maanik Arora, and 85 from Gurman Khurana, They then bowled NSK out for 94, Madhu Bandara taking 4 wickets. Avengers thus become our first 40-overs champions, winning both their matches.
Monday saw the Avengers and Eagles playing their final regular season games. Avengers moved back to the top of the table with a big win, making 240/2 in their 20 overs. Gagan Mankoo carried his bat for an excellent 96*, and was well supported by Gurman Khurana (62*). The Eagles got off to a difficult start as Madhu Bandara took two wickets in the opening over, and Praveen Manhas (who finished with 3/13) another in the second. Raheel Zaman made 51 and Himreet 22 but they were bowled out for 127. The Avengers finished the regular season with 10 wins and two losses, whilst the Eagles record was 4 and 8.
NSK win league

NSK needed to final their final match against the Royal Challengers to win the Summer League, and they did so in convincing fashion, by 62 runs.
They batted first, and lost Talha Riaz in the first over, bowled by Mukul Diwan who unfortunately could not play any further part in the game through injury. Neelav Diwan, batting well above his normal place at number 3 repaid his captain's faith in him with an accomplished 53, and contributions from Nick Baxter (29) and Raga Genesan (24*) took NSK to 175/6.
An excellent opening spell from Deep Patel (3/7) had the Royal Challengers in trouble early, and they never recovered. Wajid Moinuddin took 3 wickets as RC were bowled out for 110.
NSK thus topped the league by two points, losing just once in the season and were presented with the Senthil Selvamani Trophy.
Scorecard
Avengers take first match of Saini Cup
The Avengers took the first match of the Saini Cup with a 7 wicket win over NSK. NSK made 125/9, led by 42 from Talha Riaz, supported by 22 from Deep Patel, but a strong bowling and fielding effort from the Avengers restricted them to 125/9. The Avengers raced to victory in 12.1 overs, with Maanik Arora falling just short of his fifty, and Gagan Mankoo making 40.
Scorecard
Cups decided as outdoor season comes to an end

The Cricket NL outdoor season came to an emphatic end as Royal Challengers captain Manvir Mann hit the last ball of the 19th over for 6 and a 5-wicket win, earning them the Herringshaw-Liverman Cup. Earlier the Avengers claimed the Saini Cup, winning the best of 3 series over NSK 2-0.
Both games were played in excellent weather, and the decision to postpone the finals from last week was a good one. The Avengers batted first in the second game of the Saini Cup between 1st and 2nd placed teams and made 155. Gurman Khurana top-scored with 42, Rahul Vashishtha made 35, and Maanik Arora 32. After a poor start, Nick Baxter (37) and Rakesh Negi (32) put on 63, and the game was in the balance until Madhu Bandara dismissed them both in a single over. He finished with 3/19 and was named man of the match as the Avengers won comfortably earning them their 5th successive Saini Cup.
The Herringshaw-Liverman Cup displayed two excellent performances by the bowlers. The Eagles scored slowly against tight bowling from Mukul Dhawan and in particular Ranvir Rana (2/9 from 4 overs). They were indebted to Waqas Ali (19) and Abdul Rafeh (21) who put on 40 runs for the 8th wicket to take the Eagles to 133/8 from their 20 overs (extras were top scorer with 28)
The Eagles also bowled well, but Tendai Mudunge and Aryan Falke put on 41 for the first wicket. An excellent spell from Osama Saeed seemed to have turned the game in the Eagles favour- he took 4/9 in his 4 overs, and had Mukul Dhawan dropped in his final over. This proved crucial; Mukul hit four boundaries in his 30 not out, and helped by Manvir Mann (18* with two sixes) took the Royal Challengers to their first outdoor trophy.
Herringshaw Cup video
Part 1
Part 2

Part 3

Part 4
Part 5
Part 6

Part 7

The League awards were presented before the first game of the Saini Cup on Saturday. Nick Baxter was named the League's most valuable player, with Rahul Vashishtha and Maanik Arora sharing the best bat award, Mukul Dhwan best bowler, and Mohammed Zilani and Raga Ganesan sharing best fielder.
Full awards:
MVP: Nick Baxter
Best bat: Rahul Vashishtha/ Maanik Arora
Best bowler: Mukul Dhawan
Best fielder: Mohammed Zilani/ Raga Ganesan
Dave Liverman award for best new comer: Akash Singh
Most spirited players:
Avengers: Jaspreet Bajwa
Eagles: Khurram Shezzad
NSK: Randeep Sidhu
Royal Challengers: Amit Neghandi
Tigers: Fahad Hossain
40 over trophy: Avengers
Senthil Selvamani Trophy (League Championship): Newfoundland Super Kings
By the numbers
33 matches – 5 rescheduled due to weather (2 and a half days)
Total number of players taking part – 105
74 bowled
94 batted
72 involved in dismissal in field (run out or catch)
Players used
Avengers – 20
Eagles – 27
NSK – 19
Tigers – 20
RC – 20
Played in every match for their team
NSK: Rakesh Negi, Raga Ganesan
Avengers: Rahul Vashishtha, Maanik Arora, Gurman Khurana, Daxraj Mehta
RC: Akash Singh, Amit Neghandi, Ranvir Rana
Eagles: Khurram Shazad
Tigers: M Zilani, Adeel Ilyas
13 played only 1 match
Highest total:
283/1 Avengers v Tigers
Lowest total: 42, Tigers v NSK
Batting:
Highest individual score:
162* Rahul Vashishtha
140 – Rahul Vashishtha
133* – Ali Raza
Top run scorers:
541 – Rahul Vashishtha
488 – Maanik Arora
454 – Nick Baxter
Note: Nick scored 25% of all NSK runs, and Rahul 21% of Avengers.
Top average (qualification 100 runs)
90.8 – Nick Baxter
54.1 – Rahul Vashishtha
48.8 – Gagan Mankoo
Most 6s
38 – Rahul Vashishtha
26 – Nick Baxter
22 – Maanik Arora
Most 4s:
39 – Rahul Vashishtha
30 – Maanik Arora
28 – Raheel Zaman
Top strike rate (100 runs plus)
193 – Rahul Vashishtha
175 – Ali Raza
165 – Dario Cox
Batted in every match for their team
Rakesh Negi, M Zilani, Adeel Ilyas, Akash Singh, Amit Neghandi, Ranvir Rana
Bowling
Best bowling
6/7 Nick Baxter
5/18- Osama Saeed
Hat tricks
Nick Baxter (2), Maanik Arora
Most wickets
21 – Mukul Dhawan
20 – Nick Baxter
19 – Rakesh Negi
Best average (qualification 5 wickets)
6.95 – Nick Baxter
8.19 – Osama Saeed
9.44 – Rahul Vashishtha
Best economy (qualification 5 wickets)
3.16 – Nick
3.70 – Rahul Vashishtha
3.93 – Praveen Manhas
Most balls bowled
289 – Rakesh Negi
270 – Akash Singh
265 – Amit Sundly
Fielding
Most catches
15 – Daxraj Mehta
14 – Raga Ganesan
13 – M Zilani
Stumpings
4 – Wahid Rehman
3 – Shubbam Sharma
2 – Gagan Mankoo, Gurman Khurana, Daxraj Mehta
Run outs
4 – Raga Ganesan, Ranvir Rana, Abhishek Doshi, Amit Sundly, Adeel Ilyas
Other trivia
No match saw the fall of 20 wickets.
NSK were not bowled out in the tournament. Avengers and Tigers were bowled out twice, RC 3 times, and Eagles 5 times.
9098 runs were scored in total, and 448 wickets taken
Average total 138 runs
Average number of wickets to fall – 6.78
Average runs/ wicket – 20.3
Average totals for
Avengers 182 runs/ 6. 3 wickets
NSK 130/ 5.2
Tigers 130/ 6.7
Eagles 124/8.4
RC 120/7.5
Average totals against
Avengers 121/7.5
NSK 128/8
Tigers 142/5.4
Eagles 148/5.9
RC 153/6.8
Extras:
15% of runs scored in the tournament were extras, and most of these were wides.
An average of 44 extras/ game were conceded – meaning that an estimated extra 6 to 7 overs were bowled in every game.
Extras/ over
0.77 – Avengers
0.92 – NSK
1.15 – Tigers
1.26 – Eagles
1.55 – RC
Most extras in a 20 over innings – 45 (RC)
Fewest extras in 20 overs innings – 5 (Avengers)
Eastern T20
Day 1

The provincial team opened the Eastern T20 with a comfortable win hosts PEI. Nick Baxter took 3/16, and Dario Cox 1/15 as PEI batting first made a good score of 160. An excellent opening partnership of 73 in just 6.2 overs between Adeel Ilyas and Nick got the innings off to a great start, and Nick went on to make 82* from 41 balls with 10 sixes to take us to an 8 wicket win.
Tomorrow is a big day with matches against Quebec and Nova Scotia.
Day 2
On a blazingly hot day, the provincial team lost to Quebec and Nova Scotia to leave them with only a remote chance of reaching the finals on the final day.
An excellent all-round bowling and fielding performance dismissed Quebec for just 138 in the day's opening match. Nick Baxter, Jaspreet Singh, Dario Cox and Rahul Vashishtha all took 2 wickets, and quebec were bowling out in the 19th over. Unfortunately the batting failed, with only Rahul Vashishtha making double figures as we were bowled out for 42.
Scorecard
After choosing to bat against Nova Scotia, two quick wickets had us at 9/2 in the third over, but a 55 run partnership between Adeel Ilyas (26) and Nick Baxter (31) re-built the innings. After Nick was the fourth wicket to fall on 73, the batting collapsed, with only Gurman Khurana (18) providing any resistance as the team was bowled out for 104. Nova Scotia knocked off the runs for the loss of two wickets in 11.4 overs.
Scorecard
A huge win over New Brunswick on Sunday morning could still see the team over-take Nova Scotia on net run rate and reach the final against Quebec.
Video is available when uploaded on Youtube.
Day 3

Cricket NL went into the final day of the Eastern T20 facing the almost impossible task of beating New Brunswick by at least 145 runs in order to overtake Nova Scotia on net run rate and earn a spot in the final against Quebec. If New Brunswick batted first the maths meant that Newfoundland could not make the final no matter what, so the first order of the day was winning the toss, which captain Rahul Vashishtha duly did.

What followed was an astonishing all-round batting effort, taking the team to the highest total of the tournament – 283/9. Top scorer was Nick Baxter with 74 from 26 balls, but Rahul Vashishtha (21) and Adeel Ilyas (30) put on 52 for the first wicket from only 4.4 overs. Gurman Khurana (44) put on 108 with Nick, passing 145 runs just the 11th over – after that, every run gave the team a better chance and Maanik Arora (49) and Rakesh Negi (27) kept up the momentum leading to the big total.
This meant that New Brunswick had to be restricted to 138 or less, but despite a whole hearted effort in the field, they managed 154. Despite the disappointment of not making the final, the team finished on a high, and should be proud of their third place finish. The final was eventually rained out, leaving Quebec champions
Scorecard
Nick Baxter finished with the second highest run total for the tournament – 187 runs at an average of 62, as well as being our top wicket-taker with 7.
Fall League
13 teams contested the Fall league, split into 3 groups.
Round 1

History was made on Saturday as the Atlantics 7- a team composed from players in the Cricket NL women's programme – played their first competitive match, taking on NSK in the Fall indoor league. The team made a respectable 55/5 from their 8 overs, with Nethmini Hapuarachchige top-scoring with 19. NSK won by 4 wickets with 3 overs to spare.
Scorecard
In other matches, Royal Challengers beat PSA without losing a wicket. PSA made a good start, with 49 on the board without losing a wicket, but tight bowling from Manvir Mann (just one run from the 7th over) and Akash Singh restricted them to just 60. Royal Challengers knocked off the runs without losing a wicket, Gurpreet Monde taking full advantage of the rule modifications by making 24 from 16 balls without hitting a boundary.
Scorecard
The Panthers marked their debut with a comfortable victory over the Lions, making 83/5, and bowling out the Lions for 56. Captain Jammu Mehtab led the way with 43* and two wickets.
Scorecard
Tigers- Flames got off to a winning start, taking 6.1 overs to overtake Avalon CC's total of 78/5. Manveer made 23 for Avalon CC, and Arif Rehman 35* for the Flames.
Scorecard
The Avengers beat Sharks comfortably; Tarun made 33 as the Sharks made 78. Maanik Arora (36*) and Rahul Vashishtha (40*) took the Avengers to victory in just 4.4 overs.
Scorecard
Round 2
There were five matches in the second round of Fall League. In Group A the Sharks beat Dothraki Tigers by just 7 runs, Tarun top scoring for the Sharks with 29 as they set a target of 78.
Scorecard
In Group B, the Royal Challengers beat the Gladiators by one wicket in a last over thriller
Scorecard
In Group C, Tigers Green beat Atlantics 7 by 5 wickets. Nethmini Hapuarachchige made 17 of the Atlantic 7s 29.
Scorecard
In Group D, Tigers Flames top the group after recording their second win against the Panthers
Scorecard
Avalon CC beat the Lions by 3 wickets, Manveer making an unbeaten 39.
Scorecard
Round 3
The final group stage games were played on Saturday, with some close matches deciding the play-off line ups.
In Group A, the Avengers beat Tigers Dothraki by 20 runs. The Avengers made 106/4, with Rahul Vashishtha making 43 and Ali Raza 25. Fahad Hossain made an excellent 55 of the Tigers 86/3. The Avengers top the group, with Sharks 2nd.
Scorecard
In Group B, with Royal Challengers already qualified in 1st place, PSA and the Gladiators were playing for 2nd place. The Gladiators came out on top, bowling out PSA for 61 (Raheel Zaman with 2 wickets and 2 run outs) and knocking off the runs in 4.4 overs, thanks to 33 from Abdul Rafeh.
Scorecard
In Group C, Tigers Green beat NSK to top the table. Tigers Green made 67 for 4 (without hitting a boundary), and restricted NSK to 41/4, Arif Mahmud conceding just 6 runs from 3 overs.
Scorecard
There were two matches in Group D.
Avalon CC beat the Panthers in the final over. The Panthers had set a target of 84, and Avalon CC lost 4 wickets in the chase, winning with just 2 balls to spare.
Scorecard
Tigers Flames beat the Lions in the other match to top the group. They made 115/3 from their 8 overs, and the Lions, depsite 37 from Adeel Ilyas, fell 42 runs short.
Scorecard
Tigers Flames topped the group with Avalon CC 2nd, and Panthers 3rd.
For the play-offs, in each grouping (1st to 4th, 5th to 8th, and 9th to 12th), reams are ranked by average points/ game, then net run rate, with the highest ranked team playing the 4th ranked, and 2nd v 3rd. The rankings are:-
1-4 bracket (average points, net run rate)
1. Tigers Green (2, 5.62)
2. Avengers (2, 4.61)
3. Tigers Flames (2, 3.25)
4. Royal Challengers (2, 2.49)
5-8 bracket
1. Avalon CC (1.33, 0.03)
2. Gladiators (1, 1.99)
3. NSK (1, -0.11)
4. Sharks (1, -2.33)
9-12 Bracket
1. Panthers (0.66, 0.45)
2. Tigers Dothraki (0, -1.68)
3. PSA (0, -4.93)
4. Atlantic 7s (0, -7.54)
Tigers dominate semi-finals
The fall league moved into the play-off stages on Saturday. In the championship bracket both Tigers teams won their semi finals, making an all Tigers final.
Tigers Flames upset the Avengers, limiting the Avengers to 84, Arif Rehamn taking 2 wickets, then making the required runs with 2 wickets and 3 balls in hand, Abid Hasan top-scoring with 33.
Scorecard
Tigers Green made 111/2, with Tanmoy Yuvraj making 33, and Mobashir 25, then bowled out Royal Challengers for 51, Indranil Malik taking 3 wickets.
Scorecard
In the 9th to 12th place bracket, Tigers Dothraki won by default over PSA, and the Panthers had a big win over Altantics 7. Jammu Mehtab made 37* for the Panthers and Nethmini Hapuarachchige 17* for Atlantics 7.
panthersatlantcis
In the 5th-8th place games, NSK defeated the Glaciators in the last over by 3 wickets. Captain Talha Riaz led the way with an unbeaten 36. They will meet Avalon CC in the 5th-6th place game, who beat the Sharks by 3 wickets.
Gladiators-NSK card
Avalon-Sharks card
Tigers Green are Fall League champions

Tigers Green are the Fall League champions, defeating Tigers Flames by 40 runs in the final. Greens batted first and made 113/ 3, with Mobashir Khan making 35* and Indranil Malik 29*. The Flames had a great start with Aaqib Blanco (15) and Abu Syed (26) putting 50 on the board in the 5th over without losing a wicket, but Greens came back strongly and restricted the Flames to 73/5.
Scorecard
The Avengers took third place, beating Royal Challengers by 2 wickets. Royal Challengers were bowled out for 72, Gurpreet making 36, and Asad Ali taking 3/12. Avengers won with 4 balls and 2 wickets to spare, Rahul Vashishtha top-scoring with 39*.
Scorecard
NSK took 5th place, with a 24 run win over Avalon CC. NSK made 82/3, Talha Riaz top-scoring with 19, and then Avalon were bowled out for 58.
Scorecard
Shakes won the 7th-8th place game by 14 runs. Saravana Kumar top-scored in the Sharks total of 82/5. Vishal took 3/16 as Gladiators were restricted to 67/5 from their 8 overs.
sharksgladiators
Unfortunately both the Panthers and PSA defaulted their final games, meaning Tigers Dothraki placed 9th, Panthers 10th, Atlantics Seven 11th and PSA 12th.
The Fall League awards were presented on the opening day of Winter League. The individual awards were:-
Most valuable player: Indranil Malik
Best batsman: Rahul Vashistha
Best bowler: Arif Rehman