The 2020 season was unique and challenging for the organization, dominated by the global COVID-19 epidemic. Despite those challenges there was a highly competitive and successful outdoor season, with seven senior clubs competing in 20 over competition and four in 40 overs. The outdoor season concluded with our first outdoor tapeball tournament. However there was no inter-provincial play, the Winter League was not completed, and no fall league was possible.

Winter League
10 teams took part in Winter League with the round robin matches completed before the league was suspended.

Feb 22
The tournament got off to an excellent start with a close match between Tigers Green – the fall league champions – and NSK- Fall League B champs. Tigers Green batted first, and were pegged back by Deep Patel who took 3/9 from his two overs. Indranil Malik and Sazzad Hossain Rifat each made 15 as Tigers Green fought back to total 63/5. Talha Riaz led NSK's reply with 31, but the match seemed to be slipping away from NSK, and they needed some hard hitting from Nilav Diwan (14 from 5 balls) to record a two wicket win from the penultimate ball.
Scorecard
The second match was also close with the Avengers beating the Dothraki Tigers by 12 runs. Maanik Arora made 35* and Rahul Vashishta 27* as Avengers put 92/1 on the board for Dothraki Tigers to chase. Arafat al Nabi made 55 as the Tigers made a valiant effort but fell just short with 4 wickets down.
Scorecard
The Dothraki Tigers (31/1) beat Salty Sirens (29/3, with Jaladhi Patel making 19) in the third match of the day
Scorecard
The St. John's Panthers took on PSA in another close match. Khurram Shazad (29*) assisted in a last wicket partnership by Osama Saeed (14*) took PSA to 72/5. The Panthers kept it close but were bowled out in thew last over for 59.
Scorecard
Tigers Flames beat Avalon CC in another match that came down to the last over. Abid Hasan (36*) was the top scorer as the Flames made 70/1. Zohaib Ahmed (20* and Arif (19) put up a good fight but Avalon fell 8 runs short
Scorecard
Tigers Green had a comfortable win over the Salty Sirens, bowling them out for just 20, after making 91/1. Indranil Malik and Tanmoy Das Yuvraj each took three wickets.
Scorecard
In evening matches, Tigers Flames raced to victory over PSA, bowling them out for 35, then knocking off the runs in just 3.4 overs.
Scorecard
In the final match of the day the St. John's Panthers scraped out a 1 wicket last over victory over the Royal Challengers. RC batted first, and made 68/5, thanks to 26 from Mukul Diwan, and 15 from Gurpreet Monde. Adeel Ilyas made 25* and Ayus Patel 17 as the Panthers won from the penultimate ball.
Scorecard
Feb 29
In the opening match the Avengers defeated the Salty Sirens by 62 runs.
Scorecard
The second match saw strong bowling performances as PSA won by 9 runs. Royal Challengers had bowled them out for just 38, with Mukul Dhawan taking 2/18, and were 18 for no wicket in their reply. A run out was followed by some stunning bowling by newcomer Hugh Rimmington who took 4 wickets for 3 runs as the Royal Challengers were bowled out for 29.
Scorecard
Tigers Flames put a decent total on the board, making 79/5, with Abdullah Sifat making 36*. The Panthers however raced to victory in 4.5 overs, with Suckchain making 38* and Adeel Ilyas 39*
Scorecard
Tigers Green came out on top against the Dothraki Tigers. They batted first and made 92/4, with Imran Ahmed leading the way with 42* and Orcho Siddiqui making 28. Two wickets for Arife Mahmud and two run outs saw the Dothraki Tigers bowled out for 38.
Scorecard
Royal Challengers bounced back after their earlier loss with a 10 run win over Avalon CC. Amit Neghandi (38*) and Ranvir Rana (26) took them to 78/2. In reply, Vipul Khattar made 28, but Avalon were bowled out in the last over, with Sahajan Rai taking 2/11.
Scorecard
In the final match of the day, the Avengers put up a big total – 100/3 with Rahul Vashishtha making 52* and Akash Singh 33. Rakesh Negi made 35* but NSK fell 25 runs short.
Scorecard
In Group A, the Avengers top the table with 3 wins, followed by Tigers Green with 2 wins and a loss, Dothraki Tigers on 1-2, NSK with a win and a loss, and Salty Sirens still looking for a win.
In Group B Panthers, PSA and Flames all have two wins and a loss,, Royal Challengers on 1-2 and Avalon CC on 0-2.
Full standings
March 8
A snow storm failed to deter our cricketers as the final round robin games went ahead on Saturday evening – and there were some thrilling matches as the play-off positions were decided.
In Group A, Tigers Green beat Avengers by just 2 runs despite a fine all round performance by Rahul Vashishtha. Rahul took 4/19 as the Tigers were restricted to 63/4 from their 8 overs, with Tanmoy Das Yuvraj top-scoring with 14. Rahul then made 30 but fine bowling by Tigers Green, led by three wickets from Arife Mahmud saw them fall just short.
Scorecard
NSK and Dothraki Tigers contested another close match, restricted to 6 overs/ side. Dothraki Tigers made 43/3, with Fahad Hossain scoring 25, and Nick Baxter bowling 2 overs for just 8 runs. NSK took 4.5 overs to reach the target, with Talha Riaz and Raga Ganesan each making 12.
Scorecard
Tigers Green topped the group on net run rate over Avengers, then NSK, Dothraki Tigers and Salty Sirens.
In Group B, Mukul Dhawan led the way for Royal Challengers as they beat Tigers Flames by 5 runs. He made 46* as Royal Challengers put 75/3 on the scoreboard, and then took 2/18 as the Flames were bowled out for 70. Abu Syed was top scorer with 21 in a losing cause.
Scorecard
The Panthers beat Avalon CC after Adeel Ilyas (18), Ayush Patel (20) and Sukchain (22) allowed them to post 82/1. Avalon CC put up a good fight, with Wajid Moinuddin making 21 and Arif 25 but they fell just 4 runs short.
Scorecard
PSA won the final match scoring 77 in 6 overs and Avalon CC making 63. We have no scorecard for this as yet but Raheel Zaman scored 36, and Arif took 3 wickets.
Panthers topped the group on net run rate over PSA with Tigers flames 3rd, Royal Challengers 4th and Avalon 5th.
April 3
The Tigers Green and the St. John's Panthers will share the Winter League Championship, after the Board accepted the recommendation of the League Committee that the League be concluded without playing the finals. The committee also announced the following individual awards:-
Best Batsman: Adeel Ilyas (4 innings, 89 runs, average 44.5)
Best Bowler: Mukul Dhawan (6 wickets at an average of 7.5)
MVP: Rahul Vashishtha (109 runs in 3 innings without being dismissed, 7 wickets at an average of 6)
Final placings
1st: St John's Panthers/ Tigers Green
3rd: Avengers/ PSA
5th: NSK/ Tigers Flames
7th: Dothraki Tigers/ Royal Challengers
9th: Avalon CC/ Salty Sirens
Summer Season
July 1st: 10th anniversary matches


Cricket NL celebrated Canada Day, the resumption of cricket, and the 10th anniversary of its founding with two friendly matches. The weather co-operated and two excellent games were played in hot and sunny conditions.
The opening match saw the Terra Novas beat the Shamrocks by 6 wickets in a 15 over/ side match. The Shamrocks made 84, with numerous retirements allowing everyone to bat, and the Terra Novas passed their total in the 14th over, with Aryan Falke top scoring with 21.
Scorecard
The second match also saw a 6 wicket win, this time by the Coach's XI over the President's XI. Both coach and president were involved as the President's XI batted, with Nick Baxter taking two wickets in a hostile opening spell, and Rahul Vashishtha leading a recovery from 15/3 with a well paced 84. He was supported by 37 from Shami Khan as the President's XI made 186/8.
Ali Raza led the reply with a hard hitting 67 from just 26 balls, and with contributions from Maanik Arora (37) and Nick Baxter (36), the President's XI won in 16.1 overs. Newcomer Ibnul Inan impressed with 3/15.
T20
Seven teams competed in the T20 Summer League, playing a full round robin before being split into a Division 1 and 2.

July 4:

The Summer League finally got under way with five games scheduled for the weekend of July 4-5. Based on Saturday's games, the seven team Summer League looks to be highly competitive. In the opener, Avengers edged the NL Tigers by just one wicket. The Tigers batted first and new recruit Ali Raza made a rapid 56 from 36 balls, taking them to 84/2 from 11.2 overs before he was bowled by Praveen Manhas. Mohammed Zilani (16) and Imran Ahmed (20) helped the Tigers to 143/9 from 20 overs. Four Avengers bowlers took one wicket, and Praveen Manhas two. Praveen contributed 15 to a 93 run opening partnership with Gurman Khurana, who was fourth out with 72 to his name. At that point the Avengers only needed 19 to win, but wickets tumbled and it fell to their last wicket pair to scramble the last two runs for victory.
Scorecard
The second match saw an outstanding bowling performance from Royal Challenger's Mukul Dhawan lead them to an upset win over last year's league champions, NSK. Mukul bowled a brilliant opening spell, taking 5 wickets in his first three overs, reducing NSK to 28/5. He came back to take two more wickets in his last over, with final figures of 7/17, the best bowling figures recorded since league play started in 2011 (and earning him a place on the honours board). NSK were all out for 64, and Royal Challengers cruised to an 8 wicket victory in 9.2 overs, Bhupesh Sharma making an unbeaten 35.
In the final match on Saturday, the Hurricanes made their debut against the Eagles, restricting them to just 101/8 from 20 overs – and that was dependent on a 20 run 10th wicket partnership between top-scorer Taqrim Ghous and Osama Saeed. Their batting was less successful, however, only Mohammed Ruhel Miah reaching double figures as they were bowled out for 75. Raheel Zaman took 4/18, and Osama Saeed 2/5.
Scorecard
Sunday was cool and damp with fog and drizzle in the skies as the NL Stars made their debut against the Royal Challengers. Dropped catches cost the Stars dearly as Amit Neghani and Ranvir Rana (44) made the most of their second chances, putting on 79 for the first wicket. Aakash Singh made 25, and after the third wicket fell on 142, Amit and Maanik Arora put on 99 together to take RC to 241/3. Maanik made 65* from 28 balls, and Amit Neghandi batted through the innings for 75*.
The skies started to clear when the Stars batted, and they got off to a promising start, Shivam Chauhan making 23 of a 41 run opening partnership. Junayed Tushar came in at 3, and played a fine innings of 80 in just 43 balls, but the Stars fell well behind the required run rate, and were 80 runs short when their innings closed.
Scorecard
In the final match of the weekend saw the Avengers cruise to a big win over the Eagles. Rahul Vashishtha (92 from 55 balls) and Gurman Khurana (76* from 35 balls) put on 149 for the third wicket, and the Avengers totalled 235/4. The Eagles got off to a good start with Adeel Ilyas (16) and Raheel Zaman (38) putting on 59 for the first wicket, but then Bharath Shetty got his name on the honours board with an excellent spell, taking 6/21 and the Eagles were bowled out for 108 in 14.4 overs.
Scorecard (note Nouman Rashid was run out by M Asim)
Some socially distant team pictures..
The second weekend of league play got off to a flying start as Maanik Arora made the first century of the season, 101* from 49 balls, with twelve fours and three sixes. After losing an early wicket, Ranvir Rana and Bhupesh Sharma had put on 60 before Maanik came in. Mukul Dhawan contributed a 20 ball 41 to a 4th wicket partnership of 110 with Maanik and the Royal Challengers totalled 214/4.
Mukul continued his good bowling form with two early wickets when the Hurricanes replied. Maanik Arora struck twice as well, as the Hurricanes struggled to keep up with the run rate. Mohammed Rafid made 17, as did Daiyan Ahmed as Royal Challengers rung the changes using eight bowlers in all. Mukul took two further wickets and finished with figures of 4/26.
Scorecard
In the second match of the day NSK took on the Tigers in what turned out to be an excellent match. The Tigers innings featured a fine partnership between Ali Raza (86) and Arafat al Nabi (66*). Both batted very well, although helped by NSK putting down some catches. Tigers made 177/2 from their 20 overs, with Nick Baxter taking 2/17. NSK were three down in the 4th over, with Indranil Malik taking two wickets, but then Rakesh Negi (31) and Nick Baxter took NSK to 102/ 3 with 9 overs remaining, with NSK perhaps favourites at that point. Ali Raza swung the balance back to the Tigers, dismissing both, and then taking two catches as NSK were all out for 140. Arife Mahmud took 3/32.
Scorecard
In the final match on Saturday, the Avengers played the Stars. Avengers made 192/6, led by 84 from Rahul Vashishtha (41 balls, 11 fours and 5 sixes. Jawadur Rahman took 3/32 for the Stars. In reply, the Stars lost early wickets to Rahul Vashishtha (2/12) and Saravana Kumar (3/30) and were bowled out for 96, Mehtab Singh taking 2/8. Top score for the Stars was Junayed Tushar with Irtiza Dar contributing 13.
Scorecard
On Sunday the Eagles took on the Tigers. The Tigers batting first got off to an excellent start with a 98 run opening partnership between the in-form Ali Raza (45) and Anol Azad. The innings faltered though as Najaf took three wickets and Osama one, but Anol Azad and Mohammed Zilani batted out the rest of the overs, leading the Tigers to 180/4. Anol batted right through the innings for a classy and chanceless 90*. Najaf resturned excellent figures of 3/18.
The Eagles made a strong effort at chasing the total, with Adeel Illyas (29) and Raheel Zaman (27) putting runs on the board early. They did slip behind the run rate as they lost wickets, but a hard hitting 50 from Najaf Kazmi kept them in the game into the final overs. Anol Azad dismissed Najaf and Khurram, leaving the Eagles to hit 18 off the last over. This proved too much, and the Tigers won by 12 runs.
Scorecard
The final match of the weekend saw the Stars taking on NSK. Nick Baxter proved to be a handful for the Stars bats, taking three wickets in his opening spell, and then newcomer Prahar Vyas ran through the middle order with his left arm spin. Nick took 3/6, Prahar 3/14, and Raza Riaz took 2/9 as the Stars were bowled out for 60. NSK raced to victory in 7.2 overs, Praha Vyas making 18* and Amit Sundly 19.
Scorecard
The Royal Challengers and Avengers top the table both with 3 wins and seem to have already booked their spot in Division 1 for 2nd round play. The Tigers are on 2 wins and a loss, and NSK and Eagles each have a win.
A few photos from Tigers-NSK
July 18-19
It was an outstanding weekend of cricket, with three centuries, two five wicket hauls, the Hurricane's first win, and a unique brotherly opening partnership. Our honours board has been updated with the names of Adeel Illyas, Abdullah Khalid, Shami Khan, Ali Rasa and Mohammed Rafid.
Saturday's matches saw the Avengers be the first team to claim a sport in the second round with a win over Royal Challengers.
The opening match was dominated by a big innings from Adeel Illyas, 144* from 61 balls with 6 fours and 12 sixes, made out of the Eagles 237/4. In rely the Stars batted out their 20 overs, making 160/8, Junayed Tushar top-scoring with 32. Abdullah Khalid in an excellent spell took 5/31.
Scorecard
The Avengers came out on top on the battle of the unbeaten teams, beating the Royal Challengers by 5 wickets. Ranvir Rana got the Challengers off to a good start, with 37, but some excellent bowling by Jaspreet Bajwa (4/16), well supported by the three spinners restricted them to 102/6, despite a hard hitting 27 from Mukul Diwan. Gurman Khurana's 58 led the Avengers to their 4th win (by 5 wickets), and a guaranteed top four placing.
Scorecard
The Hurricanes ran into a determined NSK team, and were bowled out for just 33. Nick Baxter took 3/6 in a fierce opening spell and Shami Khan polished off the innings with 5/8. NSK won by 10 wickets thanks to a unique family unbroken opening partnership between brothers Talha and Raza Riaz.
Scorecard
Sunday got off to an explosive start, as Ali Raza made a sensational 137 out of a 170 run opening partnership with Anol Azad (retired hurt on 17) and Arafat al Nabi (38*). He hit 13 sixes and six fours, and faced 60 balls. The Tigers totalled 219/3. The Royal Challengers got off to a solid start with Amit Neghandi (41) and Ranveer Rana (26) putting on 71 for the first wicket. Both were out in the 9th over, falling to the spin of Nahin Ahmed (3/39), and despite Maanik Arora's 41, Royal Challengers were beaten by 65 runs
Scorecard
The final match of the weekend was between the league's new clubs, the Stars and Hurricanes. This too featured a century, this time from Mohammed Rafid who made 104* of the Hurricanes 235/1 – a real comback after being bowled out cheaply on Saturday. He was well supported by Chowdhury Safin Ibn Fayez (39) and Daiyan Ahmed (55). Junayed Tushar made 80 of the Stars 138/9 as the Hurricanes earned their first league win.
Scorecard
August 1-2
A busy weekend of cricket got underway in fog and light drizzle as the Avengers batted against NSK. Praveen Manhas (21) and Jaspreet Bajwa built a solid foundation with a 55 run opening partnership, and this was built on with 42 from Gurman Khurana, and 49 from Rahul Vashishtha as the Avengers made 195/8. Prahar Vyas took 3 wickets for NSK.
Ibnul Inan took three early wickets with his left arm spin, helped by two sharp slip catches from Daxraj Mehta, and despite 55 from Rakesh Negi, NSK were beaten by 58 runs.
Scorecard
In the second match the Tigers secured a spot in Division 1 with a narrow win over the Hurricanes. The Tigers batting first made 126 for 7, Fahad Hossain top scoring with 33 and Iftekhar Masud and Wahidur Rahman each taking 3 wickets. In reply, the Hurricanes fell just 15 runs short, Indranil Malik bowling his 4 overs for just 8 runs and taking 2 wickets, and Anol Azad taking 3 wickets.
Scorecard
In Saturday's final match, the Royal Challengers put up 198 for 2 wickets, Amit Neghandi (51) and Ranvir Rana (41) with a century opening partnership and Maanik Arora making 42. The Eagles lost two early wickets but Abdul Rafeh (30) and Raheel Zaman led a recovery. A superb innings by Raheel took the match to the final over, with the Eagles needing 14 with 4 wickets left. Raheel hit the second ball for 6, and took twos of the other balls to win the match from the 5th ball. He finished on 98 from 58 balls with three fours and seven sixes.
Scorecard
Rain on Sunday morning prevented play in the Tigers-Stars match, which will be played on Monday but by 12:30, conditions were good enough for the other two matches. The Hurricanes batted first, and lost their first 5 wickets for 23 runs, Jaspreet Bajwa taking 3/14. The Hurricanes battled hard but were bowled out for 86. The Avengers openers Rubin Deol and Daxraj Mehta put on a patient 74 for the first wicket, and the Avengers won by 7 wickets with 3 overs to spare.
Scorecard
The NSK-Eagles match had a place in Division 1 at stake, and it proved to be a hard fought battle. Eagles batted first, and two run outs, and two wickets for Nick Baxter had their innings in tatters at 23/4. Mohammed Asim (22), Anmer Shahid (29) and Himreet allowed them to post a target of 112. NSK also got off to a poor start, with three wickets down for 23.
The Avengers top the table with an unbeaten record. Vaishalkumar Patel and Rakesh Negi (27) put on 51, and despite losing two wickets to consecutive balls with the score on 101, NSK won by 4 wickets in the 19th over. Vaishalkumar Patel's patient unbeaten 37 was the top score of the match.
Scorecard
Monday saw perfect cricket weather as the Tigers played the Stars to conclude the first round. The Tigers put 172/7 on the board with Mohammed Zilani making 61 from 31 balls. Nahin Ahmed took 3/24 as the Stars were bowled out for 97.
Scorecard
With the conclusion of round 1, the Division 1/ Division 2 split is decided. Avengers top the table, unbeaten in their six games, Tigers finish second, and Royal Challengers, NSK and Eagles are tied for third on 6 points. Based on net run rate, RC place third, NSK 4th, and Eagles will play in Division 2 along with the Hurricanes and Stars.
August 8-9
The second round of matches got underway with a Division 2 game between the Eagles and Hurricanes. Md Ruyel Miah (3/13), Mojammel Hridoy (2/16) and Wahidur Rahman (3/22) bowled well as the Eagles were dismissed for 110, Raheel Zaman making 21 and Abdul Rafeh Rahat 20. The Hurricanes reached the target with 9 balls and 3 wickets to spare, Wahidur Rahman top scoring with 21.
Scorecard.
In the second match of the day, Division 1 got underway with NSK taking on the Tigers. The Tigers batted first and Ali Raza again showed he is in exceptional form with his second century of the summer scoring exactly 100 from 60 balls, made out of the first 155 runs. M Zilani (25) and Imran Ahmed (21) supplied useful support as the Tigers totalled 181/6 from 20 overs.
NSK made a solid start in reply, led by 30 from Vaishal Patel, but lost wickets. The Tigers looked favourites at one point but Nick Baxter smashed 72* from 36 balls, and with Shami Khan (31*) took NSK to a last over victory.
Scorecard
The final match of the day saw another century as Rahul Vashishtha hit 108 from 49 balls to lead Avengers to a resounding 8 wicket win over Royal Challengers. This was the 7th century of the summer, and Rahul's 13th in Newfoundland and Labrador. Earlier Royal Challengers made 157/7 with Akash Deep Singh making 50 and Maanik Arora 31.
Scorecard
The Hurricanes-Stars game was delayed by weather, but when play started, the Hurricanes made 155/9, Shakib Ruhul top scoring with 25. H Kabbo took 3 witckets for the Stars. The Stars made 91/8 in reply, Shakib Ruel again leading the way for the Hurricanes with 4/18.
Scorecard
In Sunday's second match, NSK played Royal Challengers. This was a well contested match that could have gone either way. Royal Challengers batted first, and looked to be building a good total, reaching 96/1 before Ranvir Rana (25) was run out following some smart fielding by Arif Shaikh. Royal Challengers seemed well set for a big total when Arif turned the course of the match- with his first three balls he had Maanik Arora (58) caught in the deep, bowled Akash Singh, and then caught Bhupesh Sharma to complete a hat-trick (a list of hat tricks in Newfoundland cricket can be found on our honours board). Arif took another wicket, finishing with 4/9, but Royal Challengers posted a competitive total of 160/7.
When NSK batted, Talha Riaz fell to one of three outstanding catches by Akash Singh, diving full length in the deep, then Mukul Dhawan (2/16) bowled Vaishal Patel and Purvi Kalyan to reduce NSK to 17/3. Rakesh Negi (38) and Nick Baxter (46) put on 82 for the 5th wicket, but both were out with 35 runs still needed. Shami Khan and Arif each made 17 to take NSK to the win with 3.1 overs left.
Scorecard
Bhupesh Sharma captained the Royal Challengers in his final game for the club before he moves out of province. Bhupesh has been an important part of the rise of the Royal Challengers from their founding three years back, and will be much missed in the NL cricketing community. We wish him all the best in the future.
August 22-23
After last weekend's forty over games, attention focussed on the T20 league this week.
Saturday got under way with a Division 1 match between the Royal Challengers and NL Tigers. The weather was less than ideal in the morning (although was superb for the later matches), and resulted in an early wicket, as Anol Azad slipped and was run out without facing a ball. His opening partner, Ali Raza is in top form this summer and produced yet another superb innings, 91 from 59 balls. Fahad Hossain (69 from 36 balls) joined him in a 117 run 3rd wicket partnership, and the Tigers made 210/6 from 20 overs. The Royal Challengers were never really in the hunt as they were unable to keep up with the run rate. Ranvir Rana made 72, but they fell well short, making 161/8 from their 20 overs.
Scorecard
In the second match, NSK batted first, starting well – 64/1 in the 7th over, with Talha Riaz (38) leading the way. Praveen Manhas (3/32) slowed the scoring, and NSK totalled 147/7 in their 20 overs. This looked to be a winning total after Nick Baxter dismissed both Avengers openers with only 6 on the board. This brought in Rahul Vashishtha, and he played a superb innings, a chanceless 104* to lead Avengers to victory with 13 balls to spare.
Scorecard
In the final match of the day, the Eagles bowled first against the Stars. Mohammed Asim took 3 wickets but the Stars made 126/7, with useful contributions from Aakash Halder (29), Partha Carbon (23) and Ainul Fayad (25). Mohammed Asim dominated the Eagles reply, after the Stars had taken early wickets. Coming in at 60/4, Asim hit 49 from 28 balls to take the Eagles to a 5 wicket victory with more than 5 overs remaining
Scorecard
The weather continued to cooperate on Sunday, and the opening match featured another century from Rahul Vashishtha. His last four innings have been 108, 153, 104*, and today's 105; so far in August he has made 519 runs. Today's century was made from 65 balls, and he was dismissed from the final ball of the innings as Avengers made 190/6. The Tigers bowled well, led by Fahad Hossain with 2/14, and Ali Raza with 2/26.
The Avengers secured the crucial wicket of Ali Raza in the second over, well caught at deep square leg by Bharath Shetty (one of three good catches in the deep. Arafat al Nabi hit well for his 52, but the Avengers took wickets regularly keeping the run rate high. Jaspreet Bajwa led the bowlers with 3/38, and the Avengers kept their impressive unbeaten record intact.
Scorecard
The final match of the weekend went down to the last over, as the Hurricanes beat the Eagles by 4 wickets. The Eagles made 177/6, with Adeel Illyas contributing 87 and Mohammed Asim 38. Wahidur Rahman took 3/26. In reply, Chowdhury Safin Ibn Fayez (37) and Daiyan Ahmed (63) put on 110 for the second wicket, but then wickets started to tumble (Abdullah Khalid taking 3/33), and the Hurricanes scrambled 40 runs from the last 4 overs to win.
Scorecard
August 29:
The Avengers remain unbeaten after winning Saturday's opening match by 6 wickets. Royal Challengers took first innings and made 143/9, Akash Singh top-scoring with 44, supported by Mukul Dhawan's 23. Jaspreet Bajwa, Praveen Manhas and debutant Jagbeer each took two wickets. Praveen and Jaspreet (23) opened the Avengers batting and put on 71 for the first wicket. Rahul Vashishtha's run of big scores came to an end as he made 25, but Praveen's 56 took Avengers to victory in 16.4 overs.
Scorecard
The second match was perhaps the best T20 match of the summer to date and NSK and Tigers battled hard, with the game decided on the penultimate ball. The Tigers batted first, and Nick Baxter quickly had them on the back foot with two wickets in the opening over. Ali Raza however rode a bit of luck, and in partnership with Mohammed Zilani took the score to 100 before he was caught in the deep for 68. Zilani made an excellent 41, including a remarkable square drive for 6 over point, and the Tigers posted a respectable score of 158/6. NSK bowled well as a team, notably only bowling 2 wides in the 20 overs, with Nick leading the way with 2/19.
NSK got off to a good start, with Vaishal Patel making an excellent 41. Rakesh Negi made a steady 31, but NSK needed 50 off the last 10 overs. The match was in the balance right up to the last over, with NSK needing 11, and then 8 from 2 balls. Shami Khan concluded an excellent innings of 45 by striking the critical blow, despatching a no-ball over square leg for 6, then calmly taking a single for the win.
Scorecard
Avengers top the Division 1 table with 4 wins from 4 matches, with NSK just behind on 3 wins. With 2 matches left to play for each time the title is still in the balance.
The final match of the day was another thriller, with the Stars defeating the Hurricanes by 2 runs to earn their first win in the league. The Stars batted first, and a 148 run opening partnership between Junayed Tushar (92) and Ainul Fayad (44*) took them to 167/1 from 20 overs. The Hurricanes also got off to a good start, with Daiyan Ahmed and Bishal Biswas both making 36, and with 4 overs to go needed 26. Wickets fell and runs proved hard to get, and 13 off the last over proved to be too much.
Scorecard
With just one match left to play in Division 2, the Hurricanes have secured the title with 3 wins from four games, leaving the Eagles and Stars to battle for second place.
September 6
Monday saw the Avengers conclude a successful weekend by clinching the Division 1 T20 tile with a 32 win over NSK. Once again Rahul Vashishtha led the way with yet another century- 120* out of a total of 216/3, with Praveen Manhas (38) and Gurman Khurana (34) making useful contributions. Rahul took 28 from a single over at one point- 4,4,4,4,6,6. NSK made the Avengers work hard for the win, with Nick Baxter's 58 from 30 balls setting the stage for Shami Khan's stunning 48 from 16 balls. Kathan Shaw, last over hero in Sunday's match did the trick again, trapping Shami in front, and the NSK charge faltered, all out for 185, with Rahul taking 4/23.
Scorecard
The final match of the weekend saw the Tigers beat Royal Challengers by 71 runs. Ali Raza made 56 but the highlight for the Tigers was a superb 88 from just 32 balls from Arafat al Nabi. He displayed some excellent power hitting straight, with 8 sixes. The total of 217/4 proved too much for the Royal Challengers, with Imran Ahmed leading the bowlers with 4/32. Maanik Arora made 50 but they fell well short on 146/9.
Scorecard
September 13
The Division 1 schedule concluded with a pair of matches. With the championship already settled, the main interest was in whether the Avengers could complete an unbeaten season, and this they did with a 44 run win over the Tigers. Avengers batted first and made 229/3, founded on big innings by Rahul Vashishtha (86 from just 35 balls) and Gurman Khurana who just failed to reach his second dentury of the summer, left on 96* after 20 overs. The Tigers put up a good fight but could not match the Avengers scoring rate, finishing on 185/8. Abdullah Sifat made 44*, and Arafat al Nabi 38. Praveen Manhas and Rahul Vashishtha each took 2 wickets. The Avengers thus won all twelve T20 matches, plus three 40 over matches to go unbeaten.
Scorecard
Earlier the Newfoundland Super Kings secured second place with a 6 wicket win over the Royal Challengers. Ranvir Rana made 37 as the Royal Challengers made 138/8, Rakesh Negi taking 2/14, and Vaishalkumar Patel 2/17. NSK knocked off the runs for the loss of 3 wickets in 17.5 overs, with Rakesh Negi making 42* and Arif Shaikh 30*. The match saw a debut for Salt Water Siren Sarah Gash who showed good technique in a 26 run partnership with Arif.
Scorecard
Avengers topped the table with 6 wins, followed by NSK, Tigers and Royal Challenger.
Summer league awards were presented between the matches.
September 27
The Eagles beat the Stars by 38 runs in the final T20 league match- the game had been postponed twice, and was, when played, the latest in the year we've played a competitive match.
The Eagles batted first and made 186/5, Adeel Illyas making 62, putting on 107 in an opening stand with Muhammed Belal Awan (26). Ainul Fayad led the Stars reply with 80, but the Stars were unable to match the required run rate, making 148/9. Unfortunately detailed scoring is not available for the final 10 overs.
40 overs
July 25:
The 40 over league got underway on Saturday, July 24 with the Avengers taking on the Hurricanes. The runs continued to flow as Gurman Khurana made the fifth century of the summer, 108 from 75 balls. It is Gurman's first appearance on the honours board. He put on 121 for the third wicket with Rahul Vashishtha (71), and hit 12 boundaries, six of them over the ropes. The Avengers batted out their 40 overs making 267/9. Wahidur Rahman took 4/46, and Mojammel Hridoy 3/60.
The Hurricanes were bowled out for 109 in 32.2 overs, Wahidur Rahman making a patient 40*. Ibnul Inan took 3/10 in 7 overs, and Rahul Vashishtha mopped up the tail with 3/6.
Scorecard
In Sunday's match, the Tigers batting first were bowled out for 108, Maanik Arora taking 4/10. Royal Challengers at one point were 58/6, but Akash Singh (30*) and Prabhmehar Majithia (24*) took them to a four wicket win.
Scorecard
August 15

Saturday saw an extraordinary match between Avengers and Tigers; 645 runs were scored, and the match decided by a single run on the penultimate ball.
Avengers batted first and put a record breaking 323/6 on the board – no team had passed 300 in the complete history of cricket in Newfoundland before. Rahul Vashishtha led the way with the 7th century of this short summer, 153, from 96 balls. He hit 15 fours, and after reaching his century with his first six hit four more. Gurman Khurana made an excellent 59, batting almost one-handed due to an injury. Rahul's was the 8th of the summer, and his 14th (although his first in 40-over matches).
Avengers looked heavy favourites but Ali Raza made 48 of an 86 run opening partnership. Indranil Malik, who normally bats lower in the order, opened with him and anchored the innings with an excellent 89. With 6 overs to go, the Tigers needed 87 with only 4 wickets, but a quite brilliant innings by Fahad Hossain took them to the last over needing 8 with just one wicket remaining. Three doubles took them to the brink of victory, but Fahad was bowled by Rahul from the 5th ball of the over to give the Avengers a win by a single run. Fahad made 68 from 34 balls; Rahul took 4/63 and Mehtab Singh 5/59, Congratulations to both teams on playing one of the best matches seen in Newfoundland.
Scorecard
Sunday again saw a high scoring game between Royal Challengers and the Hurricanes. The Royal Challengers posted the third consecutive 300+ total, making 301/6. Top scorer was Maanik Arora with 88, well supported by 52 from Aryan Falke and 64 from Akash Singh. The Hurricanes made a valiant attempt in reply making 265/8, with Wahid Rahman making the 8th century of the summer, 109, dismissed in the final over. Mukul Dhawan and Vishal Abhishek each took three wickets.
Scorecard
Labour Day weekend
The weekend got off to a damp start as the 40 overs match between Tigers and Hurricanes was curtailed by rain. However, the teams got in 63 overs of cricket, with the Tigers winning. They batted first, and made 247, with Imran Ahmed leading the way with a patient 80. Fahad Hossian made 58, and Junayed Tushar took 4/41 for the Hurricanes. The Hurricanes made a decent start in the chase, with Junayed Tushar (22) and Mohammed Rafid (20) putting on 47 for the first wicket but then collapsed to 79/7. Mojammel Hridoy (27*) kept them in the game until the rain fell with the score on 134/8 after 23 overs. The Duckworth-Lewis-Stern calculations suggested a par score of 223, leaving Tigers the winners by 89 runs.
Sunday saw an extraordinary battle for the 40 overs title, as the Royal Challengers took on the Avengers, with the Avengers winning in unlikely fashion by the narrowest of margins. The Avengers batted first and lost both openers with the score on 2, leaving the middle order to re-build the innings. Jaspreet Singh (25) put on 69 with Rahul Vashishtha, and Dax Mehta made 35 out of a 61 run partnership, but the innings revolved around yet another century by Rahul, 103 from 98 balls, his 5th century of the short summer. The Avengers were bowled out for 234 in the 36th over.The Royal Challengers made a steady start, and a 101 partnership between Akash Singh (49) and Aryan Falke put them in a great position, with the 4th wicket falling with just 31 needed in 7.2 overs. Aryan completed his maiden century- the 13th century of the summer on the honours board, but his dismissal triggered a collapse. With 5 overs to go, RC needed just 15 with 5 wickets in hand. The 36th over yielded just 2 runs, the 37th just one, and with the pressure on the 38th over resulted in 3 runs and a wicket. RC scrambled 6 runs from the 39th over but another wicket went down, taking the match to the final over, with Royal Challengers needing 4 to win. Kathan Shah had the unenviable task of bowling it- his first in the match but more than rose to the occasion. Two runs came from the first ball, but the second resulted in a leg before decision in his favour. Royal Challengers were desperate for the tying run but Dax Mehta ran out Gurpreet from the 3rd ball. Kathan concluded one of the best games in our history by bowling the number 11 bat for a 1 run victory. This remarkable comeback not only secured the Avengers the 40 overs title but maintained their unbeaten run this season.
Awards

The Summer League awards were presented on Saturday in a ceremony between the final Division 1 matches. Congratulations to all.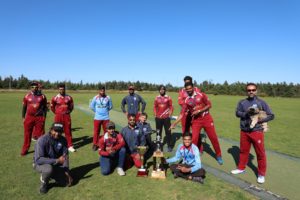 Senthil Selvamani Trophy (T20 league winners): Avengers
Division 2 trophy: Hurricanes
40 over league trophy: Avengers.
20 overs league:
MVP: Rahul Vashishtha
Best bat: Ali Raza
Best bowler: Mukul Diwan
Best fielder: Aakash Singh
40 overs league:
MVP: Rahul Vashishtha
Best bat: Gurman Khurana/ Aryan Falke
Best bowler: Wahidur Rahman
Best fielder: Abid Hassan
Most Spirited player awards (1/club)
Avengers: Kathan Shah
Stars: Irtiza Dar
Hurricanes: Wahidur Rahman
Newfoundland Super Kings: Aditya Dave
Eagles: Samad Quddusi
Tigers: Mohammed Zilani
Royal Challengers: Aryan Falke
Thanks to Gurpreet for photos
Tapeball tournament
With the sun dipping below the horizon, and the temperature falling to glacial levels, Gurman Khurana hit the 2nd ball of the final over over the head of mid-on to win the Super Smash tournament for Team Waqas Ali (Avengers), and bring Cricket NL's 2020 competitive season to an end. The Avengers were made to work hard chasing a target of 63, set by the Stars, who had won a thrilling semi final to reach the final. Gurman made 20* and Rahul Vashishtha 29. Congratulations to all teams who took part, and thanks to Waqas Ali and Abdullah Khalid for coming up with the idea of the tournament. We were delighted to have Waqas Ali at the field, recovering well from his recent accident.
Rahul Vashistha won the Sachin Tendulkar award (best batsman) and Mohamed Ruyel the Wasim Akram award for best bowler.
The Super Smash Tournament got underway on a cool but clear morning, with the Stars taking on the Volts. Imran Ahmed soon heated up the ground with a sizzling 68 from just 32 balls, with 5 sixes, putting on 106 for the first wicket with Junayed Tushar (27). Jawadur Rahman (3 wickets) and Ainul Alam (2 wickets) struck back for the Volts, as the Stars made 113/5. This proved too much for the Volts who were unable to sustain the 14 runs/ over rate, making 67/3.
The second match turned out to be one sided, largely due to an exceptional bowling performance from M Ruyel, taking 4/5 in his 2 overs, as the Hurricanes bowled out the Royal Challengers for just 21. The Hurricanes knocked off the runs in 2.2 overs.
Team Waqas Ali (Avengers) beat Lions by 37 runs to make their way to the semi finals, led by 68 from Rahul Vashishtha.
In the final first round match, The St. John's Panthers beat Avalon CC by 4 wickets, after restricting them to 55/5.
In the plate competition, Avalon CC beat Lions by 5 wickets, to meet the Royal Challengers who won by a similar margin over the Volts.
Arif Shaikh led Avalon CC to the plate championship, taking 4/28 as Royal Challengers totalled 75, then making 24 as his team won in 5 overs without losing a wicket- a fine performance from a group of players, most of which did not play in Summer League.
Perhaps the best match of the tournament was the semi-final between the Stars and Hurricanes. The Hurricanes posted 89/4, led by 45 from Arafat al Nabi, and the Stars went into the final over needing 9 runs with only two wickets left. They need five off the last two balls when captain Irtiza Dar hit a six over mid-on to take them to the final.
Team Waqas Ali chased down 70 in the other semi final, a fine innings by Aakash Singh taking them to a last over win.
Cricket Newfoundland and Labrador has committed to contribute any profit from the tournament to assist our friend Waqas Ali as he recovers from a serious accident.