The 2015 season consisted of indoor Spring and Fall Leagues and a four team outdoor hard-ball tournament.
2015 Spring League
The indoor Spring League was won by the Super Six Challengers over the Bangladesh Tigers. Eight teams took part in the tournament.
Match 1:
BD Tigers Vs Gladiators: "BD Tigers" won by 3 wickets
"Gladiators" won the toss and elected to bat first
Gladiators 77/4 in 8 overs & BD Tigers: 80/2 in 6.3 overs
MOM: Ayaz Ghani (BD Tigers) 53*(17)
Scorecard
Match 2:
Lions Vs Nomads: "Nomads" won by 4 wickets
"Lions" won the toss and elected to bat first
Lions 58/3 in 8 overs & Nomads: 61/1 in 6.1 overs
MOM: Rahul Vashisht (Nomads) 33*(18) & 1-0-3-1
Scorecard
Match 3:
BD Tigers Vs PSA: "BD Tigers" won by 4 wickets
"BD Tigers" won the toss and elected to field first
PSA 41/5 in 7.3 overs & BD Tigers: 42/1 in 4 overs
MOM: Abrar Khan (BD Tigers) 3-0-8-2 & 1 catch
Scorecard
Match 4:
Super Six Vs Super Heroes: "Super Heroes" won by 7 runs
"Super Six" won the toss and elected to field first
Super Heroes 85/2 in 8 overs & Super Six: 78/5 in 7.3 overs
MOM: Chithran Vasudevan (Super Heroes) 35(25) & 3-0-15-2
Scorecard
Match 5:
BD Tigers Vs Super Six Challengers: "BD Tigers" won by 3 wickets
"BD Tigers" won the toss and elected to field first
Super Six Challengers 50/5 in 7.5 overs & BD Tigers: 52/2 in 6 overs
MOM: Biswajit Saha (BD Tigers) 3-0-16-2
Scorecard
Match 6:
Super Six Challengers Vs Gladiators: "Super Six Challengers" won by 4 wickets
"Gladiators" won the toss and elected to bat first
Gladiators 39/5 in 5 overs & Super Six Challengers: 40/1 in 4.3 overs
MOM: Rakesh Negi (Super Six Challengers) 21*(12) & 2-0-6-4
Scorecard: http://www.crichq.com/#matches/251627
Match 7:
Super Heroes Vs Lions: "Lions" won by 5 wickets
"Super Heroes" won the toss and elected to bat first
Super Heroes 20/5 in 4.1 overs & Lions: 23/0 in 1.5 overs
MOM: Samaa Madhava (Lions) 2-0-9-3
Scorecard: http://www.crichq.com/#matches/251861
Match 8:
Gladiators Vs PSA: "Gladiators" won by 47 runs
"Gladiators" won the toss and elected to bat first
Gladiators 77/2 in 8 overs & PSA: 30/5 in 6.3 overs
MOM: Nouman Rasheed (Gladiators) 44*(29) & 1 catch
Scorecard: http://www.crichq.com/#matches/251890
Semi Final 1:
Nomads Vs Super Six Challengers: "Super Six Challengers" won by 22 runs
"Super Six Challengers" won the toss and elected to bat first
Super Six Challengers 831/1 in 8 overs & Nomads: 61/2 in 8 overs
MOM: Rakesh Negi (Super Six Challengers) 62*(30) & 3-0-21-1
Scorecard: http://www.crichq.com/#matches/252382
Semi Final 2:
BD Tigers Vs Lions: "BD Tigers" won by 4 wicktes
"BD Tigers" won the toss and elected to field first
Lions 59/1 in 8 overs & BD Tigers: 64/1 in 7.2 overs
MOM: G Abeywickrama (Lions) 23(25), 2-0-15-0
Scorecard: http://www.crichq.com/#matches/252401
Final:
BD Tigers Vs Super Six Challengers: "Super Six Challengers" won by 6 runs in a intense roller coaster match.
"BD Tigers" won the toss and elected to field first. Super Six Challengers was struggling with 41/2 at the end of 7th over but Gurman Khurana scored 30 runs in last over which allowed Super Six Challengers to post a challenging total of 71/2 in 8 overs.
In reply, BD Tigers started well with Abrar Khan and Tamkin Khan. BD Tigers was 53/1 at the end of the 4th over. But in the 5th over, Rakesh Negi took 2 wickets and conceded just one run. This over changed the match and BD Tigers were all out just 6 runs behind and 1 ball remaining.
Super Six Challengers 71/2 in 8 overs & BD Tigers: 65/5 in 7.5 overs
MOM: Rakesh Negi (Super Six Challengers) 3-0-23-3
President's Trophy match
President's Newfoundlanders won the toss and elected to bat first.
President's Newfoundlanders: 75/3 in 10 overs
Newfoundland Vikings: 35/6 in 9.1 overs
MOM: Kankayaliyan Thillayampalam 27*(17)
President's Newfoundlanders: Rahul Vashisht(C), Senthil Selvamani, Deep Patel, Ali Malik, Kankayaliyan Thillayampalam, Samaa Madhawa, Nayanjit Udara
Newfoundland Vikings: Abrar Khan(C), Tamkin Khan, Saad Jahangir, Ayaz Khani, Adeel Illyas, Nadeem Saqlain, Khurram Shehzad.
https://www.crichq.com/matches/257650
2015 Summer League
2015 saw the summer outdoor season expand to four teams, with a change in the way teams were put together. For the first time, independent clubs were established and allowed to put together their own teams. This resulted in a leage that overall was reasonably balanced with most matches competitive. The dominant team however was the Avengers who lost just once during the year. They were led by Rahul Vashishtha, who also was the league's top batsman. Their bowling attack was well balanced, with two excellent left armers – newcomers Samaa Madawha (spin) and Deep Patel (fast-medium) combining well with established players Senthill Selvamani and Rahul Vashisht, with good support from Dhrummit Bhatt. Rahul made 459 runs at an average of 57.38, with a sensational hundred in the final. Senthill also made important runs before mssing the end of the season through injury.
The Tigers were runners up in the League and played the Avengers in the Atul Ahuya Cup final. They edged out the Superkings with a last over win in the final weekend of league play. Hummam-bin-Saif was named league MVP and really came good with the bat, opening the innings and hitting hard, far and often. His spin bowling was also effective. Saad Jahingir also made useful runs. Abrar Khan had an excellent season, his fast medium bowling always dangerous, and he made useful runs in the lower order.
The Eagles had a tough season, but saved the best for last, capturing the Herringshaw Cup with a win over the Superkings. They were well captained by Nadeem Saqlain, who also contributed with both ball and bat, but most importantly kept team spirit high in the face of defeat. The bowling was led by Osama Anwar, whose accurate spin was hard to hit, and Waqas Ali and Ali Malik provided good support. Saqib Jalees and Khurram Shezad were both consistent with the bat, but the team frequently were unable to post defendable totals.
The Superkings suffered from inconsistency- at their best they were a strong team, and handed the Avengers their only defeat of the season, but all too frequently the batting failed. The bowling featured the league's top two wicket-takers with Purvi Kalyan taking the best bowling award with his medium pace. Rakesh Negi, Talha Riaz and Adeel Ilyaz provided a strong spin attack, and Neelav Diwan was dangerous as always. The batting relied heavily on Gurman Khurana and Rakesh Negi, with Amit Sundly providing some support but was prone to spectacular collapses. In the final weekend of play the superkings had a good chance of placing second in the league but dropped to third, and lost the Herringshaw Cup to the Eagles.
Score summaries and links to scorecards
June 20;
Summer League got underway with the Avengers beating the Tigers by 111 runs, and the Superkings with a narrow win over the Eagles.
The opening day featured some great cricket, despite less than ideal field conditions. In the opener, the Superkings pulled off a narrow two wicket win over the Eagles. Purvi Kalyan took 4/23 in the Eagles innings to earn man of the match honours.
Scorecard:
The second match saw two amazing performances both in the Avengers innings. Ayaz showed the virtue of bowling straight, taking 6 wickets for 24 runs, all bowled, but this was overshadowed by man of the match Rahul Vashishtha's brilliant century, only the third century since cricket resumed on the province five years ago. He made an unbeaten 108 from just 52 balls hitting thirteen sixes. The Superkings ran out winners by 111 runs.
Scorecard:
June 28:
NL Avengers Vs Newfoundland Super Kings:
NL Avengers won by 35 runs
Newfoundland Super Kings won the toss and elected to field first.
NL Avengers: 142/8 in 20 overs
Rahul Vashishtha 69(58)
Purvi Kalyan 4-0-17-3
Newfoundland Super Kings: 107/7 in 20 overs
Amit Sundly 49(63)
Senthil Selvamani 4-0-19-2
Rajitha Jayasinghe 3-0-11-2
MOM: Rahul Vashishtha
Scorecard: https://www.crichq.com/#matches/270556
NL Eagles Vs NL Tigers:
NL Tigers won by 52 runs
NL Tigers won the toss and elected to bat first.
NL Tigers: 104/9 in 20 overs
Saad Jahangir 35(40)
Nouman Rashid 4-0-21-4
Waqas Ali 4-0-13-2
NL Eagles: 52/10 in 16.2 overs
Hummam Bin Saif 4-0-6-3
Shaifan Ahmed 3-0-10-2
Abrar Khan 3-0-12-2
Ayaz Ghani 3.2-0-11-2
MOM: Hummam Bin Saif
Scorecard: https://www.crichq.com/#matches/270558
July 5
Week 3 of the League saw the Avengers maintain their unbeaten record with a nine wicket win over the Eagles, and the Tigers cruising to a 10 wicket win over the Superkings. In both matches the side winning the toss batted first but failed with the bat, being bowled out inside their twenty overs.
Only one Eagle batsman (Nadeem Saqlain with an unbeaten 14) managed double figures thanks to a strong all round bowling effort led by man of the match Dhrumit Bhatt with 3 for 7. They made just 55, batting just over 10 overs. The Avengers lost an early wicket but then Senthil Selvamani (24*) and Rahul Vashishtha (29*) took them to an easy win with 11.4 overs to spare. Rahul has now made 205 runs this season being only dismissed once.
The second match followed a similar course. The Superkings got off to a promising start, with 16 on the board before the first wicket fell, but no-one could offer any support to Gurman Khurana whose excellent 57 was the only reason the Superkings posted 81. No other batsman made more than 6, and there were five ducks. Hummam Bin Saif took 4/6 with steady straight spin bowling. He then led the reply with an unbeaten half century, clearly the man of the match, and Saad gave him good support as the Eagles won by 10 wickets in 16.2 overs.
NL Eagles Vs NL Avengers: NL Avengers won by 9 wickets
NL Eagles won the toss and elected to bat first.
NL Eagles: 55/10 in 10.2 overs
Dhrumit Bhatt 2-0-7-3
Shakila Kahawidange 2-0-7-2
Kasun Chandrasiri 1.2-0-13-2
NL Avengers: 56/1 in 8.2 overs
Senthil Selvamani 24*(18)
Rahul Vashishtha 29*(25)
MOM: Dhrumit Bhatt
Scorecard: https://www.crichq.com/#matches/273349
Newfoundland Super Kings Vs NL Tigers:
NL Tigers won by 10 wickets
Newfoundland Super Kings won the toss and elected to bat first.
Newfoundland Super Kings: 81/10 in 15.2 overs
Gurman Khurana 57(48)
Hummam Bin Saif 3.3-2-6-4
NL Tigers: 86/0 in 16.2 overs
Hummam Bin Saif 52*(45)
Saad Jahangir 25*(43)
MOM: Hummam Bin Saif
Scorecard: https://www.crichq.com/#matches/273454
July 11;
The Avengers kept their unbeaten record with a win over the Tigers, and the Superkings beat the Eagles in week 4 play.
This was true Newfoundland cricket, with the temperature barely into double digits and occasional light drizzle – but two entertaining matches were played.
The Tigers restricted the strong Avengers batting line up to 116/4 from their twenty overs, Deep Patel top-scoring with 30. well supported by Bharat Shetty (21*) in a 63 run unbroken partnership. Hummam continued his great bowling taking two wickets and conceding just 9 runs in his four overs. Hummam led the way with the bat as well, and at 81/2 with 7 overs to go the Eagles looked to be in a good position to win. The dismissal of Hummam for 54 triggered a collapse, however, and the last 8 wickets fell for just 10 runs. Drumhit Bhatt took 4/26, and Bharat 4/9, both being rewarded for bowling straight.
In the second match Gurman Khurana and Rakesh Negi (19) put on 37 for the first wicket for the Superkings, but then Gurman had little support. He made a patient 41, but the Eagles had a good day in the field, taking all their catches, and earning two run outs with direct hits. Osama Anwer took 3 for 10 with his well flighted spin. As a result they were chasing just 93 to win.
The Eagles lost early wickets, Amit Sundly making the breakthrough, but Saqib Jalees resisted well, making an excellent 34 before he was caught on the boundary by Tahla Riaz  off Purvi Kalyan. Purvi took four wickets, earning man of the match honours, as the Eagles were bowled out for 63.
July 18:
Avengers beat Superkings by 36 runs
The Avengers remain unbeaten after a 36 run win over the Superkings. Batting first,  a 59 run opening partnership between Senthil Selvamani (31)  and Fahad Ijaz (11) laid the foundation for a good total of 130/6. Rahul Vashishtha (28) Bharat Shetty (28 not out from 18 balls) made useful contributions, while Neelav Dhawan took 2/19 for the Superkings.
Gurman Khurana led the Superkings reply with an unbeaten 54, but tight bowling and good fielding with a couple of excellent catches kept the run rate down, and led to a comfortable victory. Senthil took two wickets in the opening over, and took 2/10. He was named man of the match.
Avengers 130/6
Senthil Selvamani 31, Rahul Vashishtha 28, Bharat Shetty 28; Neelav Dhawan 2/19
Superkings 94/5
Gurman Khurana 54*, Sentil 2/10
MoM: Senthil
July 25:
Cricket NL members are a dedicated group, and turned out to play three matches in dismal weather on Saturday. Amazingly, despite one of the worst summers on record, no games have yet been cancelled for weather. It was definitely a bowler's day however, and there was some low scoring. The top performances of the day were Talha Riaz's 5 wickets for 3 runs for the Superkings, and Senthil Selvamani's 57 for the Avengers.
Superkings beat Tigers by 9 wickets
Tigers 26 all out
Rakesh Negi 3 wickets for 7 runs, Talha Riaz 5 wickets for 3 runs
Superkings 27/1
Scorecard
Avengers beat Eagles by 5 wickets
Eagles 91 all out
Saqeeb Jalees 29, Irtiza Dar 20
Nirmal Katagoda 3/11, Rahul 3/22
Avengers 92/5
Senthill Selvamani 57
Scorecard
https://www.crichq.com/#matches/
Tigers beat Eagles by 5 wickets
Eagles 48 all out
Saad Jahangir 3 wickets for 14 runs
Tigers 49/5
Nazrul Shikon 23
Osama Anwer 3 wickets for 6 runs.
Scorecard
August 2
The arrival of August finally brought a day ideal for playing cricket, and the Eagles took full advantage of the good weather in recording their first win of the season. They beat the Superkings by 4 wickets in a match that ended up surprisingly close, after Waqas Ali and Ali Malik's devastating opening spell reduced the Superkings to 9 for 5 after four overs. Rakesh Negi, helped by Mark Russell (8, including Mark's first career six, beautifully struck over square leg),and Talha Riaz (25) led a good recovery. Rakesh made 36, and the Superkings were helped by 30 wides as they posted 109. Waqas Ali took 4/18, Ali Malik 3/8, and Khalid Rashid 3/19.
The Eagles made a steady start with Saqib Jalees (13) and Irtiza Dar (16) putting on 38 for the first wicket, and Khurram Shehzad (23) took the score to 71/2. The Superkings, thanks to Purvi Kalyan (3/19) fought back with three quick wickets, but steady batting from Nadeem Saqlain and Waqas Ali took the Eagles to a well deserved win.
Scorecard
August 8: Saturday's games saw the Avengers clinch the league title with a game to play, despite their first loss of the season in the opening match of the double header. The Superkings upset the previously unbeaten Avengers by 17 runs. The Avengers seemed well in control of the game after the Superkings slumped to 40/6. Neelav Dhawan (25*) and Dave Liverman (14) put together a partnership of 31, and allowed the Superkings to bat out their overs, but for a sub-par total of only 82. Deep Patel was the pick of the bowlers with 2/10, Samaa Madhawa also taking two wickets and Rahul Vashishtha conceding only 10 runs from his four overs.
Neelav took a wicket in his first over, and then took a brilliant diving catch at point to dismiss the league's top scorer Rahul Vashishtha – 7/2. Fahad Ijaz (19) and Gihan Abeywickrama (14) batted patiently and seemed to be steering the Avengers to victory as they took the score to 47/2. Purvi Kalyan bowled Gihan and precipitated a collapse, with the last 8 wickets falling for only 18 runs.
Rakesh Negi took 3/7 and also contributed an outstanding run out, and Tahla Riaz and Adil Ilyasi took two wicket apiece.
Neelav Dhawan was named man of the match for his all round performance.
Scorecard
The second match saw the Avengers return to their dominant form, beating the Eagles by 135 runs. The Avengers batted first. After an early wicket Rahul Vashishtha took charge with a rapid 68 in 29 balls- with 60 of his runs coming from sixes! Gihan Abeywickrama (37) provided good support in a 118 run second wicket partnership. The Avengers posted a total of 193/8, Nouman Rashid and Nadeem Saqlain each taking three wickets. In reply, the Eagles were bowled out for 58 in 13.5 overs, Rahul taking 3/13 in a man of the match performance, and Samaa Madhawa taking two wickets. Khurram Shezad top-scored for the Eagles with 14.
Scorecard
The win sees the Avengers clinch first place in the league and a place in the Atul Ajuha Trophy final, with their opponents to be decided in next weekend's matches.
August 15:
In the final weekend of league play the Tigers earned second place and a spot in the Atuil Ahuja trophy with two wins. On Saturday, they beat the Superkings in a close match, but then lost to the Avengers. They went on to beat the Eagles in Sunday's final match to shade the Superkings for second place with a 5-4 record.
The Tigers- Superkings match was decided in the last over in. The Tigers won in the last over. The Superkings made 110, thanks mainly to a good innings from Kranthi Kumar. Hummam-bin-Saif made 46 runs for the Tigers but Abrar Khan's fine innings of 18 runs under pressure, combined with 4 wickets in the Superking's innings earned him man of the match.
Scorecard
The Tigers made 102 runs in the second match, thanks to 48 runs from Nazrul Shikon. The Avengers, already league champions, made it 8 wins and only one loss as man of the match Fahad Ijaz's 43 runs took them to a 6 wicket win.
Scorecard (note by mistake Fahad's and Gihan's runs are switched
The Tigers needed to beat the Eagles on Sunday to take them to the Atul Ahuja Cup by placing 2nd. The Eagles made 109 runs batting first, thanks to Khurram Shezad with 20 runs, and 18 runs from captain Nadeem Saqlain. The Tiger's best bowler was Abrar Khan with three wickets. Hummam Bin Saif took the Tigers to victory contributing 41 runs as the Tigers won by four wickets.
Scorecard
August 22: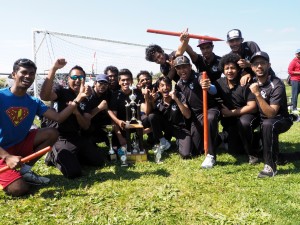 The Avengers won the Atul Ahuja Cup this Saturday with a 63 run victory over the Tigers. The Cup was presented by former Cricket Canada CEO Atul Ahuja, who donated the artificial pitch used for matches and is contested between the 1st and 2nd place teams in the regular season.
The Avengers batted first and posted a total of 174 runs for the loss of only three wickets. They were led by man of the match Rahul Vashishtha, who hit a century- exactly 100 runs, off only 54 balls, striking ten sixes. He was well supported by Kangai Thillaiyampalam who made 21. Hummam Bin Saif (13 runs) and Ayaz Ghani (13) got the Tigers off to a good start, but both fell to Deep Patel. Abrar Khan and Abdullah Nibir both made 18 runs but the Tigers fell well short, totalling 111. Samaa Madwha took two wickets and also two catches for the Avengers.
Scorecard
The Championship match was followed by a game for the Herringshaw Cup (named after Liam Herringshaw, the driving force behind the founding of the organization five years ago, and played between the 3rd and 4th place finishers in the league). The Eagles (with only one regular season win) upset the Superkings beating them by 33 runs. The Eagles batting first made a modest 112 runs all out, led by 20 from Mohammed Umair. The Superkings looked to be heading for victory, as Rakesh Negi (34) and Gurman Khurana (15) put on 36 for the opening wicket. Once Gurman was caught, wickets tumbled, with Osama Anwer (named man of the match) leading the way with four wickets for just 15 runs.
Scorecard
Short scores:
Atul Ahuja Cup
Avengers 174 runs for 3 wickets (Rahul Vashishtha 100 runs) beat Tigers 111 runs for 10 wickets
Herringshaw Cup
Eagles 112 all out beat Superkings 79 all out by 33 runs.
Summer League awards were also presented
Most valuable player: Hummam-bin-Saif
Best batsman: Rahul Vashishtha
Best bowler: Purvi Kalyan
Best fielder: Ali Malik
Most improved player: Osama Hader
Most spirited player: Nadeem Saqlain
League trophy: Avengers
Statistics
Batting and bowling statistics for 2015 outdoor season – we have complete scorecards for all but one match, so if you believe there's an error in these, please let us know. Congratulations to Rahul Vashishta (top run scorer) and Purvi Kalyan (top wicket taker).

Batting (ordered by runs scored)
Runs
Innings
Not Out
Average
Rahul Vashishtha
459
10
2
57.38
Hummam
248
10
1
27.56
Gurman Khurana
192
10
2
24.00
Senthill Selvamani
153
6
2
38.25
Saqib Jalees
148
10
0
14.80
Rakesh Negi
143
10
0
14.30
Khurram Shehzad
106
10
0
10.60
Gihan Abeywickrama
98
7
0
14.00
Amit Sundly
95
9
1
11.88
Fahad Ijaz
90
7
1
15.00
Nazrul Shikhon
84
7
0
12.00
Nadeem Saqlain
81
10
3
11.57
Kranthi Kumar
78
9
0
8.67
Saad Jahangir
73
7
2
14.60
Talha Riaz
69
7
0
9.86
Kanakayaliyan Thillaiyampalam
66
9
3
11.00
Irtiza Dar
66
10
0
6.60
Ayaz Ghani
63
7
0
9.00
Bharat Shetty
59
6
2
14.75
Abrar Khan
52
9
2
7.43
Ali Malik
44
9
2
6.29
Abdullah Nibir
44
8
2
7.33
Deep Patel
43
7
2
8.60
Waqas Ali
41
10
1
4.56
Tamkin Khan
40
7
0
5.71
Adeel Ilyasi
36
8
2
6.00
Neelav Dhawan
34
5
2
11.33
Khalid Rashid
29
8
2
4.83
Nouman Rashid
25
9
1
3.13
Luftor Rahman
25
2
1
25.00
Dave Liverman
25
7
0
3.57
Rafi Mohammed
22
5
1
5.50
Kazi Ashraful Hoque
21
5
2
7.00
Drumhit Bhatt
19
2
0
9.50
Saravana Kumar
17
1
0
17.00
Kasun Chandrasiri
17
5
2
5.67
Shaifan Ahmed
13
5
3
6.50
A Siddiqui
11
3
0
3.67
Mominule Alam Movee
11
5
2
3.67
Mark Russell
10
6
1
2.00
Mohammed Kaleel
9
6
0
1.50
Shaykat Saha
8
2
0
4.00
S Harun
8
2
0
4.00
Nayanjith Udara
7
3
0
2.33
Sajawal Usto
7
2
0
3.50
Anant Mangat
7
3
2
7.00
Purvi Kalyan
6
9
2
0.86
Talha Sultan
3
1
0
3.00
O Anwar
2
7
3
0.50
Chithran Vasudevan
2
1
1
A Kamal
2
2
1
2.00
Raza Riaz
2
2
0
1.00
Srinivasan Srinivasan
1
4
1
0.33
Kamal Ghosal
1
1
0
1.00
I Ghani
1
1
0
1.00
Alex Dias
1
2
1
1.00
Edison Sripal
0
1
0
0.00
Jim Jubabir
0
2
1
0.00
Niramal Katgoda
0
1
1
Rajitha Jayasinghe
0
1
0
0.00
S Madhawa
0
2
2
Shakila Kahawidanage
0
0
0
Aquib
0
3
0
0.00
Aasim Khan
0
1
0
0.00
Bowling (ordered by wickets taken)
Overs
Runs
Wickets
Average
Economy
Purvi Kalyan
24.5
159
16
9.94
6.49
Rakesh Negi
39
172
14
12.29
4.41
Osama Anwar
23.66
107
13
8.23
4.52
Rahul Vashisht
31
132
12
11.00
4.26
Waqas Ali
37.33
222
12
18.50
5.95
S Madhawa
27.33
108
11
9.82
3.95
Ali Malik
35.85
184
11
16.73
5.13
Talha Riaz
23.85
101
11
9.18
4.23
Abrar Khan
29.48
176
11
16.00
5.97
Ayaz Ghani
27.33
136
11
12.36
4.98
Hummam
30.5
160
11
14.55
5.25
Drumhit Bhatt
13
77
10
7.70
5.92
Khalid Rashid
20.66
122
10
12.20
5.91
Adeel Ilyasi
29.15
170
10
17.00
5.83
Deep Patel
26.15
123
9
13.67
4.70
Nouman Rashid
17
112
9
12.44
6.59
Kazi Ashraful Hoque
27
172
9
19.11
6.37
Shaifan Ahmed
22
117
9
13.00
5.32
Senthill Selvamani
18
71
8
8.88
3.94
Bharat Shetty
13
58
6
9.67
4.46
Niramal Katagoda
8
47
6
7.83
5.88
Nadeem Saqlain
11
75
6
12.50
6.82
Neelav Dhawan
28
119
6
19.83
4.25
Rajitha Jayasinghe
11
40
5
8.00
3.64
Amit Sundly
24.83
145
5
29.00
5.84
Saad Jahangir
6
36
5
7.20
6.00
Edison Sripal
8
26
4
6.50
3.25
Shakila Kahawidanage
7
45
4
11.25
6.43
Khurram Shehzad
11.33
112
4
28.00
9.89
Kasun Chandrasiri
5.18
30
3
10.00
5.79
Raza Riaz
3
10
3
3.33
3.33
S harun
8
55
3
18.33
6.88
Fahad Ijaz
3.33
15
2
7.50
4.50
Rafi Mohammed
3
10
2
5.00
3.33
Kanakayaliyan Thillaiyampalam
1
1
1
1.00
1.00
Saravana Kumar
6
69
1
69.00
11.50
Mohammed Kaleel
1
13
1
13.00
13.00
Anant Mangat
4.33
34
1
34.00
7.85
Mominule Alam Movee
0.15
1
1
1.00
6.67
Shameem Islam
1
20
1
20.00
20.00
Rafi Mohammed
1
7
0
7.00
Saqib Jalees
1
3
0
3.00
Alex Dias
1
6
0
6.00
Kranthi Kumar
1
5
0
5.00
Srinivasan Srinivasan
1
4
0
4.00
Abdullah Nibir
1
15
0
15.00
Aquib
1
10
0
10.00
Tamkin Khan
6
60
0
10.00
Atlantic T20
The provincial team placed third in the Atlantic T20 in Fredericton, NB, coming back well after losing their first two matches. After the first planned day of play was washed out, the revised schedule saw all matches reduced to only 10 overs. Newfoundland and Labrador were asked to bat by Nova Scotia in the first match, and had to battle near unplayable conditions on a rain soaked surface. They lost their first four wickets without scoring a run in the first three overs in conditions that were heavily biased towards the bowlers. Adeel Ilyaz battled hard for his 14, and Abrar Khan contributed 9 but 33/7 was never going to be enough, and Nova Scotia won by 8 wickets with 6 overs to spare.
Conditions improved for the game against Quebec, who made 106. Cricket Nl only lost two wickets in reply but despite a valiant effort by Gurman Khurana and Rahul Vashishta fell 18 runs short.
On Sunday they beat PEI by 68 runs, Rahul Vashishta earning man of the match for a hard hitting 42 combined with three wickets and a catch. Their final match was in effect the bronze medal game against New Brunswick. They made 80 batting first thanks to another good innings from Rahul, and then won by 26 runs, thanks to 4 wickets for 6 runs from Samaa Madhawa, named as man of the match.
Nova Scotia won the tournament, with Quebec placing second.
Rahul Vashishta was named player of the tournament, the first time one of our players has received this honour.
Fall league

The Avengers beat the NSK-Tigers Blue in the final by 4 wickets. They bowled out NSK-Tigers for 55, thanks to 2/11 from Dhrumitt Bhatt, and Rahul Vashishtha's 3 overs for 13 runs. Rakesh Negi made 25. The Avengers won with 5 balls to spare, Rahul Vashishtha making an unbeaten 32 (finishing the tournament with 369 runs at an average of 195, and a strike rate of 272).
Scorecard
In the second semi-final NSK-Tigers Blues beat the Rising Stars by 2 wickets. The Stars batted first and made 67/4, thanks to 30 from Saqib Ansari. Neelav Dhawan bowled his 3 overs for just 15 runs. NSK_Tigers won with one ball to spare, losing three wickets. Abrar led the way with an unbeaten 36.
Scorecard
First Semi Final: NL Avengers vs Lions
Summary: What a demonstration of domination on the cricket field. A pressure game and everyone was looking for a close contest until Rahul came in and smashed the first ball for the maximum. The highlights of the innings were the First Century ever scored in an indoor league with unbelievable 41 runs over which went for six sixes and a no ball four. As usual the Atlantic T20 MVP played to his caliber and kept the scorers busy while playing his dream knock for 112* at a Strike rate of 287.00.
Avengers finished their innings at 126, in response Lions only managed to get 45. A pretty comfortable win for Avengers.
MOM: Rahul Vashishtha (Do you have issues with the cricket ball?? Quicker it comes to you Faster it is sent back!!)
PS: Records are made to be Broken! However this one would not be easy at all!!
Scorecard: https://mobile.crichq.com/#matches/311074/1st_innings
Our second semifinal will be between the experienced NSK Tigers and the exciting/promising Rising Stars on Sunday ( 8 November) at 5 pm followed by the Final on same day at 6 pm.
After the round robin, Avengers topped group A with an unbeaten record, with Rising Stars earning a semi-final spot in second place on net run rate, with three teams tied with one win. NSK & Tigers Blues topped group B, with the Lions in second place. Full summary and scorecards follow:-


Game 1: Avengers vs White walkers
Summary: A one sided game dominated by the Powerful Batting Performance by Rahul. Avengers made 123/2, thanks to Rahul's 87 in 32 balls and 2 wickets. In response White walkers managed to get 13/5.
Man of the Match: Rahul Vashishtha ( 87 at a Strike Rate of 278.00 Woofff! )
Here is the link to the score card:
Scorecard
:
Game 2: NSK & Tigers Reds vs NSK & Tigers Blues
Summary: A good game between the two sides. Reds won the toss and chose to field first. Blues scored 102 in 8 overs. Couple of great knocks from Neelav and Abrar. In response Reds had a decent start however wickets at short intervals won the game for Blues!!
Man of the Match: Neelav Deewan (Unexpectedly for his BATTING this time)
Game 3: Rising Stars vs Spartans
Summary: It was the day's first close game. Spartans were restricted to 72/2 with Saleem's 25 runs knock. In return Saqeeb batted superbly to reach his 37 until Khurram took his wicket and left Rising Stars short of 3 runs.
Man of the Match: M Saleem (For his brilliant knock)
Scorecard:
Game 4: Gladiators vs Lions
Summary: A low scoring game. Lions bowled very well to restrict Gladiators for 56/2 in 8 overs. Uzair played a fantastic knock of 39 runs in 18 balls. In response Lions reached the target comfortably in 7 overs. Gihan's 18 runs knock was well supported by 16 Extras!
Man of the Match: Manujaya (For his 15 Not Out and leading Lions towards a comfortable win)
Scorecard
Game 5: NSK and Tigers Red vs Gladiators
Summary: First Game on Day two of the League. A partnership between Shikon and Kranthi helped Reds to put on 86 on board. They made 29 and 25 respectively. In response Gladiators could only manage 67 in 8 overs, Irtiza scored 22 in his first game of the fall league.
Scorecard
Game 6: Gladiators vs NSk and Tigers Blues
Summary: A High scoring game! Blues batted first and scored 145/1 in 8 Overs. The highlight of the game was Rakesh Negi who scored 97 runs in 33 balls at an strike rate of 303.00. In response Gladiators gave a wonderful batting performance and their openers made a 92 runs partnership. Numan scored 54 in 22 balls and was supported by Uzair's knock of 37 runs. However 145 was too difficult a target and Gladiators managed to only get 102 in 8 overs.
MOM: Undoubtedly Rakesh Negi for his 97 in 32 balls!
Scorecard
Game 7: Spartans vs White Walkers
Summary: The Biggest turn around of the tournament. The Fancy and strong batting line up of Spartans fell apart by brilliant bowling performance by White Walkers. Saravana Kumar lead his team by example and took 3 wickets in 2.2 overs as a result Spartans were bowled out for 26. In response Purvi and Srinivasan played sensibly and with the help of 12 extras achieved the target for loss of two wickets.
MOM: Saravana Kumar (For his lethal bowling performance)
Scorecard
Game 8: Rising Stars vs Avengers. Avengers won.
Game 9: Rising Stars vs White Walkers
Summary: Another showcase of some fine hitting. Rising Stars batted brilliantly to put 104 on the board. Saqeeb was the Star of the first innings. He made 79 of 32 at a fancy strike rate of 232.00. That was some innings B'Y!! In response White Walkers showcased their batting skills this time. Kumar played a brilliant knock of 32 but 3 run outs won the game for Rising Stars. White Walkers were out for 64.
MOM: Saqeeb Jalees (For his Fantastic batting performance)
Scorecard
Game 10: NSK & Tigers Blues vs Lions
Summary: In form Blues batted first and scored 110 in 8 overs. Abrar demonstrated his skills by playing a knock to reach his fifty. He made 70 off 24 balls and was supported by Negi's 32. In response Gihan batted throughout the innings and fell short of two runs for his half century. Lions managed to get 76/2 in 8 overs.
MOM: Abrar (For his Captain's knock)
Scorecard