The 2017 season was a big success, with successful indoor tournaments in February and October and a 4 team summer league. The highlight was the hosting of the Eastern Canadian Championships in July.
Winter League
The Winter League got underway on Sunday, following the cancellation of Saturday's matches. The opening match saw the Newfoundland Super Kings defeat the Royal Challengers by 40 runs. NSK batted first and thanks to an unbeaten 61 from Rakesh Negi put 103 on the board for the loss of only one wicket. Talha Riaz contributed 28 runs. In reply the Challengers made 63/4, Bupesh Sharma taking two wickets and Kamal Gosal top scoring for the Challengers with 21*. Rakesh was man of the match.
Scorecard
In the second match Avalon CC upset fall league champions PSA, defending a low total of 55/3 and winning by 10 runs. Arif top scored for Avalon CC with 22 not out. PSA were bowled out for 45, thanks to Shazaad's three wickets for just 5 runs. Shazaad was man of the match.
Scorecard
In the final match the Avengers overwhelmed the Lions, making 109 without losing a wicket, then restricting the reply to 52/2. For the Avengers Rahul Vashisht made 35, Gurman Khurana 30, and Bharat Shetty 19. Manujaya made 29 for the Lions, Ali Malik leading a good all round bowling performance conceding just three runs in two overs. Gurman was man of the match.
Scorecard
The second round of winter league matches took place on Sunday, January 29. The opening match was a re-match of the teams who contested the fall league final, PSA and Avengers. PSA were bowled out for just 39, thanks to Ihtehsham Khan and Ali Malik who each took two wickets. Saeed Khan top-scored with 11. Avengers lost two wickets in the second over of their reply, both falling to Asim, but steady batting from Barath Shetty and Ali Malik (man of the match) saw them to victory by 7 wickets with three overs to spare
Scorecard
Game 2 followed a somewhat similar patterns with the Royal Challengers bowled out for 39, four of the five wickets falling to run outs. Saravana Kumar took the only wicket to fall, bowling 2.4 overs for just 6 runs, and no Challengers batsman reached double figures. The Superstars reached the target with 1.3 overs and 4 wickets in hand, with man of the match Srinivasan top-scoring with 11, and Poorna Kumar making 10.
Scorecard
The Lions and Avalon CC contested a close game, with the Lions victors by 8 runs. The Lions batted first, making 70/3, Manujaya making 23, and Samaa Madhawa 21. Shaikh Arifusalam took 2/7 from three overs. Amjad Siddiqui made an unbeaten 28 well supported by Shaifan's 17, but Avalon CC fell short of the target making 62/3 from their 8 overs. Samaa Madhawa was man of the match
Scorecard
The semi-finals are now set after three matches on February 4th. Going into the games all four teams from Group A had a chance to make the semi-finals.
The Avengers secured their position as Group A winners by beating Avalon by 18 runs. Rahul Vashisht got the Avengers off to a good start making 33 from 18 balls with Ali Malik making 12, and Ihtehsham Khan 14. The final total of 75/1 proved too much for Avalon, who reached 57/4 in their 8 overs. Arif made 32, and Ali Malik took 2 for 5 in two overs, earning him man of the match.
Scorecard
PSA needed to beat the Lions in order to set up a three way tie for third in the group, but were bowled out for 27. Rajitha Jayasinghe took 3 wickets for just 5 runs. The Lions knocked off the runs in 5.3 overs to secure 2nd place in Group A.
Scorecard
The final match was between NSK and Superstars- both had already qualified for the semi-finals so this was to decide 1st place. NSK, led by Rakesh Negi's unbeaten 39, made 70 for 2. The Superstars struggled with the bat, managing only 26/3 from their 8 overs. Neelav Deewan bowled his three overs for just 8 runs, and Adeel Ilyas took 1/6 to go with his 14 runs.
Scorecard
Tomorrow's semi-finals thus will have the Avengers playing the Superstars, and NSK playing the Lions, while PSA, Avalon CC, and the Royal Challengers battle for the Plate championship.
Final standings
| | | | | | | | | | |
| --- | --- | --- | --- | --- | --- | --- | --- | --- | --- |
| Group A | P | W | L | Runs for | Overs | Runs against | Overs | NetRR | Points |
| Avengers | 3 | 3 | 0 | 224 | 21 | 148 | 24 | 4.50 | 6 |
| Lions | 3 | 2 | 1 | 153 | 21.5 | 198 | 24 | -1.13 | 4 |
| Avalon | 3 | 1 | 2 | 117 | 16 | 115 | 16 | -0.67 | 2 |
| PSA | 3 | 0 | 3 | 111 | 24 | 126 | 18.5 | -2.19 | 0 |
| | | | | | | | | | |
| --- | --- | --- | --- | --- | --- | --- | --- | --- | --- |
| Group B | | | | | | | | | |
| NSK | 2 | 2 | 0 | 173 | 16 | 89 | 16 | 5.25 | 4 |
| Superstars | 1 | 1 | 1 | 68 | 14.5 | 109 | 16 | -2.12 | 2 |
| Royal Challengers | 2 | 0 | 2 | 102 | 16 | 145 | 14.5 | -3.63 | 0 |
The Avengers and Newfoundland Super Kings will meet in the Winter League final in two weeks time after Sunday's matches.
The Avengers beat beat the Superstars by 69 runs in the first semi-final. Saravana Kumar raised the Superstars hopes by bowling Rahul Vashisht for 2 in the second over, but then Gurman Khurana and Ihtehsham Khan (29) put together a 97 run second wicket partnership, taking the Avengers to 103/2 from their 8 overs. Gurman made 68 not out from 28 balls with seven sixes. The Superstars just could not get going against some accurate Avengers bowling, and were bowled out for 34 in the 7th over. Dhrumitt Bhat took 1/8 from two overs and Daxraj took three wickets. Sreerag took two excellent catches, and Gurman took a catch and had a run out to seal his man of the match performance.
Scorecard (note that Ramesh Kumar and Poorna Kumar are reversed in the Superstars batting- Ramesh made 7 and Poorna 0)
In the second match, NSK batted first and scored 72/3, Talha Riaz scoring 35, and well supported by Rahul Roy with 18 not out. The Lions bats struggled against NSK opening bowlers Neelav Deewan, who conceded just 7 runs from 3 overs, and Ami Sundly who took 1/9 from two overs. A couple of run outs put them in a deep hole, and they never recovered, making 36/3 from their 8 overs, a 36 run win for NSK.
Scorecard
NSK will thus play Avengers in the championship match, with the Lions and Superstars playing for bronze.
Sunday's third match was in the Plate competition, and the Royal Challengers narrowly beat Avalon CC in an exciting match. Avalon CC made 48/4 when they batted with Mamoon top-scorer with 20. The Challenger's 5th wicket went down with 17 still required but man of the match Manvir Mann (21*0, supported by Shubam Sharma took them home with an over to spare.
Scorecard
The league will conclude February 26 with the final two plate matches, followed by the bronze medal and championship matches.
A much awaited concluding match for Winter League 2017 took place today at Powerplex. NL Avengers beat Newfoundland Superkings quite convincingly. NSK won the toss and chose to bat first. Rakesh Negi (32)and Adeel Illyas (15) put a good partnership setting a target of 55 for the Avengers. I Khan bowled economically and his 3 overs went for only 14 runs. Avengers in response started out with an aggressive partnership between Gurman Khurana(36) and Rahul Vashishtha (19). Neelav bowled well for the Superkings with 3 overs for 20 runs but the lack of wickets led the Avengers to reach their target easily. Gurman Khurana was adjudged the man of the match for his opening innings of 36 in 16 balls not out.
For the final presentations, Best batsman went to Rakesh Negi, Best Bowler Ali Malik & Most Valuable Player Gurman Khurana.
https://www.crichq.com/#matches/488052
For the bronze match, Lions faced Superstars before the final match. Lions batted first setting a target of 30 in 7.5 overs all out. A Nayanajith was the highest scorer with 13 runs. Deep Patel took 4 wickets in 1.5 overs taking the highest number of wickets on the day. In response, Superstars reached their target comfortably with 2 wickets in hand with Poorna Kumar (14 n.o.) making sure that the team wins.
https://www.crichq.com/#matches/488108/2nd_innings
Summer League
June 17
The Summer League got underway with records being smashed by Rahul Vashishta and the Avengers. Rahul made what we believe is the highest score in Newfoundland cricket history, with an unbeaten 161. Since the Summer League restarted, Golam Moula made 107* in 2012, Nick Baxter 101 in 2013, and Rahul himself has made 108 and 100 in 2015. PJ Myler in his 1915 book "Recollections of Cricket in Newfoundland" lists only two hundreds, 108 by Lieutenant Rowe, and 104 by TC Fitzherbert. After the Avengers had lost their first wicket on 9, he and Rahul Roy put on 202 (almost certainly a record), before Rahul Roy retired on 54. The Avengers final total was 246 for 1 wicket, the highest total in the Summer League since its inception in 2011.
Rahul started with two singles from the first six balls he received, but then took only 12 more balls to reach his 50, hitting four consecutive sixes. He hit fourteen sixes in all, mostly in the arc between long on and square leg, but also a couple over covers, and some long straight hits. He faced just 77 balls in all. Of the Tigers bowlers, mention should be made of Tamkin Khan and Lincon Hameed who made scoring hard in the final overs with some well directed yorkers. Rahul's innings in full was :-
…1..1611264666614..1.416.1.1.1.6……6.6..66.66.1…111..1421411144.12
The Tigers made a good fight of it, batting out their overs and scoring 111/7. Saad Jahangir top scored with 42, and Abrar Khan 25. Shami Khan and Praveen Manhas, both making their summer league debuts bowled well, taking 1/17 and 1/14 respectively from their four overs.
Scorecard
The second match saw the Newfoundland Superkings take on the Eagles. NSK chose to bat but lost early wickets, with a run out in the first over, and then losing captain Rakesh Negi to a good catch. Sajwal Osto batted very well for his 32, and Adeel Ilyas was on top form with his 45 from 36 balls (with four sixes). Neelav Diwan (23*) hit well in the final overs to take NSK to 139/6 from 20 overs. Newcomer Messam Timmar led the bowlers with 1/15 from four overs, and also took two catches.
Scorecard- NSK innings – note Rakesh Negi was caught by Samad Quddusi not as on scorecard.
The Eagles were bowled out for 60 in 13.3 overs, thanks to a fine bowling performance from another newcomer, Mukul Dahwan who took 4/21, well supported by Taqrim Ghous who finished off the innings taking 3 wickets in 9 balls. Waqas Ali top scored for the Eagles with 16.
Eagles scorecard
PDF scorecardPDF scorecard
June 24
All players and teams were beaming with excitement and in anticipation of playing on the new concrete pitch constructed by Cricket NL.The good news is that it is living up to expectations and all team members got a chance to play their authentic game without worrying about a low or bad bounce. The lawn tractor has also turned out to be a welcome addition to our equipment upgrades and now it should take half a day to mow the field instead of a few days with a couple of lawn mowers. Preparation of the match began yesterday evening with some landscaping and sod work done by volunteers. Big thanks to Saad, Rakesh, Bharat, Harman, Shahzad, Saravana, Abrar, Waqas & Gurman.
Due to the weather forecast, the match between NL Avengers and Newfoundland Super kings started early in the morning at 7.30. NL Avengers won the toss and chose to bat on the previously untested pitch. The opening partnership started well with a couple of 4s hit by Praveen. However, Rahul Roy and Praveen got out after a promising start at 11 and 17 respectively. Rahul Vashishtha came out to bat after the loss of Roy and steadied the ship. Scoring freely on all parts of the ground, he ended up scoring his 2nd century in consecutive matches, another first for Newfoundland. He scored 100 from 49 balls and retired hurt. Everyone in NL is hoping for his form to continue for the Eastern T20 interprovincial tournament. Gurman set up a terrific partnership with Rahul and built his innings intelligently scoring 63 not out off 41 balls. Rakesh was the only player from NSK that didn't feel the wrath of Avengers by bowling 4 overs for 15 runs with one wicket. Avengers ended with 215/4 and set up a challenging task for NSK. NSK sent out Sajawal and Talha as openers. Sajawal continued from where he left in the previous game. Striking the ball cleanly and fearlessly, he scored 47 from 40 balls the highest scorer from NSK. NSK was bowled out for 121, with some great opening bowling from Shami 3 overs for 13 runs with one wicket. Sarvana was the highest wicket taker with 4 wickets in 4 overs. He is en route to being one of the highest wicket-takers in the summer league once again.
Scorecard
The 2nd match was played between BD Tigers and NL Eagles with the weather condition deteriorating, but not enough to cancel the game. The drizzle was on and off frustrating the players and making it slippery conditions for the fielding side. BD Tigers won the toss and chose to bat first. The openers got out cheaply after getting a start for 13 runs each. Lincoln and Hummam built a much-needed partnership for BD in the middle overs. Lincoln batted patiently and built his innings after assessing the pitch bounce. He was the highest scorer with 55 not out. Hummam made 22. Shikon upped the scoring rate by playing some excellent shots in the end with 29 in 17 balls and 2 sixes. Osama was the pick of the bowlers with 4 overs, only 12 runs and one wicket. In reply, Eagles innings were lacking batting partnerships and none seemed too comfortable on the crease. Hamza put a brave fight by scoring 18 runs and was the highest scorer. In the end, Eagles were all out for 90 runs, 58 runs short of the target.
Overall, we had some really good games today and the highlights were the pitch and of course Rahul's century. If Cricket Canada selectors are reading this they should really have a serious look at a player from the far East end of Canada!!
July 1
Heavy rain in the morning prevented our Juniors playing but after a delay to allow the outfield to dry, the Summer League games were played in cool but dry conditions.
The Eagles upset the Avengers in the opener with a 29 run win in a low scoring match. The Eagles batted first, making 109 thanks mainly to 30 from Nadeem Saqlain, supported by 14 from Messam Timar. Saravana took 3/29 and Dhrummit 2/16. The Avengers batting had dominated in their matches to date but a strong opening spell by Najaf and Messam had them in early trouble. Messam had Rahul well caught on the mid wicket boundary by captain Waqas Ali – the first time he has been dismissed this season. A quick ball from Najaf bowled Gurman to reduce the Avengers to 26/3. Praveen made 14 but the Avengers were bowled out for just 78, with the Eagles executing some excellent run outs. Najaf was named man of the match for his spell of four overs for fifteen runs and two wickets
Scorecard
In the second match NSK made 110 – they lost Sajawal Osto from the first ball of the match, but then Amit Sundly (39) and Rakesh Negi put on 63 for the second wicket. They both fell in the same over as the Tigers bowlers put NSK under pressure, but Talha Riaz made 26 to allow NSK to set a defendable total. Indraneel Mallick and Hummam Bin Saif each took two wickets.
The NSK opening bowlers kept things tight, and the Tigers fell behind the run rate. Nazrul Shikon top scored with 21, keeping the Tigers in with a chance, until Amit Sundly ripped through the Tigers batting, taking 5 wickets in 7 balls, the highlight being an outstanding catch by Rakesh Negi at short mid-off from a scorching drive from Nazrul Shikon. Amit took five wickets for 5 runs, and was the obvious man of the match as NSK won by 44 runs.
Scorecard
After three matches, Avengers and NSK have two wins and a loss, Eagles and Tigers one win and two losses.
July 15
The Avengers took on NSK in the opening match on Saturday, played in perfect cricket weather. NSK won the toss and chose to bat. Amit Sundly (16) and Sajawal Usto (20) put on 39 for the first wicket before Dhrummit Bhatt had Sajawal caught behind, then bowled Neelav Diwan next ball. Talha Riaz (13), captain Adeel Ilyas (36 with four sixes) and Arif (29) batted well to take the total to 139. The Avengers used eight bowlers, Dhrummit leading the way with 2/28.
Rahul Vashisht (23) and Praveen Manhas put on 40 for the first wicket in reply, but then was surprised by a short ball from Sajawal and was caught behind. Gurman Khurana (33) and Praveen took the total to 95 before Gurman was caught in the deep, but Praveen batted through the innings, hitting the winning runs and reaching his fifty with the winning boundary in the 16th over.
The Eagles and Tigers met in the second match. The Tigers batted first, and made 138, led by 26 from Abu Sayad, 24 from newcomer Anol Azad, and 21 from Lincon Hameed. The Eagles lost two early wickets but then a solid batting performance led by a 62 run 7th wicket partnership from Mohammed Zilani (35*) and Raheel Zaman (34*) took them to a 15 wicket win with 9 balls to spare.
We have some video from the Tigers innings.
Eastern T20
Cricket NL placed third in the tournament, beating New Brunswick and PEI, and losing to Quebec and (very narrowly) Nova Scotia. Rahul Vashishta was named tournament MVP.
Reports, scorecard links, photos and videos can be found on the tournament page
We thank all those who made this possible but in particular tournament chair Gurman Khurana who worked tirelessly to ensure we had a high standard pitch and facility in place to host the event.
July 29
After the excitement of the Eastern T20, attention returned to the summer league, where July 29 saw wins for NSK and the Eagles.
In the first match, the BD Tigers made 137/6, thanks to an unbeaten 63 from Anol Azad. In reply NSK lost early wickets before an eighty seven run partnership between Adeel Ilyas (25) and Rakesh Negi (57) put them back on track. A flurry of quick wickets had them at 109/7 before Taqrim Ghous struck a rapid 28 to bring them to victory
Scorecard
In the second match the Eagles beat the Avengers by just 5 runs. The Eagles made what looked like a below par 110, led by 31 from Mohammed Zilani and 21 from Raheel Zaman. Saravana Kumar leds the Avengers bowling with 3/18. The Avengers raced to 72/1, and looked to have the match wrapped up despite the loss of Rahul Vashishta, but then lost three wickets without adding a run. With 5 needed off the last over, Osama Saeed took the last wicket for an exciting win. Mohammed Ali Raza led a strong bowling performance with 3/9 from 4 overs.
Scorecard
August 5
Going into the weekend the Eagles, Avengers and NSK were tied on points, each with three wins and two losses. NSK defeated the Eagles, and the Avengers the Tigers to share first place.
In the opening match, the Avengers won the toss and chose to bat. The Tigers had them on the back foot, though at 37/3, with Shaifan Ahmed capturing the wickets of Praveen Manhas (played on), and danger man Rahul Vashishta (caught at square leg from a mis-timed pull) after Abu Sayed has made the initial breakthrough, bowling Rahul Roy. a 75 run partnership between Daxj Mehta (23) and Gurman Khurana put the Avengers back on track, and helped by Shami Khan, Gurman's unbeaten 90 (46 balls, 7 fours, 5 sixes) took the Avengers to 192/7 from their twenty overs. Anol Azad took three wickets.
In reply, Anol Azad batted very well for his 32, but the Tigers struggled to keep up with the high run rate against accurate bowling, making 117/6 from their 20 overs. Praveen Manhas led the bowlers with 3/13, and Rahul Vashisht bowled accurately, conceding 10 runs in 4 overs (the scorecard shows Rahul bowled 5 overs but over 18 was bowled by Saravana, whose figures should read 4-0-21-1).
Gurman was named man of the match.
Scorecard
The Eagles batted first in the second match, and a fierce opening spell from Sajawal Usto had them reeling at 13/4 in the 5th over. Sajawal took three of those wickets and Mukul Dhawan the other. Saeed Khan held the middle order together with an innings of 32, with contributions from Nadeem Saqlain (13) Najaf (13), and Waqas Ali (14). The Eagles totalled 103 from their 20 overs. Sajawal Usto took 3/18, and Talha Riaz 2/19. NSK chased down the total in just 13.5 overs for the loss of 5 wickets. Sajawal Usto made a quick 20 at the top of the order, and Amit Sundly top scored with 29.
Sajawal Usto was named man of the match.
Scorecard
The Avengers lead the table on net run rate.
August 12
The weekend's matches were played in perfect weather, sunshine, temperature in the mid 20s, and a light breeze. The opening match saw the Tigers earn their second win of the season, defeating the Eagles by 8 wickets with 4.3 overs to spare. A good all round performance in the field restricted the Eagles to 132, Nadeem Saqlain top-scoring with 19, and a number of bats getting to double figures without building a significant innings. Ayaz Ghani led the bowling with 3/17. The Tigers knocked off the runs with ease, Abu Sayed making 48*, Anol Azad 33, and Nazrul Shikon 28.
Scorecard (note that Lincon Hameed bowled the overs attributed to Luftor Rahman, and that Shaifan bowled the final over, not Hummam; correct bowling figures are Shaifan 4-0-23-1, Hummam 2-0-21-1)
The second match was a top of the table battle between the Avengers and the Newfoundland Super Kings. This proved to be perhaps the best match of the summer to date, hilighted by two outstanding innings. The Avengers batted first after winning the toss, and lost their first wicket on 10. Rahul Vashisht was coming into the match on a poor run of scores but was in top form, smashing a 60 ball century with eleven fours, many of them from powerful straight drives, and four sixes. He and Daxj Mehta (15) put on 63 before Rakesh Negi dismissed Mehta, Gurman Khurana and Kulveer Singh in the 9th over. Shami Khan (34) proved an able partner for Rahul, and they put on 110 before Shami was very well caught at deep mid off by Talha Riaz from a hit that went very high indeed. Rahul fell in the 19th over, but the Avengers' total of 202/9 set NSK a difficult target.
The Avengers put NSK into trouble right away, Praveen Manhas striking in the first over, and Dhrumit Bhat in the second – 9/2. Sajawal Usto had opened the innings, and went onto the attack, taking 24 from the fourth over (444624). He and Rakesh Negi (33) put on 149 for the third wicket. Rakesh was caught behind, and two further wickets had the game in the balance. NSK needed 20 from the last three overs, and took 9 off the 18th but an outstanding 19th over from Dhrumit, conceding just three runs, left 7 to win from the last. Sajawal capped a quite brilliant innings by hitting the first two balls for 4 and 6 for the win. He made 135 not out from 66 balls, 12 fours and nine sixes. He showed a wide range of strokes, in particular driving well on the offside, and was an obvious choice for man of the match.
Scorecard
The win puts NSK clear at the top of the table with five wins, followed by Avengers with four, Eagles with three and Tigers with 2.
NSK-Avengers video- final overs missing due to battery running out.

August 20
With just two rounds to play, Sunday's matches in the Summer League were critical in determining final positions. The Avengers returned to the top of the table with a comfortable win over the Eagles, while the bottom place Tigers engineered a thrilling and unlikely win over the first-place Superkings.
The Eagles struggled initially with the bat, but Saeed Khan (37) and Raheel Zaman 37) took them into three figures. The innings finished in spectacular style, with four wickets in four consecutive legal balls- (the over went W wd W wd W W; two wickets went to Dhrumit and two run outs).
Praveen (19) and newcomer Matthew Sinclair (35) put on 65 for the first wicket, but both fell in the same over bowled by another debutant, Abdullah Khalid Butt. This brought in Rahul Vashisht who finished the game with a brutal 33 from 12 balls. The Avengers won by 8 wickets with 8.3 overs to spare.
Scorecard (A number of corrections are required in the Eagles innings; the Avenger's bowling figures are incorrect- Dhrumit bowled the final over, so his figures are 2.4 0 24 3 18 wides; Praveen's figures are 4-0-12-2 2 wides; Saravana's figures should be 3-0-27-1; Deep's figures should be 1-0-13-1; in addition Zohair was caught by Matthew Sinclair).
On paper the second match looked a mis-match with top of the table NSK taking on bottom of the table Tigers – who, due to absences and injury, could only muster 8 players. NSK made a rapid start, thanks to Sajawal Usto (22), and Amit Sundly (31). After 7 overs, NSK were 77/1 but they lost their last 9 wickets for only another 50 runs, bowled out in the 18th over. Ayaz Ghani took 4/19 and Shahriar Harun 3/24.
In reply captain Saad Jahangir made 24 and Nazrul Shikon a hard hitting 44 from 24 balls, but wickets kept falling. The 5th (of 7 wickets fell on 84, with 44 still needed. Shahriar Harun batted superbly for 35 not out, and partnered by Luftor Rahman took the Tigers to a last over one-wicket win with three balls to spare.
Scorecard
(note: correct score for Shahriar Haru is 35* from 41 balls, 1 four, 3 sixes; Rafi Mohammed made 0 from 4 balls)
The Avengers and Newfoundland Super Kings both won their final matches of the league to leave them tied on 6 wins and three losses – the Avengers took the league title on net run rate. The Tigers edged ahead of the Eagles, again on net run rate, for third.
Due to a wet outfield, both final matches were reduced to 15 overs/side to allow time for the Herringshaw Cup match on the same day. In the opening match, Eagles batted first, and were bowled out for just 70 in 13.5 overs. Mohammed Zilani top-scored with an unbeaten 20, and Rakesh Negi took 4/7 in three overs for NSK. Sajawal Osto took NSK to a 7 wicket victory in 11 overs with an unbeaten 44 from 32 balls.
Scorecard
The second match was also low-scoring, as the Tigers made 85/5 from 15 overs, Saad Jahangir and Nazrul Shikon both making 18. Wickets fell to five different Avengers bowlers, with Praveen Manhas taking 1/3 in 3 overs. The Avengers raced to a 9 wicket win thanks to 43 from 18 balls from Rahul Vashishta, and 25 from Matthew Sinclair, both unbeaten.
Scorecard
| | | | | | | | | | |
| --- | --- | --- | --- | --- | --- | --- | --- | --- | --- |
| | Win | Loss | N/R | Points | For Runs | For overs | Against Runs | Against Overs | Net Run Rate |
| Avengers | 6 | 3 | 0 | 10 | 1385 | 154.1 | 1131 | 174.2 | 2.50 |
| NSK | 6 | 3 | 0 | 10 | 1180 | 150.5 | 1053 | 169.4 | 0.69 |
| Tigers | 3 | 6 | 0 | 6 | 1063 | 170 | 1261 | 163.4 | -1.45 |
| Eagles | 3 | 6 | 0 | 6 | 927 | 173.5 | 1040 | 151.8 | -1.51 |
Final standings
The first and second place teams in the league met in the Saini Cup, a best of three series. The Cup has been renamed this year in honour of Ranjit Saini, Cricket Canada president who made a major contribution to getting the new pitch in place. The Avengers took the series in two straight matches, played back to back in less than ideal conditions on Sunday.
In the opening match the Newfoundland Superkings batted first, and were immediately in trouble, losing two wickets in the opening over bowled by Rahul Vashisht, Amit Sundly caught at mid wicket and Sajawal Usto well caught at slip by Matthew Sinclair. Rakesh Negi and Talha Riaz (15) added 44 before Praveen Manhas dismissed Talha and Adeel Ilyas, and when Taqrim Ghous fell to Matthew Sinclair, NSK were 48/5. Rakesh Negi was still there, and put on another 41 with Purvi Kalyan (13*) before he fell to a tumbling catch by Bharath Shetty for 48. Mukul Dhawan hit well for 17 and NSK totalled 113/6 from their 20 overs- a reasonable total considering the wet outfield and water soaked ball. Rahul led the bowling with 3/12 from four overs.
The Avengers however had little trouble knocking off the runs, Matthew Sincliar (33*) and Praveen Manhas (17) putting on 40 for the first wicket. Rahul Vashishta rattled up a quick 55* to lead his team to a 9-wicket win with 7 overs to spare.
Avengers batted first in the second match, and Praveen and Matthew again put on 40 for the first wicket. Matthew was first out this time, for 23, bringing in Rahul who made 73 from 33 balls with six sixes and six fours. Amit Sundly took four wickets but the Avengers totalled 190.
Sajawal Usto (22) and Amit Sundly got NSK off to a good start but both fell to Praveen with the score on 45. Rakesh Negi kept NSK in the game with a fine innings of 67 from 39 balls with 5 sixes, but NSK fell behind the run rate, and the Avengers ended up winners- and Saini Cup champions – by 24 runs.
Video

All Avengers innings and start of NSK- unitl the rain meant the camera had to be turned off (although the game continued).
The Herringshaw Cup (named in honour of Liam Herringshaw, crucial in founding Cricket NL) is played between the 3rd and 4th place teams in the league. It proved to be an exciting, high scoring game with the Eagles winning by 10 runs.
The Eagles made 191/4, thanks to 55 from Saeed Khan, and a rapid unbeaten 80 from 38 balls from Najaf Raza Kami. Abu Sayed and Saad Jahangir had a big opening partnership to put the Tigers on track for chasing down this big total but eventually they fell just short. Unfortunately the scoring provides little detail but the best estimate of batting scores are Abu Sayed 60, Saad 50, Nazrul Shikon 10, Shahriar Harun 24, Lincon Hameed 15, and Hummam 1.
Partial scorecard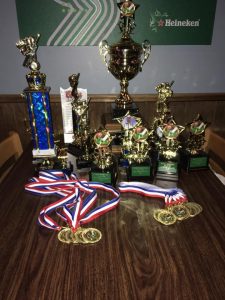 The Summer League trophies, cups, and awards were handed out at the Cricket NL Social and Awards night. The winners were:-
Most spirited players: Purvi Kalyan, Daxj Mehta, Waqas Ali and Nazrul Shikon
Emerging Player: Praveen Manhas
Best Fielder: Talha Riaz
Best bowler: Rakesh Negi
Best Bat: Sajawal Osto
League MVP: Rahul Vashishta
League Trophy: Avengers
MVP – Liverman-Herringshaw Cup- Najaf Raza Kami
Liverman-Herringshaw Cup: Eagles
MVP Saini Cup: Rahul Vashishta
Saini Cup: Avengers
A special award was made to Gurman Khurana, recognising his contribution this year in vastly improving Cricket NL's pitch and field, and his chairing of the Eastern T20 tournament.
Fall league
The Avengers won the Fall League, which was played as a 7 team round-robin competition.
Saturday: October 7
Avengers 86/5 in 8 overs beat Newfoundland Super Kings 62 (6.5 overs)
Knight Riders 46 all out (7.4 overs) lost to Sharks 47/1 (6.5 overs)
Avengers 92/0 beat Pakistani Student Association 46 all out (7.2 overs)
Royal Challengers 48 all out lost to Avalon Cricket Club 49/1 in 6 overs.
Sunday: October 8
Newfoundland Super Kings 133/2 beat Knight Riders 96 all out (6.3 overs).
Avalon Cricket Club 48/3 (8) lost to PSA 49/? in 7.5 overs
Avengers 55/3 (8 overs) beat Sharks 43/2 (8 overs) – Scorecard
PSA 93/2 (8 overs) tied with Royal Challengers 93/2 (8 overs) – Scorecard
October 21
Newfoundland Super Kings 90/3 (8 overs) beat Pakistani Student Association 74/3 (8 overs) – Scorecard
Royal Challengers 80/1 (8 overs) lost to Sharks 81/1 (6.4 overs) – Scorecard
Avengers 95/3 (8 overs) beat Knight Riders 54/6 (6.3 overs) – Scorecard
Avalon Cricket Club 45/4 (8 overs) lost to Sharks 47/1 (5.2 overs) – Scorecard
November 18:
Knight Riders beat PSA by default
NSK beat ACC by 34 runs. NSK 100/3 (Sajawal 41, Amit 36), ACC 66/6
Scorecard
Avengers 121/2 beat Royal Challengers 56 all out.
November 25
Royal Challengers beat NSK by 7 wickets. NSK 47/5, RC 49/0 (Bhupesh 31)
Scorecard
Avalon CC beat Knight Riders by 2 wickets. Knight Riders 65/5 (Messam 34), ACC 66/4 (Arif 28*)
Scorecard
Sharks beat PSA by default
The Avengers won the fall league, despite losing their unbeaten record in a final round loss.
The Sharks needed a win against NSK to keep their chance of the title alive, but fell short. NSK made 77 from their 8 overs, led by 33 from Adeel Ilyas, supported by 14 from Talha Riaz and 13 from Neelav Diwan. Abishek took 2 wickets in his first over to put the Sharks on the back foot, and they never recovered, making 34 from their 8 overs. The win allowed NSK to move into second place over the Sharks, tied on points but just ahead on net run rate.
Scorecard
In the second match, the Knight riders made 67 from overs, thanks to 27 from Messam, and the Royal Challengers fell just short in a close match.
Scorecard
The final match of the tournament saw Avalon CC upset the Avengers. An excellent bowling performace from ACC, led by Arif's 3 overs for 9 runs and 2 wickets retricted the Avengers to just 43. The Avengers fought hard but ACC won in the final over, led by 19 from Nadeem Saqlain.
Scorecard
Final table
| | | | | | | |
| --- | --- | --- | --- | --- | --- | --- |
| | Games | Won | Lost | Tied/NR | Net RR | Points |
| Avengers | 6 | 5 | 1 | 0 | 3.85 | 10 |
| Sharks | 6 | 4 | 2 | 0 | 0.92 | 8 |
| NSK | 6 | 4 | 2 | 0 | 1.26 | 8 |
| Avalon CC | 6 | 3 | 3 | 0 | 0.8 | 6 |
| Knight Riders | 6 | 2 | 4 | 0 | -0.4 | 4 |
| Royal Challengers | 6 | 1 | 4 | 1 | -1.7 | 3 |
| PSA | 6 | 1 | 3 | 1 | -4.62 | 3 |
We thank Manvir for his hard work in organizing a fine tournament.